CBD Capsules Review
With the legalization of industrial hemp and cannabis in many states, CBD capsules are quickly making their way in many vitamin cabinets all across the United States.
Cannabis plants produce hundreds of active cannabinoids that are beneficial in many medical treatments. These include sleep problems, chronic pain, and even serious diseases such as cancer and epilepsy.
As the main ingredient of CBD capsules, cannabidiol (CBD) is one of the hundreds of active cannabinoids in cannabis but is mostly present in hemp plants.
Unlike tetrahydrocannabinol (THC), CBD has no psychoactive properties. It does not produce an intoxicating side effect. CBD products can contain up to 0.3% THC content to be legal.
CBD-infused products come in many forms such as CBD tinctures, softgels, topicals, oil, and gummies. Though they contain many health benefits, CBD products are not intended to diagnose, treat, cure, or prevent any disease.
You can get 30% off by using the code BlosumToday.
CBD capsules and softgels are one of the most popular among varieties of CBD pills. They are easy to take as part of a daily vitamin regimen and contain the full health benefits of CBD.
CBD capsules contain CBD oil extracted from high-quality strains of premium organic hemp. The extraction process is incredibly thorough and ensures the decontamination of the cannabinoids.
Dosage of CBD capsules varies per person and there have been no cases of overdose. You can take capsules at any time of the day. The number of capsules per intake also varies according to body mass and other health factors.
Many advocates support the usage of CBD capsules for their health benefits. These statements have not been evaluated by the Food and Drug Administration.
Bioavailability
Bioavailability refers to how quickly substances can enter the bloodstream. This depends on the method of administration to the body.
CBD capsules' bioavailability mostly depends on how quickly stomach acid dissolves the encasing of the capsule. Inside the capsules are where the CBD components and other flavonoids and terpenes are found.
Once these components enter the bloodstream after being digested, the full effect of CBD can be felt almost immediately.
For some, it may take a few minutes up to an hour depending on the body's absorption rate. Increasing the amount of CBD bioavailability as much as possible will maximize its full benefits.
Hemp Oil Extraction
There are various ways of extracting CBD oil from hemp. Processes include steam distillation, CO2 extraction, and solvent extraction.
"Full-spectrum" CBD oil is the result of these processes. Other cannabinoids such as THC, CBDA, CBDV, and others, are still present, though in lower amounts.
An "entourage effect" is experienced by full-spectrum CBD users. The entourage effect is when CBD and other cannabinoids present in the hemp it was extracted from is fully maximized to the body's advantage.
Isolates are an option for those who do not want any other cannabinoid, especially THC, present in their CBD products.
Related Articles
There are many options for choosing which CBD-infused products to use. CBD capsules vs. oil, CBD salves vs. creams, among others.
Cannabinoids work with the body's endocannabinoid system (ECS). They interact with the ECS receptors to help the body naturally produce hormones.
The formulation of CBD products is also important in determining if it is the right product to address a health concern.
In order to create CBD products, CBD oil is needed as its base ingredient. Gel capsules are CBD oil in tablet form for easier packaging and consumption.
In creating CBD capsules and softgels, the CBD oil is mixed with MCT oil, a coconut oil extract, to give volume to it.
CBD capsules and softgels are both made with two parts CBD oil as its main component. The main difference is with their outer covering.
Capsules are covered with a film-like matter that takes longer to absorb. Softgels, on the other hand, have a gelatin shell that is easier to dissolve by stomach acid.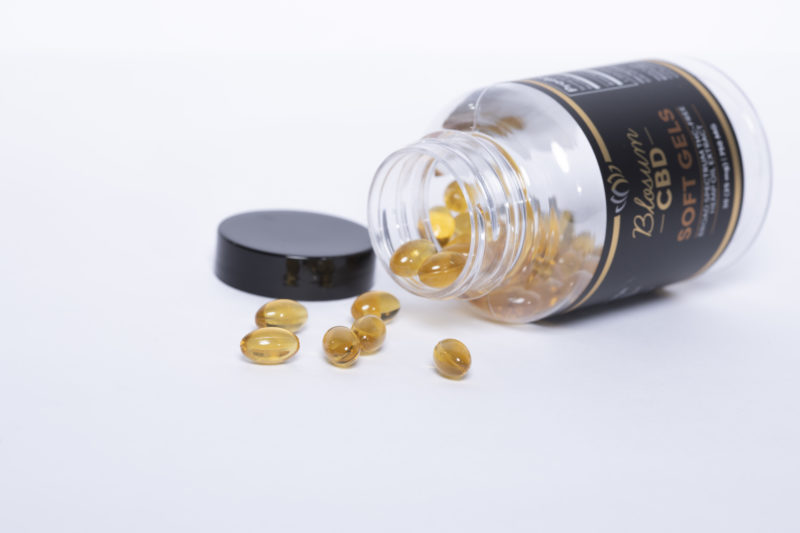 Cannabidiol (CBD) is one of the hundreds of naturally-occurring cannabinoids from cannabis, but are mostly found in hemp plants. CBD oil is directly extracted from hemp plants and made into many CBD-derived products such as CBD softgel capsules.
Infused with CO2-extracted hemp oil, CBD softgel capsules are a great addition to daily vitamins and supplements. They are easy to pack and the dosage is clearly stated on the labels.
Formulated with organic hemp extract and Fractionated Coconut Oil (MCT Oil), CBD capsules provide a list of health benefits to the body, including relief from chronic pain, anxiety, stress, and insomnia, among many others.
Unlike over-the-counter drugs, CBD is generally safe and has little to no side effects, especially on high-functioning organs such as the liver. According to the WHO, there is no risk of substance abuse or overdose in using CBD products.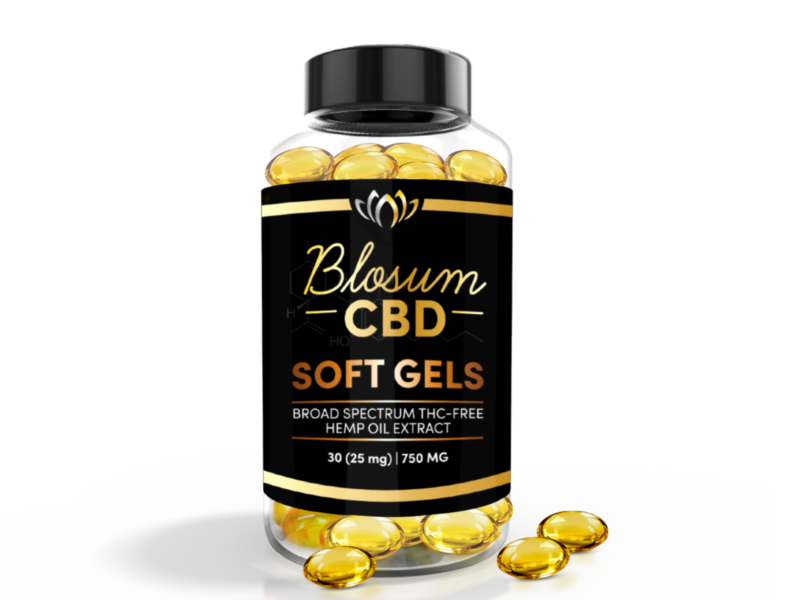 BlosumCBD's Softgel Capsules 25 mg are THC-free, broad-spectrum distillate softgel capsules with all-natural organic ingredients that are quickly absorbed by the body.
In buying any CBD product, quality is important and key features should include:
100% Natural and Organic Hemp Product
Formulated for Maximum Bioavailability
Grown and Made in the USA
Independently Lab Tested for Purity and Potency
30-Day Satisfaction Guaranteed
CBD softgels are of excellent value for long term solutions to chronic ailments. Furthermore, they pose no threat or exposure to harsh chemical side effects. They are organic and vegan-friendly which makes them safe even for those with diet restrictions or allergies.
Each softgel contains 25 mg of organic CBD oil and is very discreet, easy to pack and carry. One to two capsules per dose is enough to give the immune system a good boost.
Intake is easy, simply swallow the capsules with water or any preferred beverage. Safe to take on an empty stomach, before, during, or after a meal, CBD softgel capsules also contain other flavonoids and terpenes for added health benefits.
Another benefit to CBD oil is improved mood and reduced stress and anxiety. Moreover, CBD interacts with the body's endocannabinoid system (ECS) and helps the ECS receptors to produce natural hormones.
With a wide array of multivitamins and antioxidant compounds that promote better mental and physical wellbeing, CBD softgel capsules are a sure way of helping the body achieve homeostasis and overall balance and wellness.
Completely THC-free, users can experience the entourage effect without the intake of THC that may accumulate in small amounts when taken daily.
Other cannabinoids present in the broad-spectrum CBD softgels include CBC, CBN, CBDA, and CBDV, all of which come with their wellness benefits.
Softgels can have a shelf life of up to 18 months with proper care. Store them in a cool and dry place, avoiding direct sunlight.
CBD capsules can help you sleep. Cannabidiol can ease stress and tension so you can find it easier to fall asleep.
It can also improve your quality of sleep so you wake up feeling refreshed.
CBD Capsules for Pain
CBD capsules and softgels have many health benefits including quick relief from mild to moderate types of pain.
Ranging from migraines to muscle pains to nursing old injuries, CBD capsules offer respite by producing sedative-like effects. This effect helps users to relax and rest.
Moreover, studies also show that CBD can help temper anxiety and extreme mood swings.
CBD Capsules Benefits
With CBD capsules, there is a myriad of health issues that can be addressed. The right dosage varies from person to person. It is good to keep track of how the product affects the body so the dose can be adjusted to achieve the desired effects.
Unlike CBD tinctures, CBD softgel capsules do not need guesswork to find the right dosage. One 25 mg CBD capsule is packed with enough cannabinoids, flavonoids, terpenes, vitamins, and minerals for an entire day.
Though some prefer to double dose, this is okay as well because there is no danger of overdosing on CBD capsules or any known case of an overdose on any CBD product.
Consequently, CBD softgel capsules are also discreet and are easy to pack and carry. They can be taken with any fluids, though water is most recommended.
For a seamless integration of CBD intake, users can easily incorporate CBD softgel capsules into daily health routines.
For maximum results, a CBD routine for at least 30 days, or as recommended by your healthcare provider, is advised. Gluten-free and non-GMO, CBD Softgel Capsules help with supporting balance in the body and mind.
Disclaimer: Is CBD Legal?
Hemp-derived CBD products (with less than 0.3 percent THC) are legal on the federal level. Moreover, these statements have not been evaluated by the Food and Drug Administration. This product is not intended to diagnose, treat, cure or prevent any disease. These products have not been FDA approved. Likewise, you must be at least 21 years old to purchase these products. Talk to your physician or medical doctor for additional information.