How Long Does It Take to Feel Effects of CBD Oil?
In recent years, more studies emerged on the medicinal properties of cannabis plants. One compound that occurs naturally in cannabis is a non-psychoactive compound called cannabidiol or CBD. Users can feel the health benefits and effects of CBD almost immediately.
It does not bring the same euphoric effects that THC is famous for. CBD comes with a myriad of therapeutic effects.
Studies have seen CBD's positive effects on a list of medical conditions such as cancer, anxiety, chronic pain, and seizure activity in epileptic patients.
CBD products are readily available almost everywhere. Users can fully understand how CBD affects the body by learning about its absorption rate and bioavailability in the body.
CBD Absorption Rate and Bioavailability
Before CBD is able to provide its therapeutic effects, it first needs to be absorbed by the body.
Luckily, there are many forms of CBD that are making headlines in the health community.
There are different ways to consume CBD and it all depends on personal preference. Some forms, however, are more effective than others. These all depend on the kind of the desired effect the user is after.
Bioavailability refers to how quickly the body can absorb a substance depending on its route of administration.
In other words, it is how quickly CBD can enter the bloodstream depending on how it is consumed.
The body is quick to feel the effects of CBD oil. Experts say that tinctures work best as only a few drops under the tongue go directly to the bloodstream.
The goal is to increase CBD bioavailability to maximize its full effect on the human body.
Clinical trials prove useful in hypothesizing how much CBD is absorbed into the body depending on dosage and daily intake.
Though many have advocated for CBD's medicinal and therapeutic properties, the product is not intended to diagnose or treat any medical condition.
Consult a physician before experimenting with CBD products. This is especially important for those who have pre-existing medical conditions, are taking prescription medication, and are pregnant or nursing.
How Long Does it Take for CBD to Work?
Is there one way to take CBD that increases its absorption rate?
There is no simple answer to this since every human body composition is different from one another.
This means that the absorption rate varies depending on the body's rate in processing CBD products.
You need to take note of body mass, pre-existing conditions, and other factors for CBD bioavailability.
The body's endocannabinoid system (ECS) is also partly responsible for how quickly CBD is processed.
The ECS regulates the body's internal and physical wellbeing, including the immune system, the rate of metabolism, and the digestive system.
CBD takes effect depending on the amount of intake and how fast the ECS can process the compound.
Some can start feeling the effects of CBD infused products a few minutes. Others, on the other hand, need longer to reap the benefits of CBD.
What stays consistent is that the sublingual method is the fastest way for the body to absorb CBD.
Applying a couple of drops of CBD oil under the tongue enters the bloodstream immediately and increases the product's bioavailability.
Quality plays an important part in making sure CBD products work. Some find themselves in a predicament when they take low-tier quality products for months on end without seeing any noticeable difference.
For the highest quality CBD oil, brands that use third-party lab tests are best.
This allows the preservation of the products to ensure non-contamination and other possible additives, making top-of-the-line products ready for consumption.
Related Articles
Different CBD Products
Since the rise of industrial hemp, the CBD industry is making waves in the community.
CBD for sale often comes in the forms of capsules, soft gels, topicals, and gummies among others.
Newer trends have recently emerged. CBD edibles are becoming more popular. Even CBD products for pets are available.
There are also gluten-free and vegan-friendly products.
Products may or may not contain traces of THC depending on specific components immediately stated in labels and product names.
The 2018 Farm Bill or Agriculture Improvement Act 2018 is legislation that reauthorizes plenty of agricultural laws and expenditures, including the legal and regulated production of hemp plants.
Currently, 33 out of 50 states have legalized possession and production of cannabis Sativa plants including marijuana. The remaining 17 have state laws that only allow medical cannabis, and in small quantities with low traces of THC.
Where to Buy CBD Oil
Among top-notch CBD manufacturers are Blosum. Blosum offers a wide range of CBD products that are third-party tested, high-quality, and fully organic.
You can request a copy of their lab test results. This makes it a world-class brand.
Their best-selling products come in many forms.
CBD Soft Gels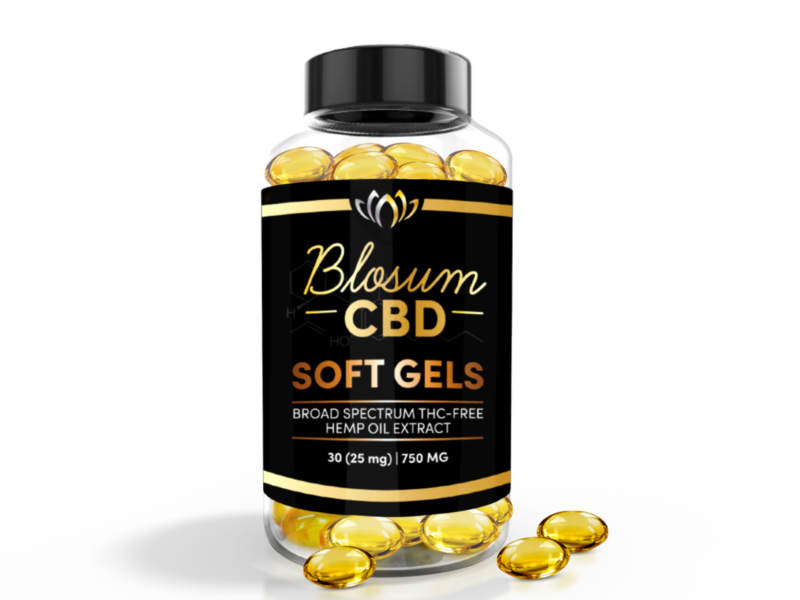 CBD capsules and soft gels are similar in many ways. Both have two parts with the CBD oil inside. The difference is in the outer covering.
Capsules have a hard outer covering that takes longer to absorb into your system. Soft gels have a gelatin shell that absorbs fasters.
Blosum's Soft Gels are 100% THC-free and will definitely benefit your lifestyle if you take them consistently.
25 mg Concentration Per Soft Gel
Maximum Bioavailability
Gluten-free, Non-GMO
Made in the USA
Coming in 25 mg CBD per soft gel, you can take these capsules every day without any additional hassle.
For those looking to maximize CBD absorption, look no further than Blosum's soft gels because they are formulated for maximum bioavailability. They can help with support balance in the body and mind.
CBD Gummies
Consumers with a sweet tooth can find the perfect CBD product for them with Blosum's gummies. The brand offers two kinds: broad-spectrum organic vegan gummies and full-spectrum multivitamin gummies.
Organic Vegan Gummies 25 mg
It's a fan favorite because of its sweet and delicious taste. You can take these gummies at any time of the day.
Natural and Organic
THC-free
Contain vitamin C
Strawberry Flavor
The organic gummies are all-natural flavors and colors.
Discreet and coming in the sweet flavor of strawberry, you can get your daily CBD dose just by popping one in your mouth.
Full-Spectrum Multivitamin Gummies 10 mg
For a daily dose of well-rounded nutrition, essential vitamins, and minerals for your needs, full-spectrum gummies contain low traces of THC.
0.3% THC
Full-spectrum Phytocannabinoid Rich
Third-party Lab Tested
Pure Hemp Oil Extract
They contain no artificial colors, flavors or sweeteners so your body is getting all-natural ingredients with a healthy dose of cannabidiol. It also contains nutrient-rich vitamins like folic acid, vitamin A, biotin, and vitamin C.
Each gummy contains 10 mg of CBD so your 30-piece gummy jars are perfectly dosed even for beginners.
They come in assorted flavors of strawberry, grape, orange, cherry, and lemon.
CBD Topicals
CBD topicals are good for joint and bone pains. Research is showing that CBD topicals and salves can be a non-addictive treatment for arthritis.
Blosum's THC-free warming botanical salve will do just that.
Infused with Turmeric and Ginger Scent Essential Oils
Improved Bioavailability
THC-free
500 mg Pure CBD
Researchers determined the effectiveness of CBD salve as a pain reliever through multiple studies and experiments. There is evidence showing that hemp oil is an effective treatment for chronic pain.
The warming salve encourages optimal healing by stimulating local blood flow and vascularity.
The brand made its salve with various essential oils such as turmeric and ginger scent. Both come with their own health benefits.
CBD Oil Tinctures
Blosum put a delightful twist into the classic CBD product with its flavored tinctures.
Available in 500 mg and 1000 mg CBD Concentrations
Contains Fractionated Coconut Oil (MCT Oil)
0.3% THC
Third-party Lab Tested, Made in the USA
Coming in flavors of lavender, cinnamon, and orange blossom, you can enjoy your CBD oil without its natural earthy taste. Each bottle is complete with full-spectrum hemp extract oil containing less than .03% THC
Place a few drops under the tongue and it will enter the bloodstream quickly.
If you're one to take CBD oil with food and beverages, elevate it by adding a few flavored drops into them to give your taste buds a burst of flavor.
With so much to choose from, you can get the best out of your purchase from Blosum.
SUMMARY
There are currently no federal laws preventing all states from producing and distributing CBD products so there has been a steady rise in the CBD industry throughout the country.
Most high-quality CBD products are sold over-the-counter in pharmacies, wellness centers, and cannabis dispensaries.
They are steadily available and can also be purchased in major e-commerce companies and licensed online stores dedicated to manufacturing top-notch quality products to consumers worldwide.
Is CBD Legal? Hemp-derived CBD products (with less than 0.3 percent THC) are legal on the federal level but are still illegal under some state laws. Check your state's laws and those of anywhere you travel. Moreover, keep in mind that nonprescription CBD products are not FDA-approved.