CBD Capsules: Dosage, Benefits, and Side Effects
In recent years, more and more products such as CBD capsules are emerging as the latest trend in the health community. CBD is a non-psychoactive cannabinoid and does not cause euphoric effects on the body.
The latest trend of the best CBD oil products includes CBD capsules. CBD capsules are becoming more and more popular as it allows seamless integration of CBD in everyday life.
With its list of health benefits, more people are becoming curious to try out CBD as a safe supplement for battling a myriad of medical conditions.
CBD Oil Capsules: What are CBD Capsules?
Among the top list of CBD products are CBD oil capsules. They come in different forms but usually the same content, varying only in dosage and THC presence.
Some are completely THC-free and some have low traces of THC and other cannabinoids.
CBD capsules and soft gels are pretty similar in content, both have CBD oil and all its benefits.
The main difference between the two is their outer covering.
Capsules have firm film-like covering while soft gels have a gelatin-based outer cover.
Both are safe to orally ingest, but the latter is easier to absorb because of its soft, gelatinous structure.
CBD pills have several health benefits, according to frequent users, but these statements have not been evaluated by the Food and Drug Administration.
Sleep quality can be improved and sleep patterns can be regularized.
Muscle or joint pains can find quick relief, as well as manage headaches and migraines. Capsules can also help relieve stress and anxiety and help users relax.
CBD compounds are extracted from hemp plants. Since the rise of industrial hemp in 2018 after the changes made in the Farm Bill of the United States, the best CBD oil has steadily been in-demand in the market.
The CBD market is growing at a fast rate and gaining more attention in the medical field.
However, there is still confusion about how to use CBD, its legalities, the right dosage, and the right products to use.
According to federal law, CBD products are legal. Though some states still prohibit cannabis, thus, have strict laws on CBD products and only allow products with no more than 0.3 percent THC content.
Though experts agree that not enough studies have been conducted to prove the medicinal and therapeutic effects of CBD as well as determine their benefits and risks, CBD shows great potential given the right attention and funding for development.
CBD Oil Capsules for Pain
Using CBD oils as pain-relievers is fast gaining popularity. Studies have shown CBD to have anti-inflammatory properties, and help relieve aches and pain.
The CBD reduces inflammation and interacts with the body's endocannabinoid system (ECS), helping reduce the level of pain experienced.
Other research also supports that CBD oils help in relieving pain and inflammation caused by chronic illnesses.
CBD has absolutely no tolerance buildup on the body and, thus, provides continual relief from daily usage.
It provides relief without the euphoric effects of medical marijuana or the drowsiness of traditional medical prescriptions.
CBD Oil for Anxiety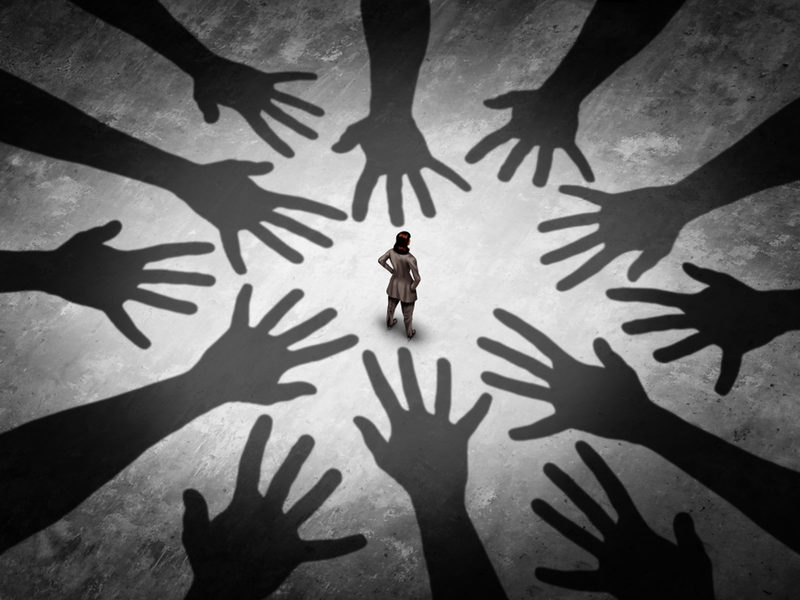 CBD oils have also shown to have a positive effect on the treatment of anxiety. It soothes frayed and on-edge nerves, helping patients relax and reduce symptoms of anxiety attacks such as headaches
The cannabinoid has a calming effect that aids those suffering from both anxiety and depression.
It helps stop the restlessness associated with anxiety disorders, helping the person affected to find relief and even rest.
CBD also promotes a balanced and regulated production of the body's natural chemicals like serotonin.
Serotonin is the body "happy hormone" and more production of it stimulates a lift in the person's general mood.
How many CBD capsules can you take? Currently, there is no set standard for the recommended dosage of CBD capsule dosage.
While CBD does boast a list of health benefits, it is not intended to diagnose, treat, cure, or prevent pre-existing medical conditions.
As with any other medication, it is essential to follow all medical advice concerning the use of CBD and all CBD products. This is especially true for pregnant or nursing persons and persons with medical histories.
There are multiple forms of CBD products available including sweet gummies, pills, topical creams and lotions, balms and salves, and tinctures that are taken through sublingual absorption.
Related Articles
Is it Possible to Overdose on CBD?
The right dosage varies from person to person.
Bodyweight should be taken into consideration when figuring out how much CBD works for daily intake.
For better results and maximum effects, consistency is encouraged.
Sticking with the same CBD routine for at least four to six weeks or as recommended by a healthcare provider may prove to show desired results.
Will CBD Oil Show up on a Drug Test?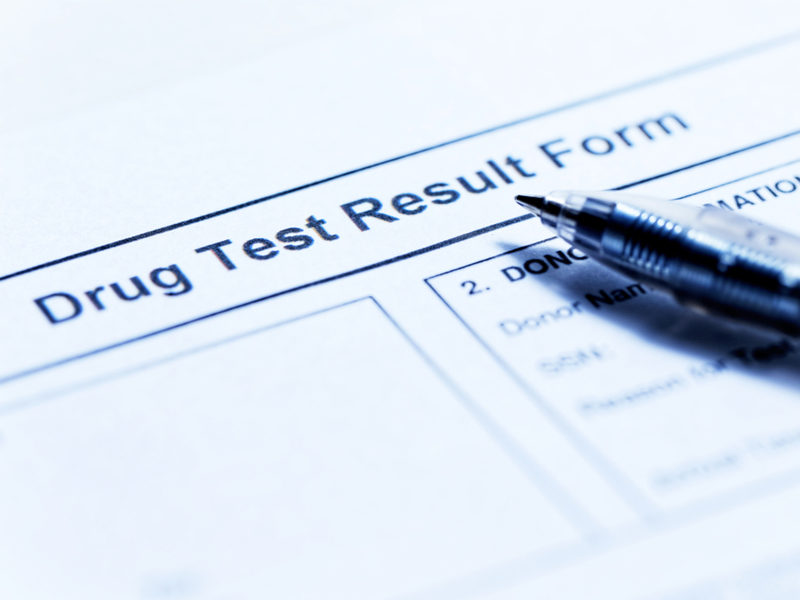 CBD Isolates are pure CBD products and typically come from hemp plants. They are pure, decontaminated CBD and do not contain other cannabinoids like THC.
Full-spectrum CBD, on the other hand, contains many cannabinoids that naturally occur in the cannabis plant they were extracted from.
Theoretically, CBD products are virtually undetectable in drug screenings. However, a large dosage of full-spectrum CBD that includes THC may accumulate and be detected.
It is best to declare CBD usage and amount ingested to personnel administering the test, as well as checking current state laws on the legalities of using CBD products.
To date, the Food and Drug Administration (FDA) hasn't approved any over-the-counter CBD products. It's important to do your research and make sure you're buying a quality CBD oil.
Where to Buy the Best CBD Capsules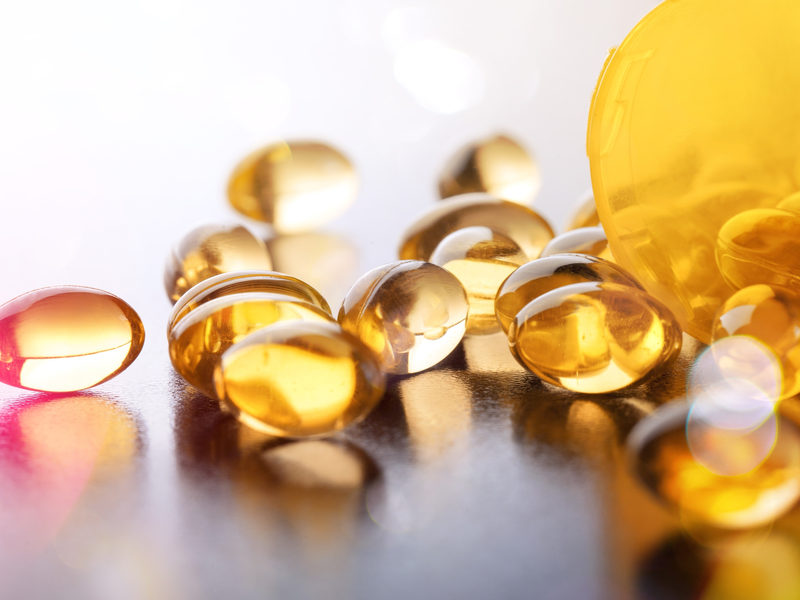 Now we'll tell you where to buy CBD capsules.
Blosum CBD's capsules and soft gels for sale are 100 percent organic CBD. There are no additives or preservatives added, and they are formulated for maximum bioavailability.
All Blosum CBD products undergo third-party laboratory testing to ensure high-quality products.
CBD Capsules – Soft Gels 25 mg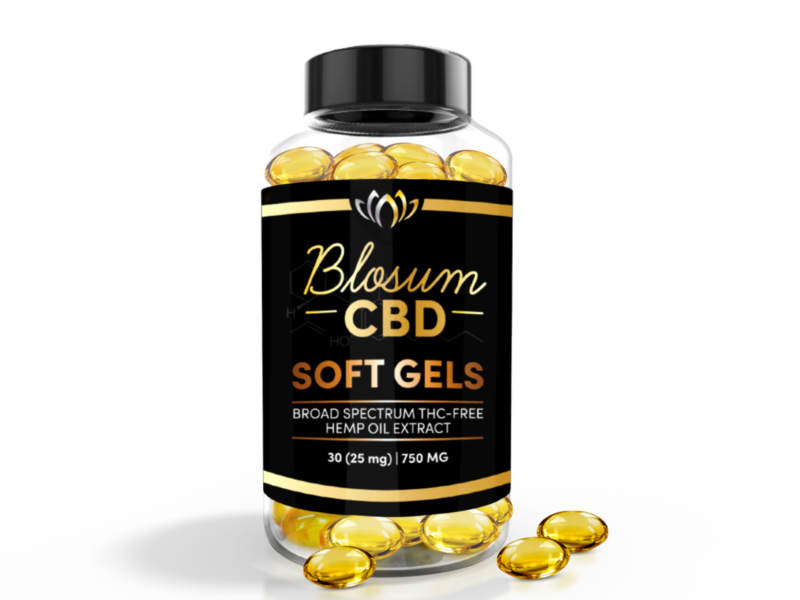 Capsules with 25 mg of CBD concentration contain maximum strength of CBD benefits. They contain the same health benefits as the 10 mg capsules, only bigger in size and dosage.
These CBD capsule soft gels are of broad-spectrum formulation, so they are free of THC content. Blosum CBD formulated its soft gels with maximum bioavailability, with no additives or preservatives. Blosum's CBD capsules soft gels 25 mg are made of 100% pure hemp extract ingredients.
You can take 25 mg of CBD capsules at any time of the day.
Made in the USA
THC-free
Contains Coconut MCT Oil
Independently Tested for Potency and Purity
CBD Capsules – Broad-Spectrum
Broad-spectrum CBD capsules contain all of the phytocannabinoids in the hemp plant except for THC. CBD products with broad-spectrum formulations attract consumers who want to get the health benefits of CBD without the psychoactive property of THC.
Although its counterpart, full-spectrum CBD oil, contains no more than 0.3% THC, many users prefer broad-spectrum products to err on the side of caution.
Some of the benefits of broad-spectrum CBD capsule soft gels include improving sleep quality and reducing chronic pain. Blosum's CBD capsules soft gels stand out in the market because of its pure formulation, containing 100% organic CBD.
CBD Capsules – Soft Gels THC-Free
The beauty of CBD capsules soft gels is that it removes the need for guessing your dosage. Since each capsule comes with a set concentration of CBD, you're never in the dark about how much CBD you're giving your body.
We recommend taking one capsule each day so that your body can adjust to the introduction of CBD. It's important that you monitor the way your body reacts to the cannabinoids regularly. Some consumers have a journal where they note changes and how they feel with their CBD regimen.
Blosum makes its CBD soft gels with a gelatin shell. The body absorbs this easier compared to the hard shell of capsules. Consistent use will bring positive changes to your body when it comes to health.
It's important that you store your CBD products in a cool, dry place.
All of the products listed here are lab-tested, made from U.S.-grown cannabis, and have less than 0.3 percent tetrahydrocannabinol (THC). There are no CBD products over-the-counter that have been approved by the FDA.
Summary
Adding CBD to a daily health routine may be beneficial. CBD can provide the relief needed from many different forms of pain associated with stress, anxiety, insomnia, and injuries.
With CBD providing relief without extreme and harsh side effects, psychoactive properties, or addictive qualities, it is quickly becoming a trusted alternative for the treatment of pain and a myriad of other health issues.
Disclaimer: Is CBD Legal?
Hemp-derived CBD products (with less than 0.3 percent THC) are legal on the federal level. These statements have not been evaluated by the Food and Drug Administration. This product is not intended to diagnose, treat, cure or prevent any disease and products have not been FDA approved. You must be at least 21 years old to purchase these products. Talk to your physician or medical doctor for additional information.