How CBD Products Will Help You Treat Chronic Arthritis Pain
CBD has been making the headlines recently, and there has been a lot of news about how effective it can be for the relief of chronic pain. But how effective is it when you use CBD to treat arthritis pain?
The CBD industry is making waves in communities as more studies are showing that CBD products can alleviate pain symptoms from diseases like arthritis, multiple sclerosis, and even migraines.
CBD Oil for Arthritis
Cannabidiol (CBD) is one of the many naturally-occurring chemical compounds of cannabis.
Farmers extract the CBD compound from cannabis plants and dilute it further with a carrier oil. The final product is CBD oil.
CBD oil is a natural remedy for pain-related ailments. CBD contains anti-inflammatory properties that alleviate pain and inflammation naturally.
Those suffering from arthritis can use CBD oil as an alternative to prescription drugs.
There are many CBD products in the market to choose from. Cannabidiol can be absorbed by the body in various ways, such as oil tinctures, edibles, and topicals. 
All CBD products can give you pain relief, but some forms of CBD act quicker and are more preferable for targeting painful areas.
For arthritis-related pain located in the body, you can use CBD creams or CBD salves to experience the fastest pain relief.
Applying CBD topicals to the affected area lets the healing properties of cannabidiol to act in an isolated area. Within minutes, feelings of pain will disappear and you can experience calmness and relaxation.
How can CBD Benefit Arthritis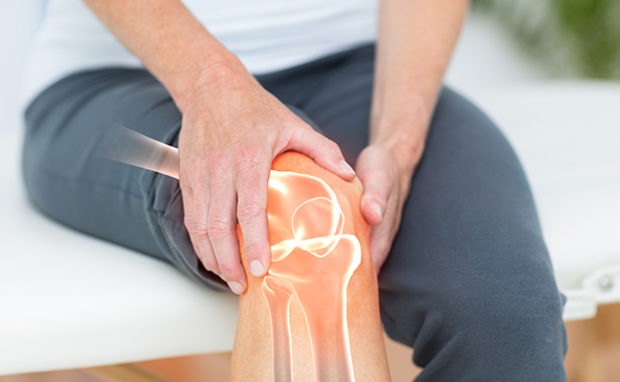 To produce the needed effects, all cannabidiols including CBD oil attach themselves to some receptors in the human body.
Aside from this, the human body also produces its own. There are two types of receptors in the body: CB1 and CB2 receptors.
These receptors are located all over the body, but the brain has a lot of them.
The CB1 receptors found in the brain are responsible for pain, emotion, coordination, mood, movement, memories, thinking, and appetite.
CB2 is mostly found in the immune system. They are known to affect pain and inflammation.
Before now, it's commonly believed that CBD acts on the CB2 receptors.
But now, based on all the evidence, happenings, case studies, and research it appears that CBD does not directly act on any receptor.
Instead, it exerts an influence on the body so it could use more of its cannabinoids.
Nevertheless, CBD products like CBD cream can act quickly and relieve pain that stems from arthritis. 
What is CBD for Arthritis?
Research shows that CBD oil can relieve all types of arthritis pain and other chronic pain.
For patients afflicted with arthritis, CBD oil is the natural alternative for pain relief.
There are many painkillers that you can get in pharmacies, but consistent use of pharmaceutical drugs can negatively affect our organs.
Moreover, the body develops a tolerance to these drugs. Users will then need a higher dose to experience the same pain-relieving effects.
On top of that, some of these prescription medications come with adverse side effects. Some of the side effects include nausea, fatigue, weight loss, and the like.
CBD oil is a viable treatment for arthritis because it offers little to no side effects. Because the body has its own cannabinoids in its endocannabinoid system (ECS), CBD products give the ECS support in a natural and safe way.
If you are worried about the long term effect of CBD oil on your health, you may ask your healthcare provider or rheumatologist who will give you all the guidance you need.
CBD for Carpal Tunnel
Do you constantly feel tingling, weakness, and numbness in your wrists? If so, you might be suffering from carpal tunnel syndrome.
Carpal tunnel is when pressure on your median nerve goes through a passage in your wrist called the carpal tunnel.
There are many causes of carpal tunnel syndrome. Repetitive motions are the most common cause of carpal tunnel syndrome, such as continuous typing.
CBD products can help alleviate carpal tunnel syndrome. In the same way that CBD oil products alleviate arthritis pain, you can use CBD cream to reduce the pain and inflammation in your hands.
Organi hemp-derived CBD provides natural means to address debilitating pains like arthritis and carpal tunnel syndrome.
Benefits of CBD Oil
Depression and anxiety are two common mental disorders that could result in life-threatening problems for the carrier.
The worst part of it is that most times, the individuals affected are unaware of the fact that they have such a mental condition.
Before now, depression and anxiety were treated with pharmaceutical drugs, which resulted in various side effects.
But CBD oil has been known to use a natural approach in the treatment of this ailment.
It does this by impacting the receptors of the brain for serotonin, which is a neurotransmitter that controls a person's mood and social behavior.
It can eradicate symptoms caused by cancer
This is one of the unique CBD benefits as studies have shown that CBD can help to alleviate symptoms and side effects caused by cancer. Although there are certain drugs used in treating this ailment.
But, their inefficiency led patients to begin to find alternatives in natural medicine.
CBD has been claimed to have some cancer-fighting properties, but the efficacy of this claim is still uncertain, the most popular delivery method for this is the tasty CBD Gummies.
It helps the heart to function well
One of the major CBD benefits on the cardiovascular system is its impact on the heart.
CBD has some specific chemical properties that can lower high blood pressure in the human body.
Hence, it's considered as an effective treatment of HBP.
It has some anxiety and stress-reducing properties that work in this regard. CBD can protect your heart in several ways, which also include the prevention of heart disease and HBP according to the Center For Disease Control and Prevention (CDC).
Related Articles
CBD for Arthritis: Proper CBD Dosing
When you use CBD to treat arthritis pain, it can interact with certain prescription drugs.
This will inhibit their performance, especially those broken down by the liver.
Aside from this, CBD can lead to drowsiness. Proper dozing is essential to ensure mental alertness.
If you are considering taking one of the CBD products pill form, your body might not fully absorb its nutrients as much will be destroyed by the liver.
SUMMARY
Chronic pains brought by arthritis and carpal tunnel syndrome can affect the way you live your everyday life. While there are pharmaceutical drugs on the market, it can lead to long-term health issues.
This is why more are looking to CBD oil treatment for arthritis and carpal tunnel syndrome. Not only is it a natural means of healing, but it's also virtually impossible to overdose on it.
We find that CBD topicals such as balms and creams are the most effective way for CBD to alleviate these kinds of pain.
Is CBD Legal? Hemp-derived CBD products (with less than 0.3 percent THC) are legal on the federal level but are still illegal under some state laws. Check your state's laws and those of anywhere you travel. Keep in mind that nonprescription CBD products are not FDA-approved.
Published June 18, 2019; Updated February 23, 2020.