CBD Oil for Dogs
Cannabidiol (CBD) has many health benefits for humans and pets. Specifically, dog owners are buying CBD oil for dogs to treat their medical conditions. The substance has been found to have none of the side effects of over-the-counter medicines, and it has fewer chances of manifesting in pets.
CBD products are trending as experts discovered that it may serve as an alternative treatment to cancer and arthritis for humans and dogs alike. This led to the manufacture of CBD for pets, such as CBD dog treats.
CBD and THC are chemicals that are extracted from the cannabis plant. Cannabidiol or CBD is the non-psychoactive derivative that provides the health benefits of CBD products. These items don't give people nor animals a "high," contrary to popular belief.
It is the THC that causes this mind-altering effect. It only exists in minuscule amounts in various CBD products in order to produce an "entourage effect" in CBD products, enhancing their medicinal properties. Despite being a component in CBD products, it will not produce psychoactive effects in humans and pets.
More importantly, CBD is safe for animals because it is non-toxic. Taking too much will not result in fatalities for pets, unlike foods like peanut butter. In fact, the most common side effects of CBD in animals are minor, like sedation or excessive appetite.
CBD also dissolves quickly when dogs and cats orally ingest them, so risks of CBD overdose are minimal. The circulating level of CBD dissipates in approximately four hours. This is not the case with humans who may have to dilute the substance in coconut oil to avoid excessive CBD in their bodies.
Hemp Oil vs. CBD Oil For Dogs
Hemp oil and CBD oil are often conflated by the general public. After all, they come from the same plant.
Although most people assume they're the same, the two substances differ in origin and effects.
What's The Difference?
Hemp oil and CBD oil come from hemp plants, but they come from different parts of the plant. Hemp seed oil, as the name suggests, only comes from the plant's seeds. Meanwhile, CBD oil is made from the other parts of the plant, such as the stalk and the leaves.
In addition, they have different uses and components. Hemp seed oil has little to no CBD, and it is mostly used as a nutritional supplement. On the other hand, CBD oil has more cannabidiol, so it can treat certain health conditions.
This means that both are great for your pet, but CBD is better. Your dog will benefit from the omega-3 fatty acids and other nutrients that hemp seed oil contains.
On the other hand, CBD oil provides far more health benefits for your dog. Not only does it help with his digestion and sleep, but it may also treat his chronic pain and anxiety.
What Does It Do For Dogs?
Many people are now buying CBD oil for dogs due to their health-enhancing properties, such as:
Reducing anxiety due to stressful events, such as veterinarian visits, fireworks, and thunderstorms
Treating seizures
Halt excessive barking
Reduce aggression towards other animals or people
Treating mood disorders
Soothing inflammation
Relieving muscle spasms
Relieving joint pain
Facilitating recovery from surgery
Stimulating appetite
Preventing cardiovascular diseases
Treating cancer
Further research is still needed to definitively determine their health effects and efficacy. Nevertheless, numerous clinical trials have shown CBD as a promising cure for various medical conditions. Moreover, people have made multiple testimonials proving the effects of CBD for dogs.
How Should I Buy CBD?
To ensure your dog's safety, there are various guidelines you should follow when buying pet CBD products.
First, you should find products that are specifically designed for pets. Second, the product should be of high quality, no matter what price. Third, the CBD product must be completely organic, free of any pesticides and fertilizers.
An example of such a product is Blosum's CBD Dog Chews. They are made with high-quality, full-spectrum CBD and no pesticides or fertilizers.
Related Articles
CBD Oil For Dogs With Cancer
CBD oil may treat cancer in dogs, as experts have found out. Cancer cells don't usually die by themselves, and they spread throughout many parts of the body.
However, CBD has been found to induce apoptosis in cancer cells, eliminating them.
Also, it prevents cancer cells in metastasizing or spreading further in dogs. In fact, research shows that it can prevent the growth of certain types of cancer, such as breast cancer, lung cancer, and brain cancer.
Moreover, CBD for dogs can help them eat more and sleep better while they have cancer.
The disease can cause discomfort for dogs, causing loss of appetite and lack of sleep. CBD increases dogs' appetites and induces sleep.
Read More: Finding the Best CBD Products for You
Best CBD Oil For Dogs With Arthritis
In addition, CBD has been discovered to help with chronic pain and inflammation. In fact, medical marijuana is used to alleviate pain for thousands of years. It influences the body's endocannabinoid system, soothing chronic pain from migraines and arthritis.
Blosum's CBD Dog Chews are especially effective in treating your dog's arthritis providing other CBD benefits. Made from high quality, full-spectrum CBD oil, these dog chews have the CBD your dog needs for pain relief. Moreover, it has the positive health benefits listed earlier including anxiety relief.
Guaranteed to be lab-tested and organic, you can rest assured your fur baby will be safe from harmful chemicals, pesticides, and fertilizers. It comes in beef liver flavor that your dog will surely love!
CBD Dosage For Dogs
CBD for dogs has little risk of overdose and it causes minor side effects. This is because the substance dissolves quickly in dogs and cats' bodies. However, you should follow a certain dose for your pet.
More importantly, you should consult a veterinarian for a recommended dosage for your dog. Usually, dogs are given 1 mg of CBD per 10 lbs of their weight.
Due to government regulations, doctors don't give prescriptions for CBD unless the patient asks for one. The substance is legal in a few states only, so they may only recommend it under a patient's request. Therefore, you should take the initiative to ask your doctor for advice regarding CBD for dogs.
How Should My Dog Have CBD?
There are two ways your pet can take CBD: oil tinctures or dog treats.
First, you may give your dog some CBD by mixing some of the oil into his food. You can just apply a few drops in his food so he can get a dose while he eats.
However, the best way is to give him CBD dog chews. These are made specifically for pets, so they are guaranteed to have no substance that is harmful to pets.
Read More: Best CBD Cream Amazon
Best CBD Oil For Dogs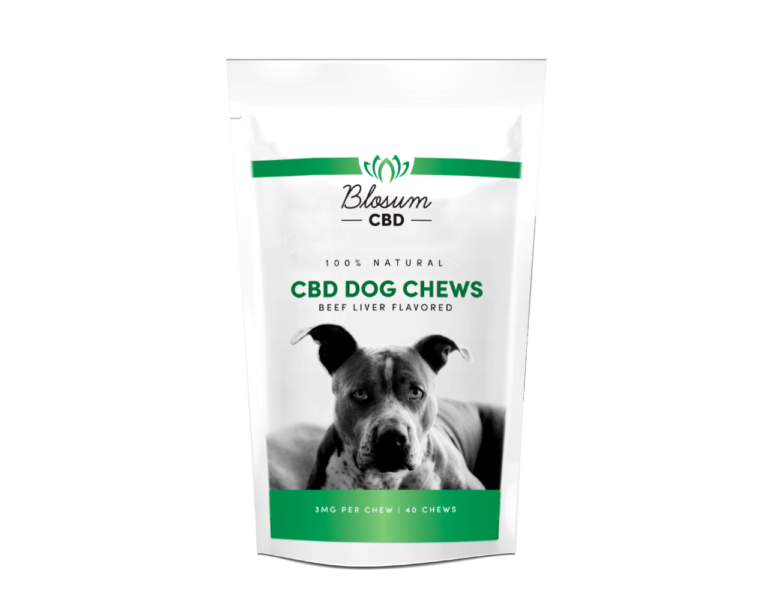 If you're looking for CBD for dogs, head to Blosum's website. The company uses the highest quality, full-spectrum CBD oil, creating the best products for you and your pet. The company produces gummies, topical creams, and oil tinctures that you will surely love.
They also have CBD dog chews for your pet. All their products have only 0.3% THC, so they won't cause either of you to get mind-altering effects.
Their products are 100% lab-tested, so they are guaranteed safe and effective.
Summary
CBD can help your dogs in a variety of ways. It can treat their arthritis, cancer, and other medical conditions.
CBD products cause no overdose. Moreover, chances of overdoses for pets are slim as they dissolve CBD quickly. In fact, overdoses only cause minor, non-lethal side effects.
You can get the best CBD oil for dogs from Blosum. They make high-quality CBD products for you and your pet. Aside from oil tinctures and gummies, Blosum has dog chews your pet will love. It has all the CBD goodness your dog needs.
Disclaimer: Is CBD Legal?
Hemp-derived CBD products (with less than 0.3 percent THC) are legal on the federal level. These statements have not been evaluated by the Food and Drug Administration. This product is not intended to diagnose, treat, cure or prevent any disease and products have not been FDA approved. You must be at least 21 years old to purchase these products. Talk to your physician or medical doctor for additional information.