CBD Dog Treat on Amazon
CBD Dog Treat on Amazon: Caring for dogs is an important part of life for those who are dog owners. Recently, CBD treats have become a very popular way to help dogs with joint and hip problems.
A lot of people flock to Amazon to buy CBD treats for their pets, but how reliable is Amazon in selling quality CBD products?
Research showed that it's actually against Amazon policy to sell products labeled as "CBD oil," which led to companies disguising their CBD products as "hemp oil" or "hemp extract." While CBD oil is hemp oil extract, it requires a lot of reading between the lines on the part of the consumer.
To get the best CBD for your dog, sometimes it's best to opt for other online retailers.
CBD Dog Treat on Amazon for Hip Problems
Hip dysplasia is common in senior and disabled dogs. Canine hip dysplasia is a prevalent genetic disorder is purebred dogs.
Other factors can contribute to the development of hip problems. These factors include:
Poor diet
Lack of exercise
Intense movement (constant jumping, running, etc.)
Obesity
Cartilage damage
While there are surgical options to treat and manage canine hip dysplasia, this is a costly operation that can cause distress in your beloved dogs.
Recent developments show that CBD oil for dogs may be a non-invasive and natural alternative to curbing debilitating hip problems.
Cannabidiol (CBD) contains anti-inflammatory properties that can minimize swelling and reduce pain.
The beauty of it is that CBD comes with minimal side effects.
CBD Dog Treat on Amazon for Anxiety
More dogs are suffering from anxiety. There are many stimuli that can trigger anxiety for dogs. Loud sounds such as thunder and firecrackers can increase stress levels in dogs and trigger anxiety.
Since dogs have sensitive hearing, they are prone to get spooked by loud sounds.
Some symptoms of anxiety in dogs include excessive howling when left alone, shivering, and cowering in a corner.
CBD oil offers a natural supplement that can calm down your dog and minimize anxiety symptoms. CBD can do this by interacting with your dog's endocannabinoid system (ECS).
The active ingredients of CBD can reduce stress levels and keep your dog calm.
If you are in the market for organic treats, it's important to do thorough research on the brands you're buying from.
Since most of the CBD industry remains unregulated by the FDA, there is little stopping manufacturers from falsely advertising and switching out pure hemp ingredients with cheap mimics.
Amazon offers accessible and affordable CBD dog treats. Despite that, sometimes it is better to err on the side of caution and procure products from established brands.
Blosum CBD Soft Dog Chews 3 MG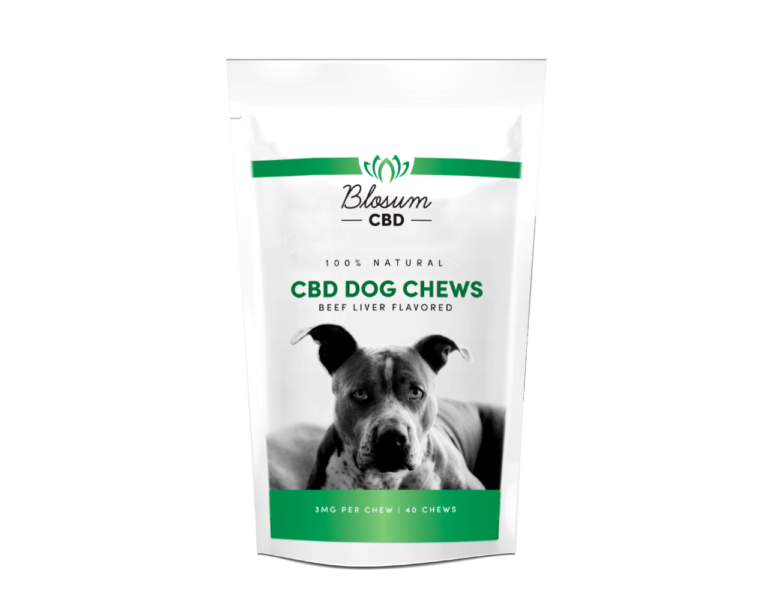 THC-FREE: Blosum CBD is the premier company providing quality hemp oil products to the community. In addition to that, they added CBD products for your beloved pets. Its CBD dog soft chews are non-psychoactive and contain no THC content.
THIRD-PARTY LAB TESTED: The CBD dog chews undergo third-party lab testing. You can request a copy of their lab results. This ensures that your furry companion is getting 100% all-natural and pure hemp extracts from one of the biggest farms in the country.
BEEFY LIVER FLAVORED: You won't have any trouble administering CBD chews to your dog because they come in beefy liver flavor. Containing 3 mg of CBD per dog chew, they come in 40-piece packages.
MADE IN THE USA: Blosum locally sources its hemp extracts in the USA. Their manufacturer adheres to the strict regulations of the 2018 Farm Bill. Thus, you can manage anxiety, hip problems, and cancer in your canine friend.
CBD Treats for Dogs
If you're looking for CBD dog treats on Amazon, you can find some of them here.
We strongly advise pet owners to do more research on the products they're buying for their dogs. Read labels carefully and if it's too good to be true, it probably is.
Make sure to look for products that undergo third-party lab testing to ensure that your dog is getting only the best the CBD market has to offer.
Skyler Farms: Organic Calming Treats for Dogs
AN ALL-NATURAL FORMULA FOR ANXIETY:  Skyler Farms Calming Bites are hearty beef-flavored chewable supplements formulated with natural and organic ingredients that are designed to help dogs of all ages and sizes feel more calm and comfortable in any condition. Whether it's nervous and anxious behavior or a loud aggressive temperament issue, these Calming Bites can help support your pets to keep them happy and comfortable at home or during travel time.

VETERINARIAN FORMULATED FOR STRESS-FREE RELAXATION: Nothing is harder for a dog owner than seeing their beloved canine companion struggling with constant stress problems that make life a challenge. That's why Skyler Farms specially formulated these Calming Bites that are Veterinarian recommended to reduce common anxiety symptoms (separation, situational, social) and frequency of seizures

HELPS WITH HYPERACTIVE & AGGRESSIVE BEHAVIOR: Each daily anti-anxiety chew help dogs with aggressive and easily agitated tendencies. Moreover, these soothing ingredients in this supplement work together as a relaxant to relieve stress and tension that causes excessive jumping, biting and barking troubles.
Get a 25% discount on your next purchase: Code: "WeLovePets"
Calming Treats for Dogs
HELP YOUR SCARED DOG: It's sad seeing dogs pant, cry, jump, and pace their way through an anxious event, and it's worrying to watch them overexcited, at the point of being aggressive. 

CALM, NOT GROGGY: It's not just the ingredients that make The Joy of Calm relaxing – it's the exact balance! In fact, it's crucial if you want a dog that's calm and not drugged. 2x dog treats contain 17mg Magnesium for dogs, 30mg Chamomile, 22mg Thiamine, 23mg Passionflower, and 150mg Hemp Seed, CBD Dog Treat on Amazon

VALERIAN-FREE: Valerian is known to have the opposite effect for some dogs, so we left it out of these anxiety dog chews. In fact, only mild sedative herbs, natural dog vitamins, and minerals from hemp seeds are required here. 7/10 dogs love it for fireworks, thunderstorms, and other stressful things.
Get a 25% discount on your next purchase: Code: "WeLovePets"
True Hemp Supplement Sticks for Dogs
 UNIQUE FORMULATION:  This unique true leaf pet formulation combines hemp seed with active ingredients, creating a synergistic effect to help keep dogs of all ages in peak condition.

OMEGA 3 FATTY ACIDS:  From hemp seed, salmon and anchovy oil to help support normal cardiovascular function.

ANTIOXIDANTS: Extracted from pomegranate seed oil to maintain a healthy immune system and help eliminate free radical damage associated with aging.
SUMMARY
Pet owners who love their dogs know how important it is to find the best products in the market for them.
Quality CBD products can successfully alleviate symptoms of anxiety and hip problems. This allows dogs to experience the best life there is with their owners.
Before administering hemp-derived products to your dogs, consult with a veterinarian.
Is CBD Legal? Hemp-derived CBD products (with less than 0.3 percent THC) are legal on the federal level but are still illegal under some state laws. Check your state's laws and those of anywhere you travel. Keep in mind that nonprescription CBD products are not FDA-approved.
Published August 21, 2019; Updated February 27, 2020.