CBD Oil for Migraines
One of the hundreds of active cannabinoids present in cannabis sativa plants is cannabidiol (CBD). The recent developments and research on hemp show it might be beneficial to use CBD oil for migraines.
Unlike THC, this compound does not have hallucinogenic properties. It does not produce the usual intoxicated feeling associated with using cannabis.
Regarding the legalities of CBD, the 2018 U.S. Farm Bill has reauthorized the legalities of hemp plants, the main source of CBD compounds. This means consumers are free to use CBD for migraines and other pain-related issues.
The bill states that hemp and hemp-derived CBD products will be managed like other crops by the Department of Agriculture.
Hemp production will no longer be under the jurisdiction of the Department of Justice.
Now in effect, this law effectively makes CBD oil legal with a few contingencies.
Some states have not legalized cannabis possession and production so it only allows medical marijuana and CBD products to have no more than 0.3% trace amounts of THC.
CBD Health Benefits
There is a myriad of health benefits that CBD brings to the table including relief and treatment for chronic pain, muscle, and joint pains, reducing stress, calming down nerves and anxiety, aiding in relaxation, helping regulate sleep patterns and producing vitamins and minerals needed by the body.
The human body has a system called the endocannabinoid system (ECS).
The ECS is a regulatory system made-up of naturally occurring cannabis-like molecules. These endocannabinoids work like neurotransmitters to help maintain homeostasis, or balance, in the body.
Cannabidiol, like THC, works by interacting with the body's endocannabinoid system.
They support the body to produce more of its own endocannabinoids. This helps reduce anxiety, pain, and inflammation in some reported clinical trials with little to no side effects.
Though these statements have not been evaluated by the FDA, the first cannabis-derived medicine was approved in late 2018 as part of a treatment for epileptic patients.
CBD Oil for Migraines and Headaches
Migraines are one of the most common pains adults experience. A staggering 39 million or so Americans suffer from debilitating and chronic pain from migraine attacks.
Most believe that stress is the most pressing factor when experiencing these attacks, and many want to find relief in the quickest way possible.
Currently, there is no scientific evidence or research on CBD for migraines as an effective treatment, mostly because it has not been formally studied and CBD oil for migraines has not been evaluated by the FDA.
However, it is still very much a viable option for patients especially since one of the more popular usages of CBD is for pain relief.
The anti-inflammatory properties may reduce neuropathic pain for some users.
In retrospect, CBD has not been as researched extensively and thoroughly as THC.
There are simply not enough studies to support claims of users about CBD's medicinal and therapeutic properties.
However, experts in the medical field agree that cannabinoids have great potential given the chance and funding for more research and clinical trials.
The positive results from previously conducted studies show promising potential for cannabis-derived medicine and products.
Safety is always a priority when ingesting any substance, food, medicine, or otherwise.
Many people look for therapeutic effects that not only lessen pain brought about by migraines, but also overall wellness.
Rather than a prescribed or over-the-counter drug that merely mutes the pain and comes with unwanted or potentially harmful side effects, CBD oil is a more natural and safe alternative in treating migraines.
Related Articles
How to Use CBD Oil for Migraines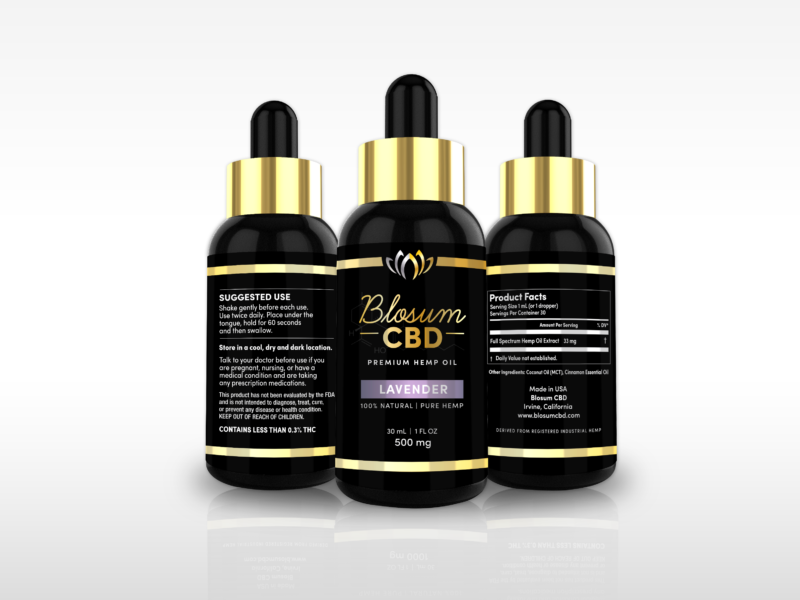 In recent years, many have taken up using CBD for migraines.
CBD tinctures are the fastest and easiest method for reducing pain — a few drops under the tongue and CBD quickly enters the bloodstream.
High-quality CBD products come in many different forms such as tinctures, capsules, soft gels, topicals, and even gummies and candies.
To ensure the quality of the products, they conduct third-party lab testing on the products.
Before starting on any CBD products, it is important to first know the difference between CBD isolates and full-spectrum CBD products.
More than the difference in THC content, knowing the compounds present in these products may help determine what type of product is needed for the body.
CBD isolate is the purest form of CBD oil. Simply put, CBD isolates are pure CBD products with no other cannabinoids present.
The process of making CBD isolates can take longer and require more equipment, thus, making it a tad bit more expensive.
CBD isolate is commonly found in powder, resin, and wax form. They can be edibles or addition to food.
Full-spectrum CBD oil, on the other hand, is a mixture of synergistic cannabinoid compounds.
This means that aside from CBD, other cannabinoids are present including THC.
On a federal level, full-spectrum CBD products are only allowed no more than 0.3% THC content. However, some states ban them completely unless licensed for medical usage.
There certainly are specific health benefits that are specific to the CBD compound.
The vast majority of cannabis compound clinical research suggests that cannabinoids working together in sync with the body's ECS unlocks the plant's full potential that can benefit the human body.
Blosum CBD produces tinctures that are easy and safe to use daily. Tinctures are an excellent way to administer top quality full spectrum of synchronized cannabinoids to the body.
Designed to be taken via sublingual absorption, Blosum's CBD oil for sale are GMO-free and come in different flavors that lessen CBD's usual earthy taste.
Sublingual Absorption
There are many ways to administer CBD tinctures in your everyday routine. Tinctures come in liquid form and you only one to two drops per dose.
A few drops can be added to any type of food or a favorite drink.
The most popular method is through sublingual absorption or under-the-tongue.
A few drops directly on the sublingual glands should do the trick.
For fast-acting benefits, do not swallow the oil and let it dissolve naturally.
You can feel the full effects of CBD quickly as it directly enters the bloodstream.
Aside from treating migraines, CBD tinctures can lessen chronic pains from previous or current injuries, discomfort from sore muscles, arthritis, and other pain-related conditions.
Tinctures can help relieve and even expel common aches from the body.
Note that CBD tinctures or any CBD product will not permanently stop the pain, but it can provide limited relief.
CBD products are not intended to diagnose, treat, or prevent any pre-existing medical conditions.
Pregnant or nursing women and those with complicated medical histories should consult with a physician before CBD intake.
Best CBD Oil for Migraines
In sum, recent research has shown direct connections between the CBD compound and pain or inflammation relief, including headaches and migraines.
Different CBD products are readily available in many local pharmaceuticals and wellness centers.
For convenience, many also buy the best CBD oil online from licensed and registered e-commerce shops.
Summary
A rise in cannabis-derived products come from advocates who promote a healthier and more natural alternative to traditional prescriptions.
For some, they can become an effective treatment for anxiety disorders as well as insomnia. It is also a great daily source of vitamins and minerals needed by the body.
If you're unsure whether CBD is safe to take with other medication, speak with a professional before purchasing any CBD product.
High-quality manufacturers such as Blosum CBD produce only top-quality CBD products that are GMO-free, vegan, lab tested, and safe to use daily.
You can buy CBD online without any worries thanks to Blosum.
Is CBD Legal? Hemp-derived CBD products (with less than 0.3 percent THC) are legal on the federal level but are still illegal under some state laws. Marijuana-derived CBD products are illegal on the federal level but are legal under some state laws. Check your state's laws and those of anywhere you travel.