The ultimate CBD gift guide for 2022
If you're from the United States, you might want to consider CBD gift ideas for this year. After all, more state laws allow this natural extract, so it's a lot easier to buy CBD products. More importantly, it's always a good idea to get your loved ones something unique. They likely won't expect CBD Christmas gifts this year!
You probably don't know much about CBD gift stuff or anything related to the extract, and perhaps that's the reason why you're iffy about purchasing such gifts. Fortunately, this article serves as a CBD gift guide for those with a similar dilemma. More importantly, we will explain its benefits and the reasons why it's okay to give CBD goodies.
We'll go through our CBD gift set with each item for specific needs. You might be surprised at the wide range of options! We'll cover CBD's origins, where it comes from, and how it may help a person's health. We'll dispel common misconceptions about the extract and its products.
5 Items Your CBD Gift Basket Needs
FabCBD Mint Scented Full Spectrum CBD Oil – Great for relaxation
Blosum CBD Gummies – CBD gift for stress
Joy Organics Organic Full Spectrum CBD Tincture – CBD gift for sleep
Blosum CBD Herbal Botanical Salve – CBD gift for her
Blosum CBD Dog Chews – CBD gift for dog lovers
FabCBD Mint Scented Full Spectrum CBD Oil
Great for relaxation
Looking for an all-natural way to supplement your daily routine? Try FabCBD's Mint Scented CBD Oil! They have an award-winning selection of CBD hemp oil flavors includes citrus, mint, and more – each crafted from the finest organically grown Colorado plants.
FabCBD oils are designed as full-spectrum blends that contain less than the required legal limit of 0.3% THC from hemp, so you can enjoy all the benefits of CBD worry-free!
Blosum CBD Gummies
Great CBD Gift for Stress and Relaxation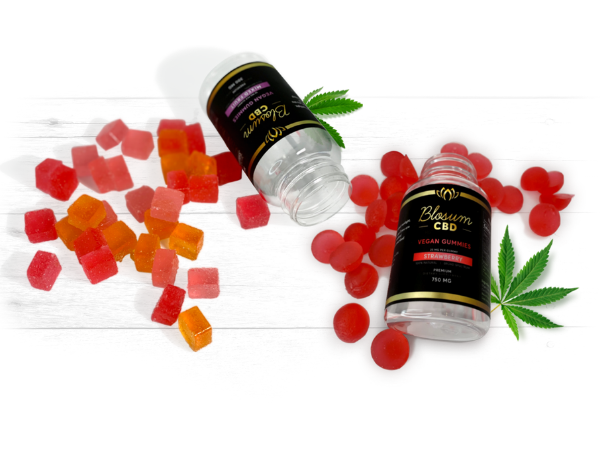 Based on the previous entries, it's easy to think that CBD seems as boring as medicine. Well, Blosum CBD gummies prove that CBD can be healthy and tasty!
These are similar to the sweet chews you used to munch on as a kid. Yet, it has the added benefit of CBD. This is a great plus if you're not keen on taking CBD as capsules or oil drops.
What's more, Blosum's gummies have a lot of options. For example, vegans may love its Vegan Broad-Spectrum CBD Gummies that you can buy in strawberry flavor.
You may get Blosum's Vegan Full Spectrum CBD Gummies if you want the full effects. This one has three tasty flavors: orange, strawberry, and watermelon.
Now you can take 1 or 2 chews every day for a yummy and healthy treat. While you're at it, why not get you or someone else all the flavors as a CBD gummies gift set?
Joy Organics Organic Full Spectrum CBD Tincture
CBD Gift for Sleep
Perhaps you may have struggled to get a good night's rest, or you know someone with this problem. Then, Joy Organics Organic Full Spectrum CBD Tincture may just be for you.
It's a mixture of CBD and essential oils. You may take a few drops before going to bed so that you may fall asleep much easier. At first, taking in oil drops may seem uncomfortable.
This product from Joy Organics has what you need as its oil tincture comes in five flavors. If you prefer, the company offers unflavored tinctures too.
Enjoy Joy Organics CBD Products Here
Blosum CBD Herbal Botanical Salve
CBD Gift for Her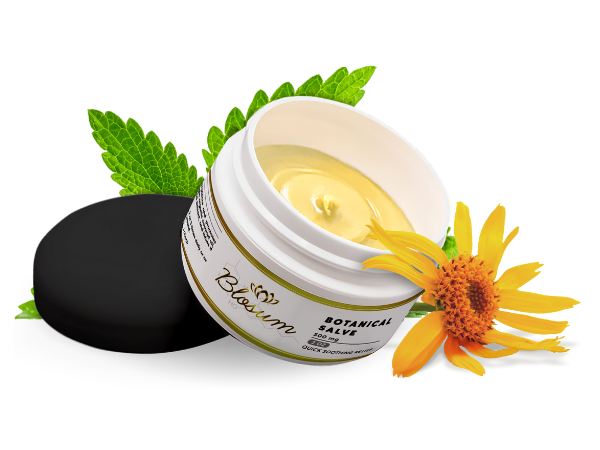 If you think CBD is just meant to be ingested, think again. Believe it or not, this natural extract can come in various forms, including beauty products!
Take Blosum's CBD Herbal Botanical Salve, for example. It's applied on the skin to promote vibrance, stimulate blood flow, and even relieve aches. The Salve contains the following:
Arnica Montana Extract – Reduces signs of bruising and soothes pain
Blood Orange Essential Oils – Adds a fresh citrusy scent to the skin
Coconut Oil – Creates a powerful healing blend when mixed with essential oils
Olive Oil – Rehydrates the skin to keep it lively
Vitamin E – Boosts collagen production and promotes overall personal care
Use it after a long day's work for instant stress relief and relaxation with the power of CBD. You may also try Blosum's other topical products like the Soothing Freeze Gel.
Blosum CBD Dog Chews
CBD Gift for Dog Lovers



Here's another great CBD gift idea that you never expected: Blosum's CBD Dog Chews! You might be wondering why your furry pal would need CBD.
Dogs behave differently, which means some are more anxious than others. Perhaps yours barks nervously whenever thunder booms or a car honks its horn.
If not, perhaps your furry friend is now too old to respond. Maybe it's over ten years old, so it now has problems with its joints. As a result, it may struggle to walk nowadays.
Blosum's CBD Dog Chews can help your pet calm down after hearing a loud noise. That way, it won't disturb you and everyone around with its barking.
What's more, these treats can relieve your dog's joints so that they may move a lot once again. More importantly, it's specially formulated to ensure it won't have side effects.
Check Out Blosum's CBD Dog Chews Here
What is CBD?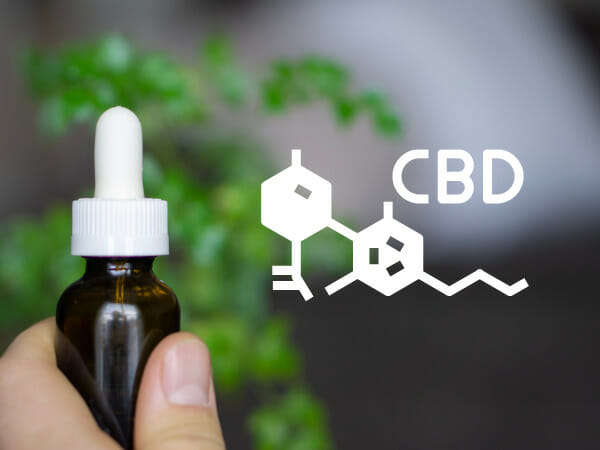 Those were all our recommendations for the best CBD gifts this season. However, you may still have a lot of questions about CBD, such as "What is CBD, anyway?"
Cannabidiol (CBD) is an extract found in the cannabis plant. Upon reading that, images of its harmful effects come to mind but don't worry. It has no psychoactive properties!
Tetrahydrocannabinol (THC) is the one that does have these effects, so many CBD products don't contain this substance. These are called either broad-spectrum or isolates.
The former contains other material found in the cannabis plant, but not THC. Meanwhile, the latter contains only pure CBD, but it's usually the least effective.
Still, some CBD products contain THC, and they're called full-spectrum. Don't worry about harmful effects, though, as the US Farm Bill requires CBD products only to contain 0.3% THC.
It's kept in these products to induce an "entourage effect," which involves the cannabis materials interacting to boost the CBD's effectiveness. That's great, but why do people use it anyway?
As you've seen, the extract can come in various forms. Also, some folks use CBD products to help with various health conditions. Here's a quick list:
Dravet syndrome
Lennox-Gastaut syndrome
Multiple sclerosis
Anxiety
Depression
Even acne!
If you want to try these products, make sure you purchase them from a licensed retailer. Check your local government for more information.
Once you get to the store, ask for its Certificate of Analysis or COA. This will help you confirm the contents of its products. All licensed CBD retailers should have one.
Next, make sure the products and ingredients are sourced from the United States, ensuring that they follow FDA regulations on quality and safety.

Related Articles
Final Thoughts
As you've seen, CBD products include all sorts of benefits. It comes in various forms, so you may want to get a bunch for a CBD gift box.
Note that these products are not considered dietary supplements. Before you purchase some, make sure to get medical advice from a licensed physician.
Follow your doctor's recommendations regarding these products. Moreover, read the product information carefully to avoid unwanted effects.
Disclaimer: Is CBD Legal?
Hemp-derived CBD products (with less than 0.3 percent THC) are legal federal. The Food and Drug Administration has not evaluated these statements.
This product is not intended to diagnose, treat, cure or prevent any disease, and products have not been FDA approved. You must be at least 21 years old to purchase these products and talk to your physician or medical doctor for additional information.
Updated on November 30, 2021