Blosum CBD Promotes Third-Party Lab Tested CBD Products
California-based CBD company, Blosum CBD, takes pride in its high-quality CBD products that are natural, organic and third-party lab-tested.
Blosum CBD only wants the best for their customers.  What sets Blosum CBD apart from other CBD companies is that they take pride in their tested HEMP Products.
The products are currently available for sale via the company's online store at blosumcbd.com.
Phases of third-party testing
Depending on the independent lab's processes, some companies can perform more tests than others.
However, there are three general phases of tests CBD products go through before they qualify as high-quality CBD products.
Overall testing: They test the hemp extracts for mold, pesticides, and solvents. It also checks for the cleanliness of the oil extract before it can move on to the next step for production.
Cannabinoid profiling: Once the extracts pass the first phase, they go to cannabinoid profiling. This measures the exact concentration of certain cannabinoids of the extract. While some products have more cannabinoids than others, these tests look for CBD and THC concentrations.
Verification: Verification focuses more on the safety of the product for public consumption. Another independent lab confirms the results of the two previous phases to confirm whether the lab accurately tested the CBD products. Once they pass verification, brands can sell the hemp oil on the market.
The process of testing is tedious and takes up a lot of time and money. Brands that are serious about promoting the wellbeing of their customers through CBD know that it is an important step that cannot be overlooked.
Importance of Third-Party Lab Testing
Third-party lab testing sounds like an unnecessary and expensive step for brands. For the CBD industry, however, it's the one thing separating sketchy products from authentic ones.
To date, the CBD community remains unregulated by the FDA. This makes it very easy for manufacturers to contaminate their products and lie about it in their packaging and labels.
While it seems like a one-in-a-million type of situation, it can be very dangerous for consumers because of some companies who use low-quality and impure hemp extracts to lower costs and increase profit.
Companies that want to provide pure CBD products procure the services of third-party lab testing for many reasons. Brands are encouraged to use third-party labs to assure that there are no biases.
Once the lab tests are done, CBD brands display the results to show the public that their advertisements are true and that their labels contain accurate information.
Ensures purity of ingredients
The cannabis plant has the ability to pull nutrients from the soil and contain them in its stems, leaves, and buds.
This means that harmful compounds in the soil like heavy metals can be in your CBD product and might negatively affect your body.
Because soil contamination is becoming more of a problem, it only makes third-party lab testing that much more important for CBD products.
Testing facilities look for the presence of pesticides, solvents, and heavy metals such as arsenic, lead, and mercury, in the extracts. These are compounds that can cause the destruction of healthy cells in the body and must be avoided at all costs.
Other items that tests look for are fungi and bacteria that may have infected the hemp plant while it was being cultivated. If these are present in the extract, they will be in the final product.
The presence of fungi and bacteria in your CBD product can result in adverse allergic reactions. Users have to be careful and buy CBD oil only from companies that ensure the quality of their organic hemp oil products.
Confirms THC content (or lack thereof)
A common test run by labs is its cannabinoid profiling test. They are able to measure the exact concentration of the extract's cannabinoids including CBD, THC, CBC, CBG, and CBN, among others.
This is important because some brands advertise THC-free products without truly confirming that their oils are devoid of any THC content.
Some users want to avoid THC content because of its psychoactive effects on the human body, such as a "high" or intoxication.
Accidental consumption of THC can result in paying a large fine, or worse, jail time if they consume it in a state where THC is highly restricted.
Although some states allow THC content, there is still a limit of 0.3% THC for the product to be considered legal by federal law. Any more would result in unwanted legal complications.
Verifies the accuracy of packaging and labels
The last thing that independent labs check is that the brand's labels mirror that of the test results.
Before green-lighting the CBD extracts to be sold on the market, test results show what ingredients need to be shown on the label.
Users can ensure that they're getting what they're being advertised by cross-referencing the test results with the labels of the product they just bought.
This is one of the many reasons why third-party lab testing is important since most of the industry is still not regulated or evaluated by the FDA.
Blosum's Testing Process
Blosum utilizes a rigorous testing system. On-site chromatography and third-party batch testing ensure accurate levels of phytocannabinoids and confirm the concentration of THC (if any) through its proprietary processes.
The end result is the highest quality TRUE Full Spectrum hemp-derived phytocannabinoid-rich (PCR) oil extract. These extracts contain no solvents, no heavy metals, and no pesticides. You can request the results of their lab tests.
Their CBD products are able to improve quality of life such as managing pain and reducing nausea.
Manufacturers bred the most medicinally high cannabidiol strains of medical cannabis to make Blosum's hemp extract.
Hemp farms stabilize and crossbreed these plants with the highest CBD and lowest THC concentrations. This resulted in consistent plant levels of less than 0.3% THC on a dry weight basis.
What characterizes true industrial hemp is its tall stocks. Farms grow them for their fibers, which are the strongest plant fibers in nature. Industrial hemp is also grown for its seed, which contains essential fatty acids but no phytocannabinoids.
All products Blosum manufacture, market, or distribute conform to the 2014 US Farm Bill section 7606. It federally legalized the cultivation of Registered United States Industrial Hemp under certain conditions that they fully comply with.
Consult with a physician before experimenting with any CBD product, especially for pregnant or nursing persons.
Available Organic Hemp Oil Products from Blosum
Blosum provides a wide range of CBD for sale online. They make products for all types of consumers, whether they are looking for THC-free CBD or want to experiment with the cannabis plant's entourage effect.
CBD Tinctures
Blosum's full-spectrum tincture oils let consumers enjoy the health benefits of CBD without its natural earthy taste.
They come in flavors of cinnamon, lavender, and orange. You can take your CBD oil sublingually regardless of your sensitive palette.
You can also add a little flavor to your meals and beverages by adding a few drops whenever you wish.
The effects of tincture oils enter the bloodstream the fastest, so you will be reaping the benefits of CBD in minutes.
Soft gels
If you're adamant about getting a set dose of CBD per day, try Blosum's THC-free soft gels.
They allow you to introduce CBD into your system seamlessly. The beauty with these soft gels is that you can take it whenever you want.
It doesn't matter if you're taking it before or after a heavy meal because you will still get all the benefits of cannabidiol without any side effects.
The soft gels are not meant to treat, cure, or prevent any disease. You are to use them as dietary supplements.
If you have an existing medical condition or use prescription drugs, it is best to consult a doctor before adding CBD soft gels to your everyday regimen.
CBD Salves
Reduce pain and say goodbye to stiff muscles and joints with the warming botanical salve of Blosum.
THC-free and easy to apply, all you have to do is apply a liberal amount on your desired area before you experience pain relief in minutes.
Topicals are perfect for those who suffer from arthritis, migraines, and multiple sclerosis.
Continual use of CBD topicals can increase mobility as well as improve overall health.
Blosum CBD Gummies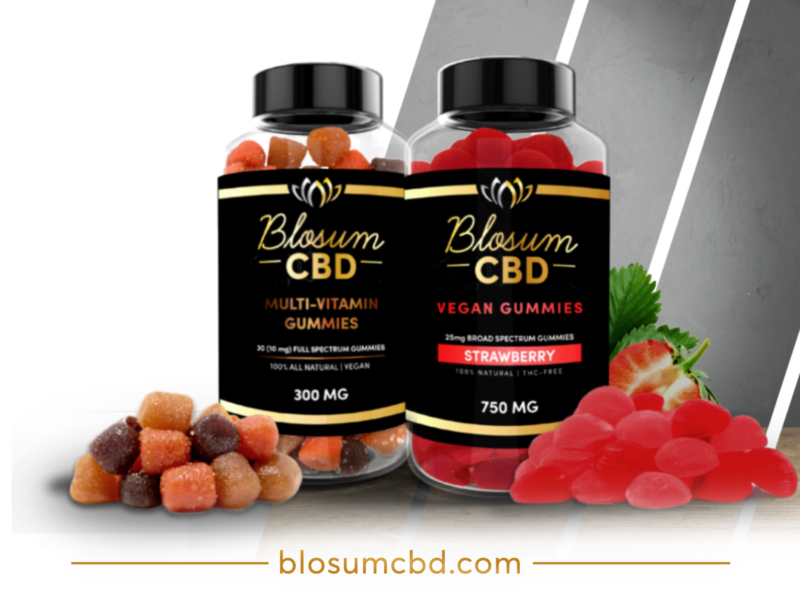 Blosum has two options for gummies: the broad-spectrum organic vegan gummies and the full-spectrum multivitamin gummies.
You can choose whether you want THC content in your gummies.
Either option is still a great pick because they come with other nutrient-rich cannabinoids and supplements such as folic acid, vitamins, and biotin.
They are easily dosed, discreet, and sweet. CBD gummies are the perfect treat for sweet tooths.
Dog Chews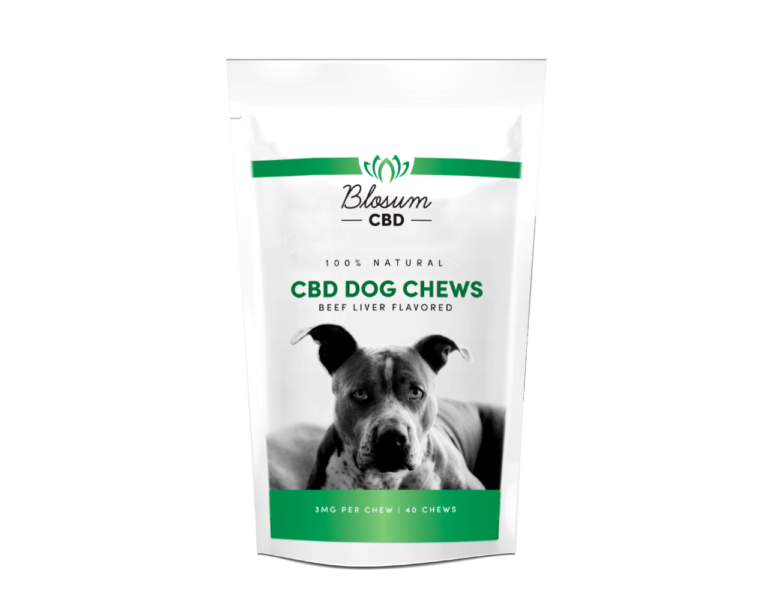 Your beloved pets aren't left behind because Blosum has THC-free soft dog chews.
Carefully dosed with the right amount of CBD that is safe for animals. Pet owners can calm anxiety and manage arthritis symptoms in their furry companions.
They come in a beefy liver flavor so administering it to your dogs requires no additional hassle. In fact, they'll even enjoy the treat.
Summary
Finding the right CBD product for you only becomes more important when readers realize the potential risk of buying untested low-quality products.
Buying from Blosum ensures that you are getting the best product in the market.
The quality at which Blosum delivers its products shows the brand's dedication to providing only the finest hemp extracts the world has to offer.
About Blosum:
Blosum is an organic oil company based in Newport Beach, California. Blosum's main priority is to improve the health and wellness of all generations moving forward. They only use organic hemp plants, grown in the USA. For more information about the products offered by Blosum, visit blosumcbd.com.
FDA Legal Disclaimer: 
These statements have not been evaluated by the Food and Drug Administration. These products are not intended to diagnose, treat, cure or prevent any disease. This product is not for use by or sale to persons under the age. This product should be used only as directed on the label. It should not be used if you are pregnant or nursing. This website is not offering medical advice. Consult with a physician before use if you have a serious medical condition or use prescription medications.