What is an NFT? NFTs fully explained
While checking cryptocurrencies like Bitcoin, you might have wondered what an NFT is. Non-fungible tokens are one of the latest applications of blockchain technology. With it, you can gain unique ownership of digital art and other media. One artist recently earned millions from one artwork by selling it as an NFT!
First, we'll explain what NFTs are and the current buzz is surrounding them. Then, we'll tell you about the man behind the first NFT artwork worth millions. Next, we'll discuss why some want to follow the one-hit-wonder while others stay away. If you're going to make your digital token, we'll show you the steps.
The blockchain has a lot of possible applications, so people are eager to try them out. It's setting the internet on an investment frenzy for cryptos, like Bitcoin, right now. Governments around the world are starting their digital currencies in response. The world is changing super fast, and you should keep up!
What are non-fungible tokens (NFTs)?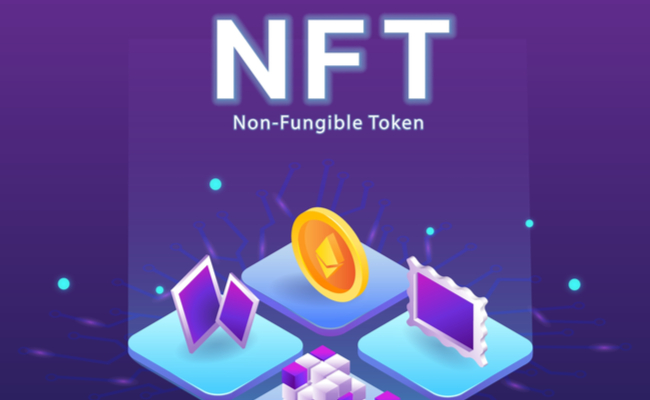 We have to define "fungible" first before we discuss NFTs. It describes stuff you can exchange for their value.
For example, the dollar in your pocket has the same value as the one in your wallet. All those bills have the same value.
You could describe most things on the internet like this. That new doge meme in your social media feed has millions of exact copies by now.
Fungible vs. Non-Fungible Token
NFTs are digitally represented and can be bought, sold, or traded at a cryptocurrency exchange like tokens. Despite this similarity, there is an important difference between the two when sold: fungible tokens represent one unit of money that can be identified as interchangeable with other units, while non-fungible ones have their own unique features and attributes, which makes them different from any other token.
For example, all gold coins in circulation may contain .999 pure gold money, but each coin is different because they come in varied weights and sizes. With these differences come increased worth for collectors who will pay more to acquire rarer items like limited edition shoes than mass-produced pairs even if both cost $150 USD.
Example of NFTs
NFTs can have a wide range as far as size and shape. Where it gets most creative is the actual content that the NFT shows. Many people, like OpenSea, have NFTs be anything and everything. Check out the above image. This is considered an NFT. It is titled "Insightful Irish Terrier."
VeeFriends.com & The Goat Gary V's NFT Project
My name is Anthony, and I love this specific project by Gary Vee: here is what he has done.
GaryVee's legacy project, the VeeFriends token, has been launched and has over-delivered his promises … The limited-edition collector's items are 10,255 tokens broken down into 9400 admission tokens and 555 gift goats.
GaryVee has always been a strong advocate for new technologies, and his latest innovation isn't any different; he just launched a revolutionary blockchain product with "no compromises." Gary calls this collection of digital collectibles an exclusive one-of-one bundle that will be available in three phases:
preorder only (1000)
public sale phase I (5000)
public sale phase II (3000)
I have been following Gary for a few years now, and I use my ID @LeadMaker#0421 to get updates through VeeFriend's social media app Discord. You should try to follow him @VeeFriends on Instagram.com/VeeFriends or Discord App! Check out Meet the 268 VeeFriends.
Related Articles
This isn't the case with nonfungible tokens, though. If you own one of these unique digital assets, yours is one-of-a-kind. For instance, nobody could have your NFTs meme.
What's more, an online public record will keep your proof of ownership. Even if someone copies and pastes your meme, they can't replicate your rights to it.
These are "powered by smart contracts on the Ethereum blockchain." They're one of the many applications of the ETH platform beyond cryptocurrencies, like Bitcoin and Ethereum.
Beeple sparks the NFT craze.
.@beeple 's 'The First 5000 Days', the 1st purely digital NFT based artwork offered by a major auction house has sold for $69,346,250, positioning him among the top three most valuable living artists. Major Thanks to @beeple + @makersplaceco. More details to be released shortly

— Christie's (@ChristiesInc) March 11, 2021
People are talking about these digital tokens because of the artist, Beeple. Mike Winkelmann also sold his art piece "Everydays: The First 5000 Days" for $69.4 million.
It's made of 5,000 digital photos Winkelmann took each day since May 2007. The Christie's auction house reported selling it to an unknown buyer via Twitter.
Around 22 million people watched it live on Christine's website. They saw Winkelmann's dumbfounded reaction to the sale. You could check the priceless response on Youtube.
Some big names took notice of this fantastic moment. For example, Twitter CEO Jack Dorsey put up his first tweet ever as an NFT.
Remember our meme example? Someone already sold one in real life. Chris Torres sold the original Nyan Cat GIF meme for $590,000. Yep, the cartoon Poptart cat with a rainbow tail!
Athletes are even joining the action. Super Bowl champ Rob Gronkowski launched the first NFT trading cards. He earned more than $1.6 million after putting the digital collectibles for auction.
More people are trying out this new art trend. Expect more pieces of digital art bought and sold this way. Everyone's excited about making big with this new tech.
Related Article: Should I Buy Ripple?
Possibilities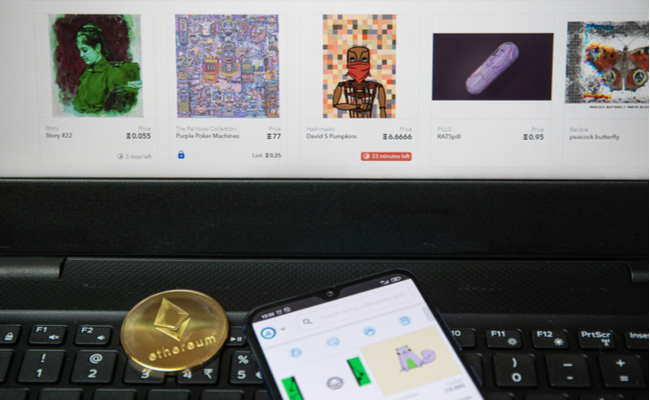 Other digital artists are enthusiastic about earning this much from NFTs as well. They aren't the only ones, though. Game developers, fiction authors, and music writers are also on the lookout.
Suppose they could sell unique ownership of their works as well. After seeing Beeple's stroke of luck, they want to earn millions from their games, novels, and songs.
Steam made buying and storing games easier. Ebooks let us carry a bookcase worth of stories anywhere. Spotify provides millions of new songs. NFTs might be the next step for them all.
Music
People love online music stores like Spotify and Soundcloud. They allow us to listen to the latest music in an instant. Unfortunately, amateur music artists don't share the same positive feelings.
These help them gain exposure on the internet. However, some find it challenging to earn a decent income from these services. NFTs might change all this.
The OPUS music streaming app aims to empower artists with NFT. This may direct more revenue for artists, unlike the mainstream options.
Some bands are already trying out NFTs. Kings of Leon just released their new album as NFTs or nonfungible token.
Related Article: Top Trending Social Media Apps
Gaming
If you play video clip games online, you may be buying digital items already. For instance, Valorant players may spend real money on in-game items.
Some services allow developers to sell those digital goodies as NFTs. The Enjin company is one of the companies that help provide NFT marketplaces for games.
Older gamers might be more familiar with Atari. Well, the company plans to bring back the Atari Casino with unique NFT prizes.
Literature
Nowadays, folks can share copies of online novels with ease. If you write digital novels, this makes it tough to earn from your craft. Why would readers pay if they could get a free copy?
NFTs may change this industry as well. Some writers are thinking of selling their first editions with this technology. The exclusivity might allow them to earn more from their stories.
They're careful about the potential problems, though. For example, they need to pay for creating the original NFTs. If writers don't sell well, they might end up losing money.
Related Article: How to Get Instagram Followers Fast
Potential Pitfalls of Digital Art
Selling and buying an NFT has risks as well. Cryptocurrencies have those too. If you want to try either of them, you should understand these negatives.
They're new technologies that we're recently trying out. While exploring the potential benefits, we'll find some problems too. The main concern is that people could "mint" anything into NFTs. It may seem like one of a kind, but it may not be.
Some artists found out that their works have been claimed as someone else's NFTs. Others responded by checking if their art pieces have been taken too.
Also, the World Economic Forum warned about the environmental impact of NFTs. It reported that Ethereum uses as much energy as Ireland does every year.
Many people aren't aware of the large carbon footprint that blockchains leave. This is why the WEF encourages folks to find non-NFT art instead.
Knowing both positives and negatives is important for any investment—research all the facts before trying NFTs and other new technologies.
Related Article: Best Gifts for Coffee Lovers
How to make an NFT
After your research, you might be ready to make an NFT. You could try the biggest NFT marketplaces, Opensea, and follow these steps:
Click the Create button. This will ask permission to connect to your Ethereum-based wallet.
Enter your password. It might ask for your digital signature to check ownership of your wallet address.
Select Create, and then My Collections.
Click the Create button.
This will open a window where you could upload your piece of art. Place your work and add a name and description.
Click the pencil icon to add a banner.
Select Add New Item and then digitally sign another message.
Click Create and sign one more message.
NFTs explained in 2 minutes. #NFT https://t.co/3JG79FWx9p

— OpenSea (@opensea) February 19, 2021
There are other NFT marketplaces like Nifty Gateway, Mintable, and Rarible. Depending on your choice, you can include promo codes or require passwords.
How do NFTs Work?
NFTs are the future of all digital assets. They have a variety of features that make them stand out from other types of tokens, and they can be used to represent or store anything ranging from collectibles, artworks, property deeds, stocks & shares…the list goes on!
As blockchain technology, like Ethereum blockchain, becomes more commonplace in our daily lives, NFTs will become an important part of our everyday transactions, so it's worth understanding what NFT is if you want to keep up with the latest innovations cyber-world.
NFT stands for a nonfungible token that may seem confusing because one would think that any crypto-asset should be considered "non-fungible" since each unit has different information.
Final Thoughts
Blockchain tech is changing a lot of things, from finance to trading cards to media. NFTs may change the way we buy and sell art, music, games, and books.
Before you get into these trends, you should check all the info available. You should review the best cryptocurrencies to buy, like Bitcoin, before you place your savings on them.
It would help if you also learned as much as you can about NFTs. There are lots of possibilities, both good and bad. Learn both to benefit as much as possible from these trends.
Updated May 26, 2021.