How Bitcoin mining will go green with geothermal energy
Bitcoin mining is trending once again as El Salvador plans to do it with geothermal energy. Numerous naysayers have booed cryptocurrency for its high energy use. If El Salvador succeeds, this could be a game-changer for crypto mining.
Let's first get up to speed with geothermal energy and bitcoin mining. We'll explore their pros and cons and explain why mining bitcoin isn't as bad as most people think. Then, we will go through other cryptos that are trying to become better for the planet.
People often go against new technology, even cryptocurrencies. The push to use renewable energy for bitcoin mining may turn digital assets much greener. Later, you'll see that its carbon footprint comes from an issue larger than bitcoin.
What is geothermal energy?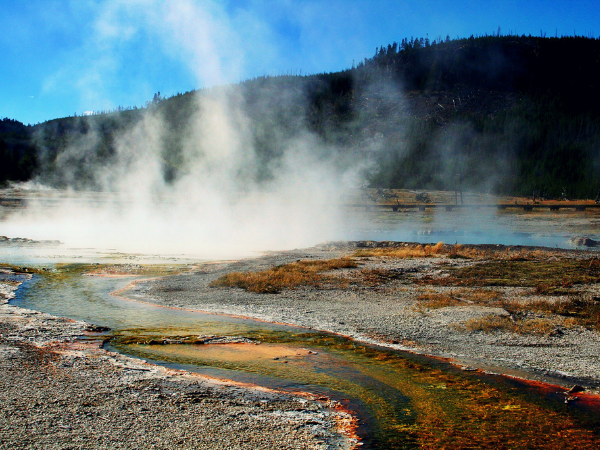 The word "geothermal" comes from two Latin words: "geo" and "therma." The former means "earth," while the other relates to "heat." So geothermal energy comes from "earth heat."
Specifically, it comes from underground steam and water. These are often found near volcanoes, where it heats the water underground.
What's more, it is older than most people think. The ancient Greeks used underground water for hot springs. Today, we use geothermal heat pumps for heating and cooling.
More importantly, it helps many countries in producing electricity. The United States is the top producer of this energy. Other countries include New Zealand and the Philippines.
What's more, this kind of energy is one of the greenest forms. It's up there with solar, wind, natural gas, and nuclear.
Types of geothermal plants
Dry steam – It lets the hot water shoot up from the ground to drive a turbine. It's the first

type of geothermal power plant

. The process only releases steam and a tiny amount of other gases.
Flash steam – It pumps water at high pressure up to a tank with lower pressure. As a result, the liquid vaporizes, running the plant. If any liquid is still inside, it's "flashed" again in another tank to get even more power. Flash plants are the most common geothermal plants today.
Binary cycle – A binary plant uses the underground fluid to heat a secondary liquid. This turns the latter into gas which runs the plant. Most geothermal resources are below 300°F (148°C). As a result, it may become the future's main source of this type of energy.
Enhanced Geothermal System –

It injects water into hot underground rocks to produce steam

. Then, the hot gas runs it.

EGS

may enable more countries to use their geothermal reservoirs.
What is bitcoin mining?
Now, let's turn to bitcoin mining. It depends on the millions of computers on the bitcoin network. Their job is to confirm bitcoin transactions.
Each one is protected by encryption or a "complicated math problem." These computers try to figure them out by performing thousands of computations.
The first to make a solution gets to have proof-of-work. The transaction pushes through, and the miner earns a block reward. This comes in the form of more bitcoin.
Bitcoin miners need powerful computers to earn. After all, they have to be the first to mine a block. Otherwise, someone else gets the reward.
As a result, they bought many high-end computers and parts, especially graphics cards. This skyrocketed their price and crashed their supply.
Worse, this caused massive power consumption. Many news outlets reported that bitcoin mining uses more electricity than entire countries.
Why bitcoin mining isn't necessarily bad
These comments often overlook other issues related to bitcoin mining. First, they don't say how much energy the gold and banking industry uses.
Banking uses 263.72 TWh per year. Meanwhile, gold consumes 240.61 TWh per year. Yet, mining bitcoin uses up only 113.89 TWh annually.
Second, it can reduce waste and make more energy. For example, oil fields often make methane. Instead of releasing it into the air, they could use it to mine bitcoin.
Lastly, the issue is with the kinds of energy used by countries. Miners only use the power from their area. Their carbon footprint increases because their countries use harmful types.
That's why the World Economic Forum sees crypto mining leading the future of energy. It may urge countries to use green energy for cryptos.
El Salvador to mine bitcoins with volcanoes
We're seeing signs of this future today. El Salvador recently announced it would power its bitcoin mining with volcanoes. You may see it on President Nayib Bukele's Twitter page.
What's more, Bukele said his country already dug for the geothermal bitcoin facility. The news came just hours after he thought of using volcanoes for mining.
This isn't surprising since El Salvador is one of the leaders in this kind of energy. It's known as the "land of volcanoes" found in Central America.
In 2019, geothermal power made up 21.17% of El Salvador's electricity generation. As of December 15, 2020, it's their 2nd largest source of renewable energy.
In early June, El Salvador reported it would use BTC as legal tender. Their push for more this type of power could further their bitcoin mining goals.
Why is geothermal energy great?
Geothermal technologies last long – The plants could last more than 20 years. As a result, a country could make use of it for several years.
It has various uses – For example, people could use it for heating and cooling their homes. As we said, it can be used for bathing.
They run 24/7 – Other sources of green energy depend on sunlight or wind. Geothermal power uses the constant heat of the Earth. Even better, they can return the water underground. In turn, they can reuse it as steam.
Releases little to no harmful gases – It puts out

less than 97% sulfur and 99% carbon dioxide

than fossil fuels. Binary plants don't even release anything but water vapor.
Why aren't more countries using it?
Limited sources – Some countries don't have volcanoes or other sources of underground hot water. Also, other factors in the area may stop them from using it.
Cost – They would need a lot of money to start a plant. However, it won't need a lot to run and operate.
It may cause earthquakes – They could crack the earth beneath and cause quakes. Yet, countries can avoid this by choosing proper locations for their plants.
Other green cryptos
Bitcoin isn't the only digital coin out there. Since its 2009 launch, hundreds of other cryptos have popped up. What's more, many of them allow staking instead of mining.
It enables users to earn more coins without using their PCs. They just leave a few in the network. This keeps them from mining and using so much power.
Here are some of the cryptos that are better for the planet than bitcoin. Most of these let people stake their coins instead of mining. Click them to know more about each coin:
Final thoughts
If you don't study cryptos enough, you may think it's bad for the planet. Yet, it continues to change. One day, it could become one of the greenest money in the world!
Some people are taking the lead in its worldwide use. El Salvador took the first step for countries to use crypto as money. The land of volcanoes may become the land of cryptos.
It will use its hot mountains to mine bitcoin. Later, we may see prices rise as high as their peaks. That's why you should think about buying your new coins now!
Learn more about bitcoin mining
How much energy does it take to mine 1 Bitcoin a day?
It takes around 1,544 kWh of power to mine a bitcoin. However, its effect on the environment depends on the kind of energy used in a miner's location.
Is Bitcoin mining a waste of resources?
No, it's a good use of resources. Bitcoin and other cryptos will change the world in various ways. What's more, many of them are starting to use less energy.
Can I mine bitcoins?
You can mine bitcoins. You'll need a good computer and a mining program. However, it's better to join a mining pool instead of doing it yourself. You're likely to earn that way.
Disclaimer: This article is the author's personal opinion, which may differ from the "official" statements or facts. All writers' opinions are their own and do not constitute financial advice in any way whatsoever. Nothing published by Inquirer.net constitutes an investment recommendation, nor should any data or content published by Inquirer.net be relied upon for any investment activities.
Usa.Inquirer.net strongly recommends that you perform your own independent research and/or speak
with a qualified investment professional before making any financial decisions.