Healthy Keto air fryer recipes to try
Are you thinking about trying all those mouth-watering keto air fryer recipes? As one of the latest trending cooking tools, air fryers have taken the culinary world by storm. The trend results from the growing awareness of healthy living. Air fryers became a popular alternative for deep-fried food in fatty oil.
Already, there are hundreds of air fryer recipes out there that can be quickly followed in your kitchen. If you haven't hopped on this trend yet, that's alright.
Air fryers are supposedly a healthier option, but if you're on a specific diet like keto diets, are they a good option? Very possibly, yes! The many low-carb and keto recipes made in air fryers have quite the following from the health and diet community. Read on for some of the best keto air fryer recipes that are delicious and easy to make.
Air fryers as a Healthier Option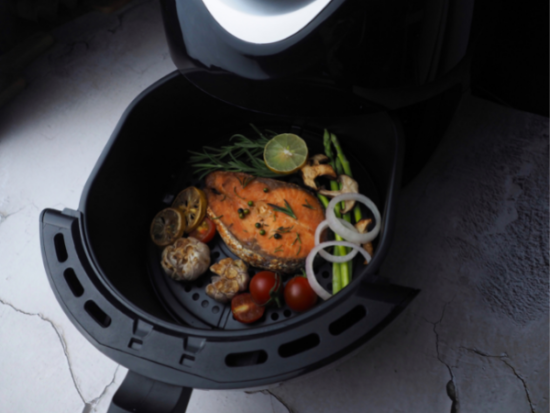 A good percentage of Americans eat greasy fast food almost every day, which has resulted in a surge of cardiovascular diseases in the population. The makers and endorsers of air fryers advertise the cooking tool to enjoy fried food without the health damage oil-fried foods cause.
The device does not use oil but instead uses hot air around the food, much like a convection oven. The heat causes a good, crispy coating outside of the food while keeping the inside cooked yet juicy. This frying method easily cuts oil in fat by up to 80 percent. Easy air fryer recipes that can be made at home are supposedly healthier but just as delicious as store-bought food.

Related Articles
Keto Air Fryer Recipes
Meal preps are essential for those doing ketogenic or keto diets. This is the type of diet that consists of low-carb and high-protein intake. This diet originates from medical diets prescribed to people with certain conditions, but now it is more commonly associated with weight loss.
Are air-fried food keto-friendly? They can be, depending on what you're planning on making. Much like cooking regular meal preps for low-carb dinners or meals, it all depends on the ingredients you're using to make the dish keto-friendly and running out of ideas? Check out some of these easy but delicious keto air fryer recipes that take more or less than 15 minutes to make.
Low-Carb Herb-Marinated Air Fryer Chicken Breasts or Thighs
If you're growing tired of the usual baked or oil-fried chicken, try this air-fried chicken breast or thighs rich with mouth-watering herbs.
Ingredients:
8 chicken parts, it can be your choice of chicken wings, breasts, thighs, or a mix of all
¼ cup olive oil
2 tablespoon of freshly squeezed lemon juice
2 teaspoons of garlic powder or finely chopped garlic
¼ teaspoon of salt and black pepper to taste
1 teaspoon of any all-purpose herb blend, or you can make your own
1 teaspoon of dried basil
½ teaspoon of dried oregano
Half teaspoon of onion powder
½ teaspoon of dried sage
Directions:
This is optional, but trimming some of the skin and fat from the chicken will reduce its natural oils and cholesterol from making it to the final product.
Take the olive oil, lemon juice, garlic, salt and pepper, herb seasoning blend, dried basil, dried oregano, onion powder, and dried sage, and mix well together. This will serve as the marinade for the chicken.
Place chicken parts in a Ziploc bag or plastic container with a snap-tight lid and add the marinade. Let the marinade be absorbed, and place the container in the fridge for at least 6 hours or up to 24 hours.
When it's time to cook, remove chicken from the marinade, you can reuse the marinade for another batch later on or just discard it.
Preheat the air fryer to 360°F or 185°C. Arrange the chicken air fryer basket top-side down—Cook for 8 to 10 minutes on one side before flipping to the other.
When the chicken looks golden brown, it's already crispy. Air fryers can vary in heat settings, so play around with yours when doing this recipe.
Also optional, but dips are great for this recipe, including cheesy dips like parmesan cheese. Just make sure the drop is also low-carb. Serve hot and enjoy!
Related Article: Best Kitchen Products to Buy on Amazon
Keto Air Fryer Pork Chops
Pork usually gets a bad rep for being of the supposedly unhealthy meats out there. While pork rinds and fat do have a high cholesterol content, eating them in moderation isn't a crime. Many keto recipes recommend pork, and these air-fried pork chops are just another yummy dish to try.
Ingredients:
4 medium boneless pork chops, this specific type of pork slice can be found in groceries and butcher's shops
6 tablespoons of butter
Salt and pepper to taste
3 tablespoons of chopped fresh sage
Directions:
Wash the pork chops after unwrapping and pat dry.
Melt one tablespoon of the butter and brush over both sides of the pork chops. Sprinkle both sides with salt and pepper to taste.
Preheat the air fryer and place the chops on the rack for cooking. Turn up heat up to 400°F for 10 minutes on both sides. Cook until you get a nice light golden brown color.
Place the remaining butter in a medium saucepan over medium heat. Let the butter melt and continue to cook until it becomes a rich amber brown. Be careful not to let it heat up too much, or the butter will burn.
Remove from heat and immediately add the chopped sage. Plate cooked pork chops and drizzle with the melted butter and sage.
This is optional but side dishes like kale chips and jalapeño poppers will go well. Enjoy!
Spicy Air Fryer Shrimp with Mustard-Horseradish Sauce
Not a fan of air fryer salmon recipes? Try other seafood instead. Fried shrimp, shellfish, and squid are all delicious. This air-fried shrimp recipe comes with a special sauce that will surely tickle your low-carb taste buds.
Ingredients:
1 pound of raw shrimp, deveined
2 tablespoons of olive oil
1 tablespoon of fresh-squeezed lemon juice
One tablespoon of Creole mustard
½ cup of sour cream
1 tablespoon of prepared horseradish
1 teaspoon of Tony Chachere's Creole Seasoning
Related Article: Smoothie Bowl Recipes to Try
Directions:
Make sure the shrimps are thawed and deveined before preparing for cooking. Wash well and drain.
Mix the lemon juice, Creole Mustard (or any spicy mustard), sour cream, horseradish, and Tony Chachere's Creole Seasoning for the sauce.
Mix olive oil and Tony Chachere's Creole Seasoning. Place shrimp in a bag or container and add in the olive oil mixture. Mix well until shrimp is completely covered with the sauce.
Preheat the air fryer to 400°F or 200°C. Arrange the shrimp in a single layer on the rack. Cook for around 3 to 4 minutes only, like shrimp, cooks very quickly. Serve with the horseradish sauce and enjoy!
Keto Bacon Wrapped Brussel Sprouts
Keto-snack is also a suitable replacement for carbs. Air fryers are great tools for making light, low-carb snacks like this keto bacon-wrapped Brussel sprouts.
Ingredients:
1 pound of trimmed Brussel sprouts
2 tablespoons of olive oil
Salt and pepper to taste
1 pound of bacon, sliced in half lengthwise
Directions:
In an enormous container, toss the Brussels sprouts in olive oil, salt, and pepper. Mix until sprouts are coated evenly.
Loosely wrap one halved piece of bacon around each brussel sprout, overlapping slightly—Preheat the air fryer to 390°F or 195°C. Cook for 10 to 15 minutes, turning halfway until the bacon is crispy.
Serve with your choice of dip, and enjoy!
What are the benefits of using an air fryer?
When used correctly, air fryers can be an excellent addition to your kitchen. It has many possible health benefits, including reducing your intake of oily fried food. Some of these benefits include promoting weight loss, lesser risks while cooking, and reducing toxic acrylamide formation.
More oil-fried foods are often linked to higher obesity risk and a good number of cardiovascular diseases. The cooking tool reduces this risk by providing frying meats, veggies, and carbs in air fryers instead of palm or vegetable oil. Toxic acrylamide is often formed in food that's been fried in oil or other high-heat cooking methods. Air fryers can also reduce this risk.
Are there risks to using air fryers?
While millions of people are using air fryers worldwide, there are still certain risks to using them. One study suggested that air-fried fish raised the amount of substance called "cholesterol oxidation products" (COPs). COPs are often linked to cardiovascular diseases, cancer, and other conditions. However, more studies need to be conducted to fully understand the risks of using air fryers instead of brussel sprouts —Preheat oil frying.
Related Article: How to Make Unleavened Bread
Summary
There are so many more keto air fryer recipes out there. If you are on this type of diet, it may be worth looking into good-quality air fryers. However, it is essential to note that air-fried food is still fried food—Preheat the air fryer to 390°F or 195°C.In any healthy diet, moderation is always key. Experts still recommend a well-rounded and balanced diet for optimal health results, including other cooking methods such as grilling, pan-searing, and making soups.