Delicious Thanksgiving dessert ideas to try this year
There is nothing like a tasty dessert to end a Thanksgiving meal. Whether you're hosting this year or heading over to your in-laws', we've got some great Thanksgiving dessert ideas for everyone's favorite part of the day: Dessert! From pumpkin pie and apple crisp to pecan pie and brownies, here are our top picks for desserts that will make this Thanksgiving one to remember!
What is the most popular dessert on Thanksgiving?
Most people would say that the most popular dessert on Thanksgiving is pumpkin pie.
Sweet tooth or not, your Thanksgiving meal wouldn't be complete without whipping up your favorite Thanksgiving dessert recipes. And the most popular of them all? Nothing still beats Pumpkin pie.
Pumpkin pie – an easy classic favorite on every Thanksgiving meal
Apple Pie – one of the most popular Thanksgiving dessert choices
Pumpkin Chocolate Chip Muffins – A Thanksgiving dessert idea spiced with pumpkin flavor and dotted with chocolate chips is perfect for the holidays.
Apple cake – this warm and flavorful fall treat is waiting to be on your Thanksgiving table.
Cinnamon Roll – the more gooey these rolls are, the better
Caramel apple – this Thanksgiving dessert idea is a festive fall treat that's fun to make, decorate, and eat
Apple Hand Pies – an American classic and everyone's all-time favorite dessert
Pumpkin bread – both kids and grown-ups love this Thanksgiving dessert idea, and it's hard to beat!
Pecan Pie – perfect for the sweet tooth with the right amount of nutty flavor
Pumpkin Cheesecake – a seasonal twist to the traditional pumpkin pie and with added flavor from the cream cheese frosting
Cranberry pie – the sauce is the perfect partner to your turkey and its stuffing.
Carrot cake – incorporate vegetables on your meal with carrot servings on this popular Thanksgiving dessert.
Top Thanksgiving Dessert Ideas
As we prepare for Thanksgiving, we will all be thinking about the main course and the sides that go with it. While you're planning out your recipes and grocery list, don't forget to plan something sweet!
Your choices are endless with the numerous pie recipes available online. You can even choose to bake pie bars if you prefer. Here are ten desserts that would be a great addition to any Thanksgiving meal:
Traditional Pumpkin Pie
Your Thanksgiving dinner won't be complete without the classic pumpkin pie. While it goes best with a traditional whipped cream, try our recipe with butter-pecan whipped cream for a change.
Ingredients
For the filling:
1 1/4 oz canned pumpkin puree
1/2 cup granulated sugar
1 1/4 cup heavy cream
2 tsp pumpkin pie spice
1 tsp vanilla extract
1/4 cup light brown sugar
1/2 tsp salt
2 large eggs
1 large egg yolk
For the crust:
1 unbaked pie crust (homemade or store-bought)
For the pecan butter whipped cream:
1 cup heavy whipped cream
2 tbsp powdered sugar
1 1/2 tbsp pecan flavored liquor
2 tbsp butter (softened)
​​How to:
Make the crust:
Roll pie dough into a 13-inch round shape on a floured surface. Transfer the crust to a pie plate, then tuck the edges and crimp.
Pat the pie surface with a fork and refrigerate for 60 minutes. (freezer for 30 minutes). Preheat the oven to 400 F. Align the crust with parchment paper.
Bake it for 13-15 minutes until it turns light brown and dry. Remove crust from the oven. Also, carefully remove the parchment paper. Return the crust to the oven and bake again for 4-6 minutes.
Prepare the filling:
Whisk well, combining the cream, pumpkin, and sugars. Mix the pumpkin pie spice, eggs, vanilla, and egg yolk. Mix thoroughly.
Pour the filling in the pie crust, then place it on the baking sheet. Bake for 50-55 minutes until edges and center are juggling a bit. Let it cool.
Serve with whipped cream or refrigerate.
Make the butter-pecan whipped cream:
In a large bowl, beat the butter with an electric mixer.
Add the heavy cream and powdered sugar to the bowl, and beat at medium speed until cream thickens.
Pour in the pecan liqueur and continue beating until soft peaks form. Serve immediately.
Apple crumble pie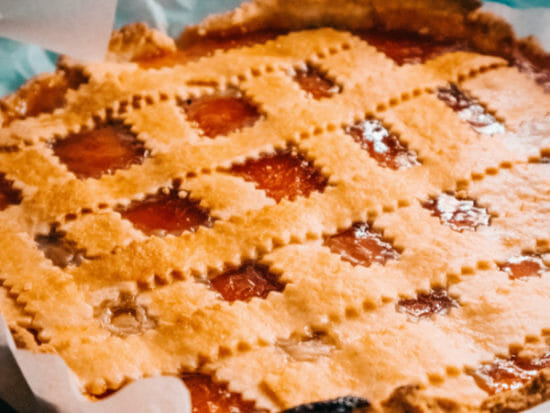 This dreamy Thanksgiving dessert idea has been an American favorite since time immemorial. While this recipe is bursting with all-natural flavors from the cinnamon and creamy sauce, it is best served with a scoop of vanilla ice cream.
Ingredients:
For the pie:
3 large apples ( cored, peeled, and thinly sliced)
1 whole pie crust (unbaked)
1/2 cup sugar
Half a cup brown sugar
1/2 cup heavy cream
1 tbsp all-purpose cream
2 tsp vanilla extract
1/8 tsp cinnamon
Whipped cream, vanilla ice cream for toppings (optional)
For the crumble topping:
3/4 cup all-purpose flour
7 tbsp butter
1/4 cup pecans
1/2 cup brown sugar
Pinch of salt
How to:
Make the pie:
Preheat the oven to 375 F.
Layout pie dough and place it over the pie pan. Decorate edges on your preferred style.
Put apple slices in a large bowl. In another bowl, combine cream, 1/2 cup brown sugar, 1/2 cup sugar, 1 tbsp vanilla, flour, and cinnamon.
Pour apples into the pie shell.
Prepare the topping:
Using a food processor or your hand, combine flour, butter, sugar, pecans (chop if not using a food processor), and salt. Mix until everything comes together in clumps.
Pour topping over apples.
Attach foil to the edges and lay a flat foil loosely over the top of the pie—Bake for 1 hour.
Remove foil and finish baking until brown. If needed, bake it for another 15-20 minutes.
When the pie is bubbly and golden brown, remove the pan from the oven.
Serve warm with ice cream or whip cream.
Sweet Potato Pie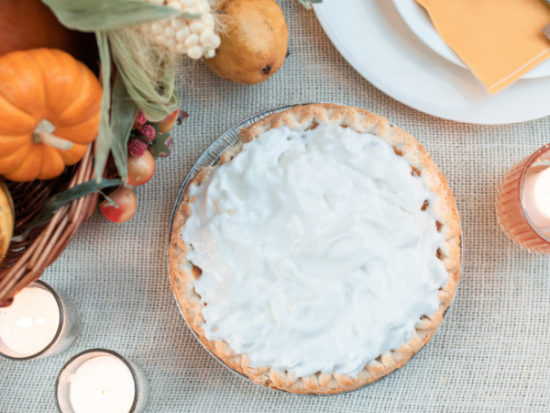 As one of the best Thanksgiving dessert ideas, this sweet treat is filled with classic fall flavors. It's easy to prepare using canned sweet potato puree or cooked sweet potatoes.
Ingredients:
1/4 cup butter (softened)
2 cups sweet potatoes (boiled and mashed or canned sweet potato puree
1/4 cup brown sugar
1/2 cup half and half cream
1/2 tsp vanilla extract
1/4 tsp salt
1 tsp ground cinnamon (pumpkin pie spice for alternative)
1 nine-inch pie crust (homemade or store-bought)
How to:
Prepare the sweet potato filling:
Using your fork, prick the sweet potatoes and put them in a large half sheet baking pan. Preheat the oven to 400 F for 40-50 minutes until tender. Let cool and pet off the skin. Mash it with a fork and set it aside.
In a large pot, boil the sweet potatoes and cover them with 1-inch water. Let it boil and cook over medium heat for 30-35 minutes. Let cool and peel off the skin. Mash it with a fork and set it aside.
Place 1 cup of cold water and a steamer rack in the pressure cooker. Arrange the sweet potatoes on the steamer rack. Turn the pressure cooker on manual high and cover with the lid. Cook them for 2025 minutes or until tender
When time is up, wait until all of the steam has gone through or quick-release pressure. Let cool and remove the skin. Mash with a fork and set aside.
Prepare the sweet potato pie:
Preheat the oven to 350 F.
Using a large bowl, add cooked mashed potatoes, cream, butter, eggs, sugar, vanilla, cinnamon, and salt. Combine thoroughly with an electric hand mixer or whisk until smooth for about 1 minute.
Mold the uncooked pie crust on a 9-inch pie pan. Slowly pour in the sweet potato filling. Smooth out the top using a spatula or the back of a spoon.
Bake for 55-60 minutes.
Your pie might puff up once removed from the oven, but it will shrink back once it cools. Let it cool before serving.
Key Takeaway
The holidays are here, which means more time to spend with friends and family, and it also means an excuse to indulge in some delicious holiday desserts! These Thanksgiving dessert ideas will be sure to wow any guest, whether you're hosting a large group of people or just cooking for yourself.