CBD Softgels: An Innovative Approach to CBD
There are several different ways to take CBD. While CBD oil tinctures are the most popular way to get CBD, many consumers have made CBD softgels their method of choice.
It makes sense. While CBD might be unfamiliar to some, CBD softgels allow CBD to take the form of a familiar, regular pill. Not everyone is exactly on board with taking a tincture, especially when they're new to CBD. CBD softgels are an easy way to get a regular, perfectly measured serving.
Here we'll take a deeper look at CBD softgels so you can decide if they're the best option to fit your personal needs.
What are CBD Softgels?
Looking for a familiar way to take CBD? While you might be new to the world of CBD, you're probably familiar with softgels. Much like other supplements, CBD softgels are round or oval-shaped pills that are filled with CBD oil.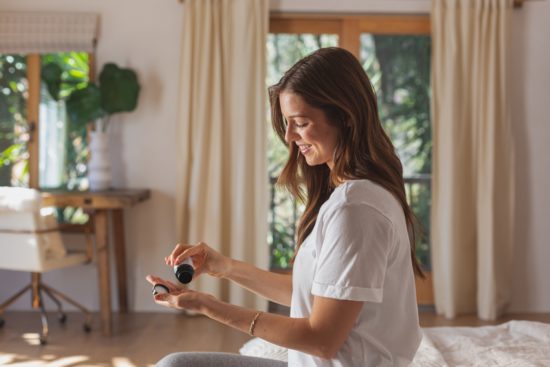 CBD softgels have become increasingly prevalent in the CBD industry. They offer a familiar way to get a regular serving of CBD, with maximized absorption. Where CBD oil tinctures can be a little tricky, softgels make taking CBD as easy as popping a pill.
What are the Benefits of CBD Softgels?
CBD capsules were created to offer consumers an easy way to take CBD in a recognizable form. They can be effortlessly incorporated into one's daily health and wellness routine along with other supplements.
What's more, CBD capsules contain a perfectly measured serving size. This allows consumers to gauge exactly how much CBD they're taking without the need to guess how many milligrams are measured out in a tincture.
CBD capsules are also the perfect alternative to anyone who doesn't enjoy the earthy taste and smell of naturally flavored CBD tinctures. These capsules are also super discreet. They look just like regular supplements and can be taken anywhere, anytime.
How Do CBD Softgels Work?
Curious as to what happens in the body after taking a CBD softgel?
Once swallowed, the CBD softgel makes its way to the digestive tract. This is where the cannabidiol it contains is processed and absorbed. From there, CBD makes its way into the bloodstream. There, it begins to work harmoniously with the endocannabinoid system (ECS).
Like other CBD products, CBD capsules are believed to support ECS function. Likewise, this occurs through CBD's influence on cannabinoid receptors throughout the body and brain. When consumers take CBD softgels daily, they receive a perfectly measured serving of CBD regularly.
Ultimately, this helps to keep the ECS working efficiently. The ECS helps support the balanced wellbeing of several physiological processes.
The Cumulative Effect of CBD
Here's something else to consider about CBD softgels.
When taken over time, CBD has shown to have a cumulative effect on the body. The cumulative effect of a supplement has been defined as "the state at which repeated administration of a substance may produce effects that are more pronounced than those produced with the first serving."
Basically, this means that CBD's effects are inclined to be more prominent when it's taken on a daily basis. This is why it's often recommended to start with a lower serving size of CBD and slowly increase it until you find what works for you.
Moreover, it takes time for CBD to build up in the body. For some, it can take up to two to three weeks to feel the effects of taking CBD softgels on a daily basis. Thinking of CBD softgels like a daily supplement taken regularly can offer the best results.
CBD Softgels and Bioavailability
You might've heard the term "bioavailability" in connection with CBD.
What exactly is bioavailability, though, and what does it have to do with CBD?
The word "bioavailability" is defined as "the proportion of a substance which enters the circulation when introduced to the body and so is able to have an active effect."
What does this mean for its relationship with CBD?
Basically, bioavailability refers to the amount of CBD that makes its way into the bloodstream. Keep in mind that the body is made up of about 60% water. CBD is an oil, and it's a well-known fact that water and oil don't mix.
This means that whether you're taking a CBD tincture, softgel, edible, or beverage, not all of the CBD contained within your product is going to make its way into the bloodstream. One study, for example, found that the bioavailability of oral CBD consumption was only around 6%!
The low bioavailability of consuming CBD orally, however, is exactly what led to some exciting innovations in the industry.
Joy Organics CBD Softgels
At Joy Organics, we're proud to incorporate these innovations into the creation of our products. Our CBD softgels take our premium, broad-spectrum CBD oil one step further. This step is the proprietary process nanoemulsion that breaks down the oil into water-soluble, nano-sized particles.
The result? One of the most bioavailable CBD products on the market.
Our proprietary nanoemulsion technology breaks down our broad-spectrum CBD oil into particle sizes that are around 25 nanometers in size, allowing for much easier absorption by the body.
Considering the body has so much water and has difficulty absorbing oil, a water-soluble formula contains more bioavailability than an oil-based formula.
Just how small is a nanometer? Extremely small. Think one billionth of a meter small. This breaks down to one-millionth of a millimeter. Let's put this into perspective. A human hair is about 75,000 nanometers in diameter. Likewise, a human red blood cell is around 6,000 to 8,000 nanometers in diameter.
It's easy to see why these tiny, micro-sized particles make for more effective CBD absorption in the body. This is exactly why we've chosen to create our CBD softgels with nanoemulsion technology.
Similarly, this means higher absorption rates in the body that ultimately allow consumers to use less of a product to achieve the same level of benefit as other CBD softgels.
At Joy Organics we've formulated three different softgels. Additionally, each is designed to meet different needs including overall wellness, joint support, and a restful night's sleep. Here we'll take a deeper look at each.
What Makes Our Softgels Different?
All of our CBD softgels contain our proprietary nanoemulsion technology. Remember, nano-sized particles lead to more effective absorption.
What does this mean for you? You can use less of the product made with these processes to achieve the same level of benefit as the products offered by most of our competitors. Pretty amazing, right?
Like our other premium CBD products, our CBD softgels contain our phytocannabinoid-rich, broad-spectrum CBD hemp extract. Free of THC, our softgels and other products can be confidently used by anyone.
Furthermore, all of our products undergo third-party testing for purity and quality assurance. Our lab reports easily accessible on each product page.
Following you'll find a bit more information about our CBD Softgels to help determine what might be the best option for you.
Joy Organics Premium CBD Softgels
It contains broad-spectrum CBD oil full of naturally occurring phytonutrients. Our CBD Softgels offer predictable results in an easy-to-swallow, familiar method of consumption.
Made with our water-soluble nanoemulsion technology, our CBD softgels increase bioavailability up to 200% of other oil-based CBD products.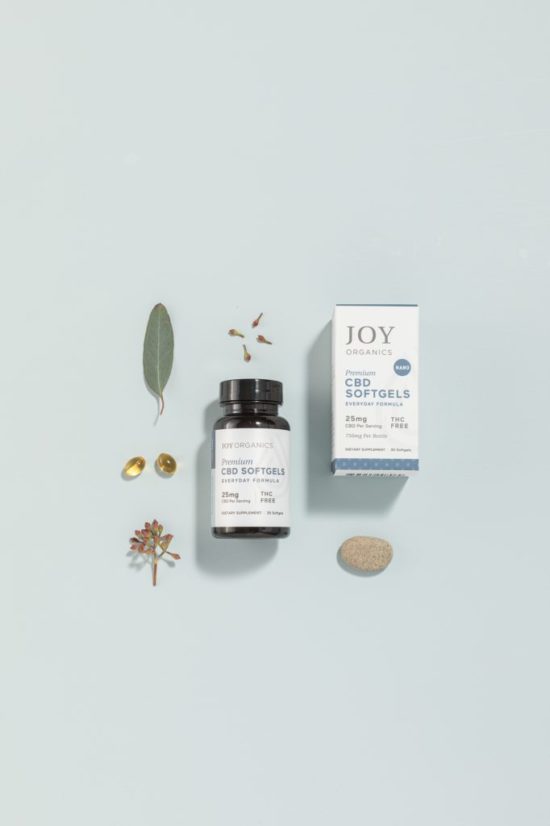 Joy Organics made its Premium CBD Softgels for everyday use to support ECS function and general wellbeing. Available in options of 10mg or 25mg, each softgel offers a precisely measured serving of cannabidiol.
Joy Organics Premium CBD Softgels With Curcumin
Our CBD Softgels with Curcumin support joint health. Curcumin is a compound in turmeric that people have used for thousands of years to support healthy joint function.
Combined with curcumin is our broad-spectrum CBD oil, packed with the cannabinoids, terpenes, and other phytonutrients in cannabis that are known to support the entourage effect.
Like our other softgels, our proprietary nanoemulsion technology creates these CBD Softgels with Curcumin to offer increased bioavailability. This means that they'll enter your bloodstream faster and start working with the ECS quicker than most other CBD products.
Joy Organics Premium CBD Softgels With Melatonin
Using CBD to support a restful night's sleep was one of the pillars of Joy Organics. Our CBD Softgels with Melatonin help support restful sleep and relaxation. It can help anyone struggling with difficulty sleeping.
Each softgel combines 25mg phytocannabinoid-rich, broad-spectrum hemp with 1mg of melatonin. We chose melatonin for these softgels because it may help promote relaxation and a good night's sleep.
Combined with our premium broad-spectrum CBD oil, these softgels support a relaxed state intended to encourage a restful night's sleep.
Are Softgels Right for You?
If you're looking for an easy and effective way to incorporate hemp into your wellness routines, softgels are a great choice.
This innovative option combines the best of both nature and science. Whether you're looking to CBD for joint health, a good night's sleep, or supplementing a healthy lifestyle, there is a great softgel option for you.