Blosum Launches Tasty Full-Spectrum CBD Gummies
California-based CBD company, Blosum, recently launched an additional sweet treat to its line of CBD products. They have two types of gummies: full-spectrum multivitamin CBD gummies and broad-spectrum vegan gummies.
The new gummies are available through their store at blosumcbd.com.

CBD gummies are gummy bears or candies that contain cannabidiol (CBD) oil.
These gummies have taken the CBD industry to new heights, especially in the United States. CBD edibles in the form of gummies come in all shapes and sizes.
Most brands offer multiple choices of flavors, type of CBD, and compound concentrations for their gummies.
They are a discreet way of getting your dose of CBD without having to bring out a vial and dropper. All you have to do is pop one in your mouth before experiencing CBD gummies benefits.
Their bestselling full-spectrum multivitamin CBD gummies contain nutrient-rich ingredients. Users can buy the multi-fruit-flavored gummy in 10 mg or 25 mg per gummy in 30-piece jars.
Blosum's organic vegan gummies come in various fruit flavors of strawberry, grape, and orange available in 25 mg CBD per gummy with a wide range of natural vitamins and nutrients.
Because most of the CBD industry remains unregulated by the FDA, there's no simple answer as to whether CBD gummies are safe to take.
It depends on where you buy your CBD products.
Organic hemp oil products, whether it is CBD isolate or full-spectrum, that are safe to take are those from reputable brands that perform third-party lab testing to their hemp extracts.
This is important because it confirms the purity and quality of the product you're buying.
It also ensures that the packaging and labels of the brand of your choice contain the correct information from dosage to concentration.
While hemp-derived CBD products are considered legal by federal law, they have to contain no more than 0.3% THC.
This means that contaminated products or ones that are inaccurately labeled may contain more THC content than advertised.
Getting caught with more than the legal limit of THC can result in paying hefty fines, or worse, jail time.
CBD Gummies for Pain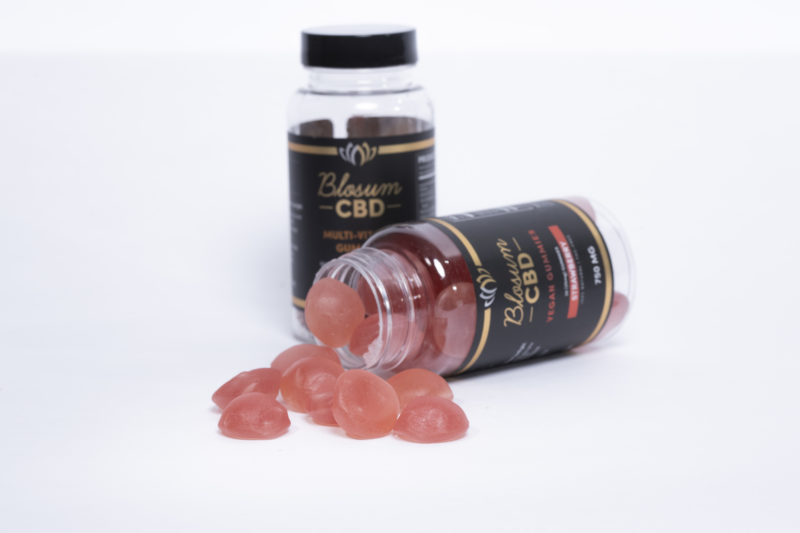 High-quality CBD gummies offer countless health benefits. The most common health benefits people use CBD is to reduce chronic pain.
Chronic pain can result from multiple medical conditions such as fibromyalgia, arthritis, and multiple sclerosis.
The naturally-occurring chemical compounds in the hemp plant interact with the body's endocannabinoid system (ECS).
The ECS plays a role in many functions of the body and pain receptors are one of them.
Cannabidiol contains anti-inflammatory properties which can reduce pain, especially from swollen joints and muscles.
What makes CBD gummies perfect for managing pain is that there is little waiting time involved.
You don't have to bring out a dropper and measure your dose or wait for your body to fully absorb the cream before experiencing pain relief.
CBD gummies go to the bloodstream quickly with longlasting effects, meaning you won't have to take another dose until hours later.
Cannabidiol has shown promise in providing better sleep quality.
Organic hemp oil can help regulate the body's pain receptors and keeps them from waking if they are experiencing chronic pains due to medical conditions.
Recent trials resulted in participants experiencing fewer symptoms of insomnia and other sleep-related issues after being given CBD.
While there are many prescription sleep aids available, they come with negative side effects such as fogginess and fatigue upon waking.
Users of such prescription aids get to sleep, but they do not get the rest they need.
Recipients administered CBD oil showed improvement in the quality of sleep that they get, waking up refreshed and energized.
Do CBD Gummies Help with Anxiety?
CBD oil usage brings about a calming and relaxing effect which allows users to fall asleep faster and stay asleep longer.
This relaxing effect can also keep anxious thoughts at bay, helping the user stay calm at night.
How Many CBD Gummies Should I Take?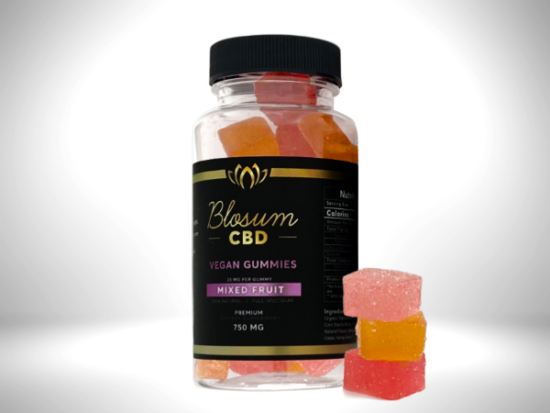 The right CBD dosage differs for every person. You need to take account of your body weight, CBD concentration in the product, and the desired effect you're aiming for.
Since CBD gummies contain set doses, you should check the label of how much CBD is in each gummy to determine how many gummies you should take per day.
It is always best to start with a small dosage and then work your way up. Experts would recommend starting with 30 mg of CBD per day.
Once your body's tolerance to CBD increases, you can add 5 mg more to your daily dose to experience more of the health benefits.
Take note of your daily CBD intake and how you feel before and after ingestion to make sure that you are getting the desired effects of CBD.
It is also important to note that taking high doses of full-spectrum CBD products (products containing THC content) can make you fail drug tests regardless of the product containing only trace amounts of THC.
This is because your body is accumulating the THC.
CBD Near Me: Full-Spectrum Gummies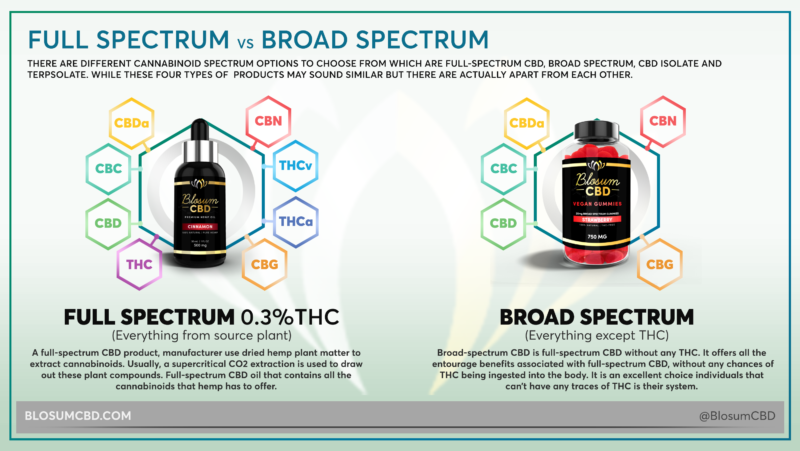 You can find CBD gummies in most health and wellness stores in the United States.
If you're still undecided between full-spectrum vs broad-spectrum CBD products, you don't have to worry because Blosum provides both options in their line of gummy products.
Blosum's Full-Spectrum Gummies are made from the highest quality industrial hemp-derived phytocannabinoids.
Leveraging the unique hemp genetics of plants grown by Global Cannabinoids, these plants are carefully selected for their high cannabidiol (CBD), cannabigerol (CBG), cannabinol (CBN), cannabichromene (CBC), and other rare and unique naturally occurring synergistic cannabis compounds.
The Full-Spectrum Multivitamin CBD Gummies are available in 10 mg or 25 mg of CBD per gummy options and are available in 30-piece jars.
These gummies have been specifically designed with all of the best features that consumers are currently looking for in CBD wellness products. They are all-natural and contain no artificial colors, flavors, or sweeteners.
These gummies contain no more than 0.3% of THC, which is within the legal limit.
The presence of CBD, THC, and other cannabinoids allow these gummies to give the consumer the entourage effect.
The entourage effect is when all the compounds work synergistically, giving users the full health benefits of the cannabis plant.
Blosum designed their ingredients so that consumers can supplement with this product as a healthy daily multivitamin.
Their hemp farms are located in the US in states that have a US Farm Bill-compliant program and are some of the largest hemp farms in the country.
Verdict
You can find the right full-spectrum CBD gummies for you with Blosum's premier line of quality hemp products.
Consult a medical professional before experimenting with cannabidiol products, especially if you are on prescription medication.
FDA Legal Disclaimer:
These statements have not been evaluated by the Food and Drug Administration. These products are not intended to diagnose, treat, cure or prevent any disease. This product is not for use by or sale to persons under the age. This product should be used only as directed on the label. It should not be used if you are pregnant or nursing. This website is not offering medical advice. Consult with a physician before use if you have a serious medical condition or use prescription medications.
Subscribe to our newsletters! Get updates right into your inbox