Strife-torn PIDCI elects new president, regains IRS tax-exempt status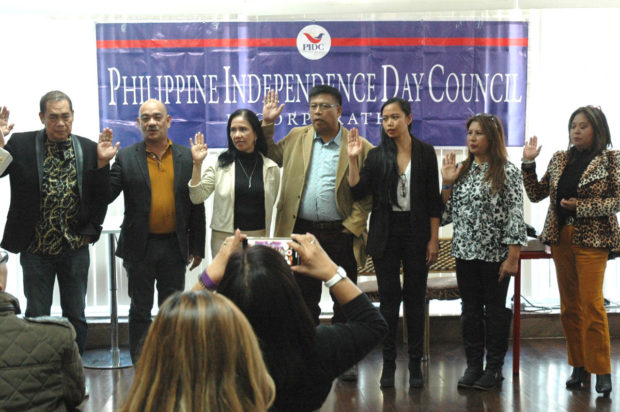 Newly elected PIDCI president and board directors are sworn into office. From left to right: Arnel Piamonte, Chris de Guzman, Marissa De Guzman, Rely Manacay (president), Rachel Banez, Jay Layug and Jean Allarey David.  Ricky Rillera/PDMNEW YORK – In a subdued atmosphere at a venue in Woodside, New York on Saturday, October 5, Rely Manacay, of Cagayan De Oro City-Misamis Oriental Association of New York, Inc., was elected President of the Philippine Independence Day Council, Inc. (PIDCI) for 2020.
Manacay ran unopposed and was unanimously voted in by 33 member-organizations. He was sworn into the office together with 7 elected board directors by Manuel Quintal, Esq., PIDCI legal counsel.
Outgoing board member Matt Reyes, membership committee chair, said at the start of the annual meeting that 97 organizations renewed their membership, of which 91 were eligible to vote with 6 applicants awaiting final approval of their membership.
"The election turn-out is more than what is required in our bylaws, but it would have been really good and more fulfilling for me if all members attended," said Manacay. A board meeting will be convened on October 14 to elect among themselves officers and members of the executive committee. At that time, Manacay will also be appointing chairmen of the various committees.
Elected with Manacay were Rachel Banez (FAHAM), Jean Allarey David (Filipino American Legion for Charity NJ), Chris De Guzman (SP Golf), Marissa De Guzman (Cultural Arts and Dance Philippines), Nora Galleros (Barangay Gingoognons in the USA – GIUSA), Jay Layug (Guagua National College Alumni), and Arnel Piamonte (UST College of Commerce Alumni (Northeast) Foundation).  Chris de Guzman obtained the highest number of votes among candidates for board director with 32 votes followed by Marissa De Guzman (no relation to Chris) and Galleros with each one getting 31 votes.
According to board director Sofia Abad, chairperson of the Committee on Elections, Deogracias Camungol (Knights of Rizal Square and Compass Chapter) and Elvira Reyes (Seniors Club Inc.) withdrew their candidacies as board directors.
Two years ago, controversy marked the conduct of elections, over process and procedures and a lack of financial oversight that sparked the filing of a lawsuit against PIDCI, its officers and directors by those who lost in the elections. (The lawsuit was eventually dismissed.) Last year, due to the expulsion of five member-organizations, one of which fielded a candidate for president, heightened the tension between the complainants and their supporters, and PIDCI volunteers.
The complainants lobbied the community, calling for a boycott of the independence day celebration and sought the intervention of the Philippine Consul General to take over PIDCI, a not-for-profit entity established in the state of New York since 2002. PIDCI claims that the complainants did not know under whose governmental authority PIDCI was operating and responsible for.
Even after the court's final ruling in favor of PIDCI, a negative portrayal of the organization was allegedly carried out, causing divisions in the community. After changes in the bylaws, which the Consulate suggested to PIDCI, were approved by the general membership, a relentless anti-PIDCI smear campaign continued only to be prevailed upon with a successful Philippine Independence Day celebration, PIDCI claimed.  Until now, some observers say, there are still pockets of dissension in the community, reportedly unaware of the recent reinstatement of PIDCI's tax-exempt status and its submission of financial documents required by the Court.
One of the highlights of the meeting was the report on PDCI's tax-exempt status, which was reinstated by the Internal Revenue Service (IRS) on September 5, 2019. Board member Galleros said that as chairperson of the Finance Committee, she had two goals: improvement of financial accountability and reporting, and reinstatement of the PIDCI's tax-exempt status.  "We've achieved both," she said. Galleros ran for a second term as a board director for 2020 and won.
Manacay said that financial statements will be made public. The revocation of the organization's tax-exempt status was one of the complaints cited in a lawsuit against PIDCI initiated by Juliet Payabyab in 2017, who ran and lost as a board director that year.  The New York Supreme Court had ruled against their lawsuit in May 2018 and in their appeal in February 2019.
Incoming president's vision
Manacay shared his vision as president. "As president, aside from having a successful Independence Day celebration, [we will] practice transparency in all of our operations/fundraising to erase or lessen doubts of the community," Manacay told the Philippine Daily Mirror. "I hope that by doing this, we can unite all other associations."
He also said that his administration will be more aggressive in their fundraising activities to payo ff old debts and he foresees an increase in membership.  When asked if changes in the bylaws were enforced, he said that "strict enforcement of the proxy identification was implemented, and the credentialing of voters were open to all members."
Before becoming president, Manacay served as vice president and board director for two consecutive terms while president of Cagayan de Oro City-Misamis Oriental Association of New York, Inc. for three terms (2012-2013, 2014-2015 and 2018-2019.) The organization has 520 members. He also chaired Mrs. Kalayaan for 2 years, Grand Marshal Ball and this year's General Services and Parade Committee. He was also Head Parade Marshal and chair of the Bylaws Committee.
An accomplished civil engineer, he and his wife, Alice, have 7 children who are all professionals in their own field. A dentistry student will be graduating next year, and their youngest child is studying to become a physical therapist. They have 8 grandchildren, 3 daughters-in-law, and 2 sons-in-law.
Outgoing president's remarks
In his opening remarks at the meeting, Ner Martinez, outgoing president, thanked the officers, board of directors, grand marshal and honorary grand marshal and the past presidents, grand marshals and over-all chairs.
"Thanks for the opportunity to serve you as your president and thank you for believing in the organization. We worked hard, we worked on improving and correcting what needed to be corrected and we had a great 2019 independence celebration," Martinez said. "The positive energy I got from you kept me going throughout the year."
After the elections, he congratulated the winners and wished them good luck. "We are behind you all the way. Thank you for joining us on this journey."
When asked to comment about his presidency, Martinez said that it was very fulfilling and worthwhile although frustrating at times. "There were setbacks — a lawsuit that was eventually dismissed, negativity from various sections of the Fil-Am community — but we were all challenged to do good and accomplish the goal of putting up the best independence day celebration, and we did!"
He said he would miss most perhaps the frenetic non-stop energy of the officers and volunteers and their camaraderie who served with him. "I would now be a part of the council of advisers (made up of past presidents) and I would be more like a behind the scenes 'go-to-person' for PIDCI, I think."
Martinez served two-terms as president and has been volunteering with PIDCI for more than 20 years.