Fashion Trends for Summer 2019: The Hottest Summer Looks
Summer is known for its swimsuits and skimpy wear, bikinis tops and anything to keep us cool, but what about this summer? What will our summer trends for this year be? We have so many different fashions throughout the year.
Anything from skinny jeans, blazers, platform shoes, miniskirts, and stripes with plaids these fashions statements have been worn throughout the years.
We have all seen what the fashion trends have been and how they shaped our society. Now, with summer almost here, we are wondering what's next? Will it be something crazy and emo, or something with animal prints? We are here to discuss the summer fashion trends of this year. Summer outfits are going to be cool, that's a given. But, what about the style?
When we say fashion trends, that can mean many different things to people. We always discuss how being on top of the trends is a must, especially in the fashion industry. Let's examine some of these summer trends. Part of Hearst digital and their magazines include ELLE, Cosmopolitan, and Esquire, just to name a few. Hearst digital media has some ideas of what the summer fashion trends of 2019 will be.
There are commissions are editorially chosen fashions. These paid commissions on editorially picked trends are based on the sales of a specific item. Look for Hearst digital media for the top fashion picks.  Some of the biggest trends to look out for this summer from Hearst are the trends we will highlight. Their digital media has links to retailer sites if there is a trend that you would like to purchase.
The items can be purchased through our links as well. The editorially chosen products purchased will assist in the affiliate marketing programs. Hearst participates in various affiliate programs as well.
Summer Fashion Trends
California Cool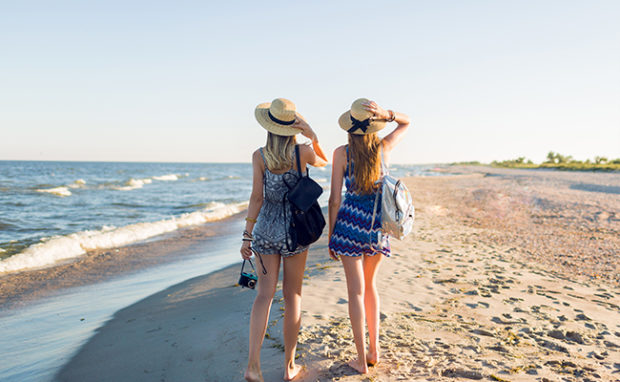 The first trend in the summer of 2019 is California Cool. Tye Dye has apparently made yet, another comeback. The California Cool vibes are upbeat and casual. It looks like the psychedelic and hippie era is coming back with its clothing.
Bucket hats, Hawaiian shirts, and racer-back tank tops are what this represents. Granted, you do not have to go full out hippie to be California Cool this summer. Something in the form of Tye dye will do.
If you're going for the California Cool look, add some denim shorts that are cutoffs. You'll have this fashion trend down. Just think relaxed, no cares in this world style. Try adding some old school sneakers to finish off the outfit.
What About Bags?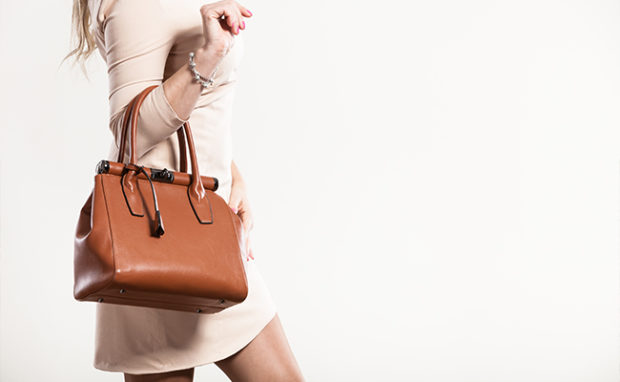 Summer straw beach bag and made with versatility in mind are what this summer's handbags will be. Think of the vacation bag, polished, but not stuffy. The straw clutch is the way to go this summer.
With the California Cool look, the type of bag will be a heavy metal bag. It goes well with the tye dye feature.
Beaded and Souvenir Jewelry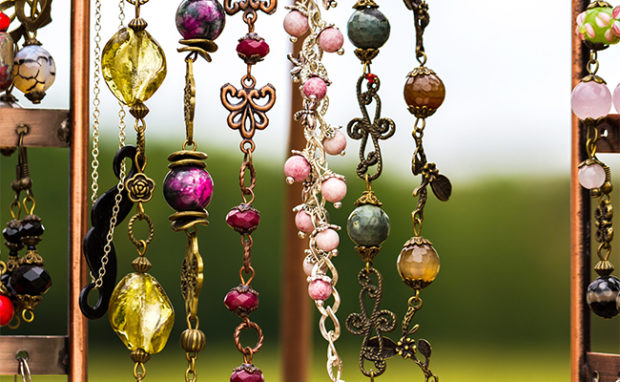 Beaded and Souvenir jewelry are making their way back and just in time for the summer tourists seasons. Amazon has a beautiful summer collection of necklaces and jewelry with heavy use of shells and beads.
The shells will be a trend this year because everyone will want to wear shells somewhere. There is an addition to the shells, however, beads and pearls are in the mix too. This goes along with California Cool trends.
Amazons collection also includes shells, pearls, beads, coins, and stones. They are designed to look like a tourist shop's collection. Shells were once basic, however, they have stepped it up some to make it elegant. This jewelry finds will be in high demand this summer. You will see this trend in hair accessories as well. They will be less expensive than necklaces.
Look for headbands and scarves with stones and beautiful colors. Wear it with a white tee and it looks as if you are ready for the beach.  Along with precious stones and coral beads, this look will last quite some time. It is very classy too. Check out the stone and ocean themed earrings as well.
Related Articles
Modern Tea Dresses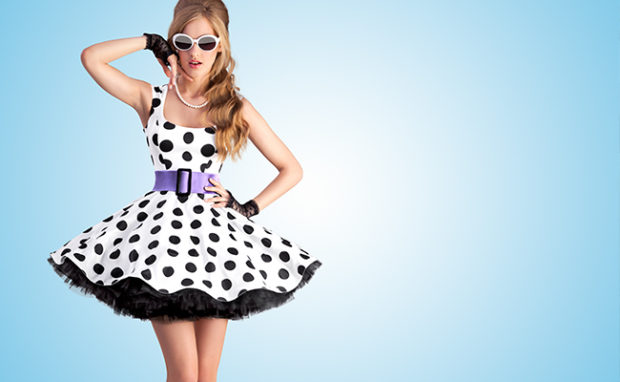 Modern tea dresses are knocking sundresses out this summer. This year it's going to be a long and lovely dress. The style is quite like the hippie dress. There is a vintage look at these dresses.
The tea dresses are very soft and sophisticated. Satin is a great fabric for them. These dresses are taken from the 1940's era. It's a style that is being brought back like many other older styles.
Some also call this the milkmaid look. It gives the pastoral vibe a thumbs up. You'll see a lot of prints and feel like you're in the country with these dresses.
Sunglasses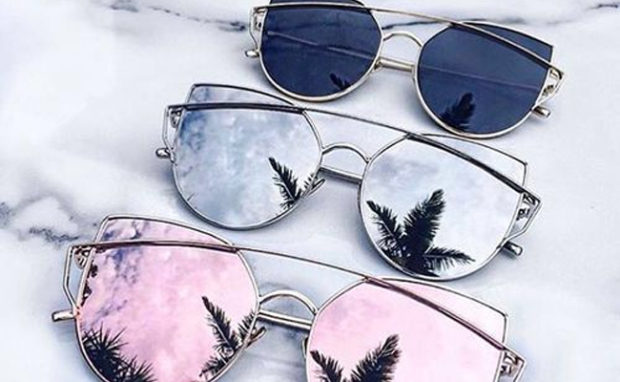 A fashion trend that is making waves into the summer is the shield sunglasses. This summer looks as if shield glasses are going to be popular. These oversized glasses are a close replica of dad glasses.
The shield sunglasses are kind of futuristic looking, but they are bigger. Apparently, the bigger the better. These will be in mostly geometric shapes.  The tinted sunglasses are also another style that will be in this summer. The yellow, neon, anything vibrant and bold.
Summer Looks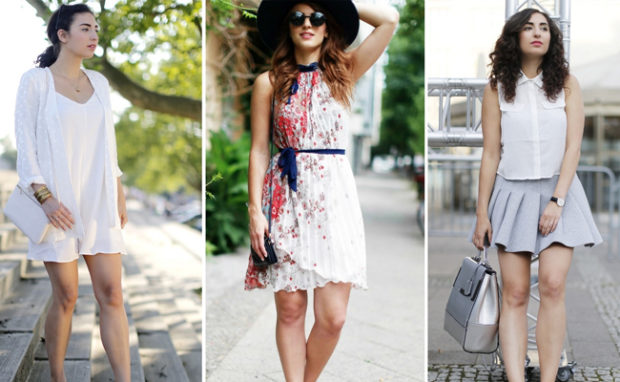 The next summer fashion trend for this year is the utility look. The utilitarian theme is going to be big this summer. This means lightweight layers.
These layers are for keeping safe from the sun's rays this summer. Try layers of linens, khaki, camo cargo pants, and Bermuda shorts. If you don't like layers, you can always try the lovely boiler suit. It's an option for dressing yourself. This is a great and cool look for the summer.
Shoes & Sandals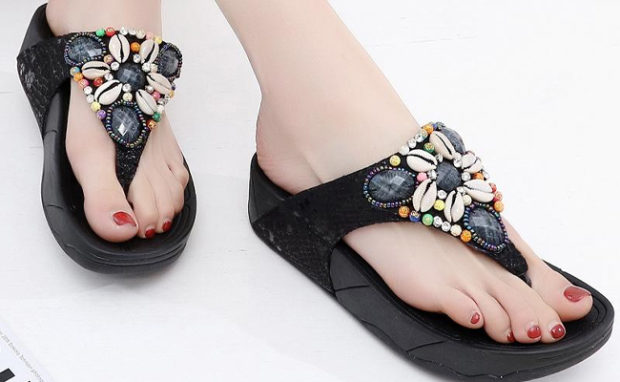 For shoes this summer, the square toe sandals are coming back. Square toed shoes are clean and modern. These shoes will look great with a nice dress. For this summer, anything minimal is what we're going for. Slender shoes and sandals, and anything light. Less is more as far as sandals go this summer.
Guess what? Flip Flops are back! That's right, flip flops, but wearing them with prints will be what we are wearing this summer. There are Bryan Flip Flops, which are leather.  They're very minimal, but they cost about $195 per pair. They will last a longer time than your typical rubber flops.
Animal Prints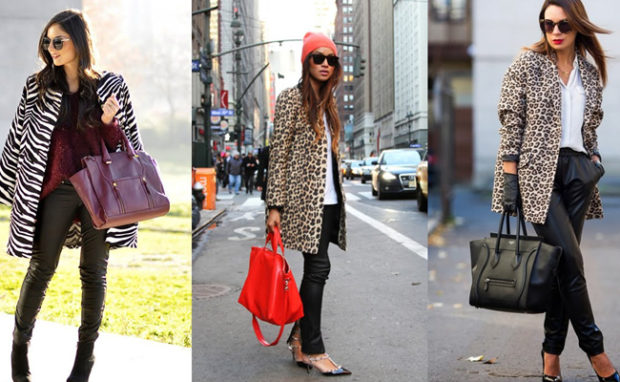 This summer get ready for the new animal prints to be all the talk. Leopard print, zebra, tiger, and cow are the prints to look out for. The brighter the better too. This is one of the bold statements for this year.
This year the prints are being mashed up again. That's right, why not try patchwork and stripes.  Also, the neon green is coming back.
Bike Shorts and Blazers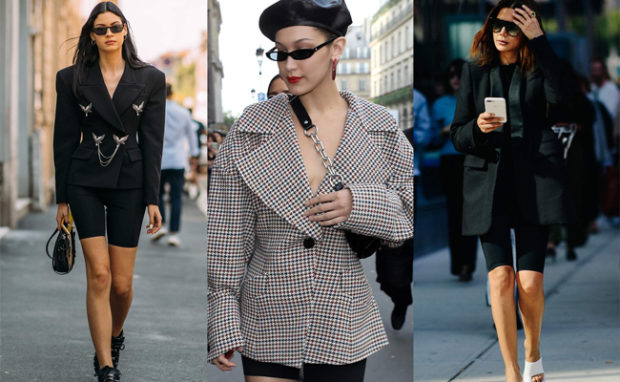 Short shorts are making a comeback too. Basic black bike shorts paired up with just about anything are what's hot this year. We have seen a lot of blazers with these bike shorts already.
Also, short suiting is going to be the summer's new look. What does this mean exactly? It's basically a bright color blazer, dark shirt underneath and either biker shorts or Bermuda shorts with it.
The Bermuda shorts will be belted this year and go with the California Cool look too. Look out for lots of bold colors, fringes, and a lot of colors this summer.