10 Secrets of Social Media to Grow Your Business: Tips and Tricks!
Social media provides reach and scale and also administers targeting capability at a lower cost than practically any remaining marketing channels. It's a fundamental component of any business's marketing strategy, but knowing where to start or use it most effectively can be difficult.
However, there are definitive pointers for you to get a long-term ROI while marketing through social platforms. We're going to cover how earned media can impact your business revenue by generating a multitude of traffic, brand awareness, and bragging rights.
It is tough to figure out what platforms you should use, how often you post, and what kind of content is most effective. We've put together this guide to help your business hit the ground running.
We don't want to cover what you've heard all over Reels and Youtube channels from marketers who flaunt about generating traffic without practical solutions. With these tips, you'll be able to create a successful social media strategy that converts to more sales in no time!
1. Create Engaging Content
A vital part of social media is crafting content followers want to engage with. By writing high-quality content that is shareable and informative, you can reach a wider audience and substantiate your brand as a thought leader in your industry.
ADVERTISEMENT
[forminator_form id="101630"]
Build a Content Strategy with 60 Topics
The biggest challenge with developing a content strategy is finding topics that resonate with your target audience. Startups are often short on time and resources, so a well-thought-out content strategy can help you get the most out of your marketing budget. Stacking topics will be the foundation and lifeblood of the rest of your social media strategy.
If you're agonizing about coming up with ideas, take a look at some of these popular blog topics:
How to [solve a problem your target audience has]

The benefits of [your product/service]

Why [your industry] is booming/declining

The history of [your company/industry]

Controversial issues in [your industry]

How to start/grow a [business in your industry]

Predictions for the future of [your industry]

Everything you need to know about [your industry/brand]
2. Create Long-form Content for your Blogs
Long-form content provides an in-depth look at a topic, which can give your readers the information they need to make informed decisions. It allows you to dive into a topic and explore its facets. You can provide detailed information about your products or services, share case studies, and even include infographics or videos to disperse the text. Long-form content is also great for SEO because it allows you to target multiple keywords and phrases.
[forminator_form id="101900"]
By creating a plan and building the topics through blogs, you can make 5-10 different social posts to fill in your calendar. Of course, you should plan deals, trends, tips, hacks, quizzes, or other activities for your audience but creating helpful content about your products helps you long-term with search engines and social media. You will get through a process where you can start seeing some earned media!
What Makes Branded Content with Evergreen Approach Widely Effective?
As per a Nielsen report, branded content brought about 86% brand recall compared to pre-roll, which resulted in just 65% brand recall. AdYouLike also proposes that the native advertising industry is expected to develop from $85.83 billion in 2020 to $402 billion by 2025.
Branded content's motivation is to drive engagement through quality content and powerful messaging that evokes an emotional response and influences action. Its purpose is less centered around the product or service but keener on shaping a company's brand identity and fostering authentic conversation surrounding a brand's core values.
It's not only an attempt to stamp the deal, nor is it an intrusive type of marketing since it showcases more customer-centered content. It is where brand trust and loyalty can organically flourish between the user and the brand, turning into a highly effective content marketing strategy.
3. Media Coverage Content Strategy
Once you've created high-quality content, you must find your brand's voice. The tone of your posts should be consistent with your Ideal Customer Profile (ICP), and it's crucial to perform a market intelligence report through software like Semrush, Similarweb, or others.
Did you know that a website's ranking and authority can help your social media?
Yes! Having media coverage in sites like Inquirer, AP, USAToday, or niche sites related to your business industry can boost your social media because it generates clicks while linking your social pages.
Getting Featured: Brand Voice is Solidified by Media Coverage.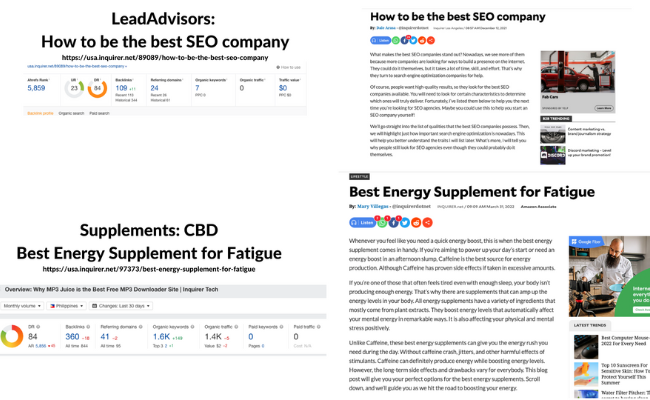 You cement your brand's voice by creating story angles, narratives, announcements, strategies, and tips for unique and credible pitches on media companies. You can also contact experts in media outreach with vast connections that can assist you in partnering with publications that can cover your brand.
Working with PR professionals who foster relationships and construct brand awareness eliminates the time needed to search for sources and other data to substantiate your article's content. Firms with a track record and case studies for branded content and PR campaign strategies will also help you grow other traffic sources like referrals, affiliates, and email while building a content strategy that will keep your business stamina afloat in the long run.
Benefits of Media Coverage
The following are the range of opportunities for your business when you incorporate media coverage into your social media marketing:
Instant Boost in Authority and Credibility
Potential customers are influenced by people that they trust. It helps organizations in exhibiting their image through trustworthy sources. Stories conveyed through legitimate websites and distributed in authoritative publications are a rapid gateway to building trust and procuring a higher score on the credibility scale. This is especially important for startups because you are trying to establish yourself as a credible source in your industry.
Get More Traffic to Your Website
Most media outlets will include a link to your website if they mention you or cover one of your stories. Make sure to capitalize on this by promoting the coverage on your social media channels and including a call-to-action (CTA) encouraging people to read the article or visit your website.
Increase Brand Awareness
One of the main goals of social media marketing is to increase brand awareness. You widen your brand reach when you share links to articles that mention your business on social media. A compelling media relationship can unlock an array of business opportunities.
Enhances SERP Ranking
You can likewise profit from search engine results. Google focuses on trust, authority, and expertise. Thus, mentions and backlinks from other authority channels can boost your search engine result position.
Greater Potential for Lead generation and sales
When people see that you're a credible source of information, they're more likely to visit your website or contact you to learn more about what you offer—which could lead to a sale down the road.
4. Take Advantage of Visual Structure
In today's social media-driven world, the importance of visual content cannot be overstated. With users scrolling through their feeds at lightning speeds, making your posts stand out is more important than ever. One route to do this is by using visual structure effectively. These are how elements are arranged on a page or screen. Regarding social media posts, the visual structure is all about using whitespace, color, and typography to create an eye-catching and easily digestible post.
A decisive way to engage potential customers is using visually pleasing multimedia in your posts. Photos, infographics, topics with listicles, tips, hacks, and case studies are often more eye-catching than plain text and can help communicate your message more effectively.
5. Humanize Your Brand
To connect with your followers, it's essential to remember that they are people too. Veer away from robotic marketing messaging; instead, showing the human side of your business through social media will make potential customers more likely to connect with you and use your products or services.
Be transparent—take your audience behind the scenes or showcase a brand story that speaks directly into their hearts by using language they understand best. Just the mere authenticity of a brand can easily foster a distinctive reputation to connect on an emotional level with your audience.
Create Reels/Shorts Utilizing Templates and Filters
With just a minute of creativity and some help from templates and filters, you can produce high-quality content:
Find the right template.
All kinds of free and paid templates are available online, so take your time to find one that fits your brand's aesthetic. Once you've found a template, download it and open it up in your video editing software of choice.
Utilize filters.
Filters can do wonders for your videos and don't have to be expensive. Many video editing software programs have built-in filters. Experiment with filters until you find one that gives your video the "look" and feels you're going for.
Get creative with transitions.
Transitions are an efficient way to add visual interest to your videos. Again, many video editing software programs come with built-in transitions, or you can find free ones online. Just make sure not to go overboard—a few well-placed transitions will do the trick.
Use trending audio to set the tone.
Music is a powerful tool that can help set the tone of your video and guide your viewer's emotions. Popular sound effects help emphasize specific points. Voiceovers are also a compelling way to deliver your message clearly and concisely. In addition to music and sound effects, you can also use popular background audio to help enhance your message.
6. Be Active and Responsive
A crucial part of social media is interacting with your followers. Make sure you're regularly checking for comments and messages so that you can respond promptly. Join the conversation! Whether on Facebook or Twitter, engage with your customers and followers by sharing their content. Answer questions they may have about products/services consumed through social media channels, so you make sure people remember you when they are browsing through their favorite brands.
Additionally, make it easy for your audience to share your content. Use Hashtags strategically; It is a fruitful way to increase the visibility of your posts and reach new potential customers searching for specific topics. However, it's pivotal not to overdo it and keep it relevant to the post. Attach social media buttons on your website and in your email marketing campaigns. Encourage customers to review and recommend your business. Brand awareness is about impact—word-of-the-mouth marketing is the way to go.
7. Post at Optimal Times
Timing is requisite when it comes to social media. If you want your posts to be seen by as many people as possible, make sure you're posting them during times when people are most likely to be on their various feeds.
8. Take Advantage of Trending Topics
In today's social media-driven world, it's more crucial than ever to make sure you're staying up-to-date on the latest trends. One efficient approach to accomplish this is by incorporating trending topics into your social media strategy.
When you jump on a trending topic, you're putting your business in front of a new clique of potential customers who might not have heard of you before. Additionally, it implies that you're keeping up with the times and empathizing with what's happening worldwide. So next time there's a trending topic relevant to your business, make sure to capitalize on it!
9. Collaborate with Other Brands
Social media has made it effortless for businesses to connect and form collaborative relationships. For example, if you own a bookstore, you could reach out to a local coffee shop and see if they would be interested in hosting a book club meeting. Or, if you run a clothing store, you could team up with a salon to offer customers a discount on their purchases when they get their hair done. By teaming up with complementary businesses, you can reach a broader range of potential customers and create a more robust social media presence.
Plus, collaborative partnerships are mutually beneficial—both businesses can benefit from the increased exposure and customer base. Even partnering with companies in your industry to create joint projects such as podcasts, guest posting, and other multimedia content can help you reach a new audience and build credibility for your business.
10. Host Giveaways or Contests
Hosting giveaways and contests is a compelling avenue to increase social media engagement. You can stimulate your followers to engage with your posts by offering incentives. This, in turn, will help to boost your visibility and reach. In addition, hosting giveaways and contests are a great way to build goodwill and strengthen your relationships with your followers.
By offering relevant prizes to your brand or audience, you can show that you appreciate their support. Finally, hosting giveaways and contests is a great way to generate excitement and anticipation around your brand. Creating a sense of urgency can reinforce your followers to pay attention to your next release or event.
How to get started with media coverage?
Here's a quick rundown to develop highly in-demand pitches and secure relationships within mainstream media:
Do your research: Ensure you target the right outlets and reporters covering your industry or niche. Upfront research can save you time in the long run.
Make a list of the outlets and reporters you want to target: Once you have done your research, list the outlets and reporters you want to target. This will guide you to stay organized and focused as you pitch your story.
Craft your pitch: Now that you know who you are pitching to, it's time to craft your pitch. Keep it precise and to the point. Include why your story is newsworthy and what makes it unique.
Follow up: Once you have sent your pitch, follow up with the reporter or editor to ensure they received it and answer any questions they may have.
Repeat: Media coverage is not a one-time thing. It takes ongoing effort to maintain visibility. So once you have secured some media coverage, keep at it!
Here are our picks for the best services providing the best press release distribution. Look for the best PR distribution for E-commerce, SEO, Branded Content, and Social Media Marketing.
Conclusion
Social media has promptly become an essential tool for businesses of all sizes. It authorizes you to connect and engage with potential and current customers and provides a platform to build your reputation.
However, social media marketing is only a part of a larger strategy— a culmination of executed plans and tactics to promote a business for a thriving trajectory. You can build this through online and offline marketing initiatives like PR strategies, content marketing, search engine optimization, and traditional advertising.
Upholding a few of these tips and tricks can make a big difference in the reach and growth of your new business, and investing in a comprehensive marketing strategy ensures that your company is well-positioned for success.