10 Best Cooling Blankets 2022
Getting a restful sleep these days could be a real struggle, especially when heat discomfort kicks in. But you don't have to suffer another night of clammy sweat. Use a cooling blanket to trade in that unsightly sweat with sweet dreams.
A cooling blanket is one of the most fantastic sleeping aids created in this lifetime to help you get that much-needed slumber back. Scientifically, a cooling blanket's materials help regulate your body temperature while removing the moisture all night.
Top 10 Cooling Blankets
Cooling blankets are plentiful. You might wonder which blanket to choose. We've cut short the long search for the best cooling blankets in town. We've come up with our version of top picks. Read on, and find out what suits you best.
Best Overall
No doubt, Sleep Number is the real deal and is a cooling blanket to have and behold. The cooling blanket features a cotton cover and polyester fill. It is uniquely mixed with 37.5 cooling technology fibers, designed to store and release heat to keep you ultra-comfortable so you can have a well-deserved sleep.
In addition, the blanket comes in five shades that are a perfect match with their bed sheets. In addition, it is also hypoallergenic. Although the blanket is washing machine friendly, you might have to use one that has a larger capacity.
Pros
It features a 37.5 cooling technology

The cotton cover has a polyester fill

Conveniently washable in the washing machine
Cons
Some have observed that filling sheds over time
Best Value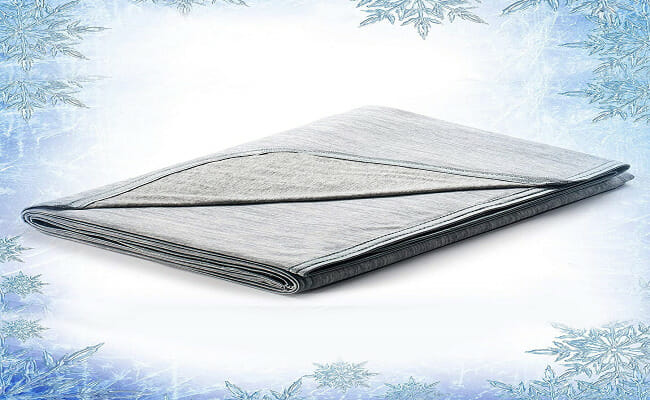 If you are looking for a double-sided blanket, Elegear is definitely for you. One side of the blanket is 10% cotton, while the opposite side features arc-cool yarns for the extra excellent feel. In addition, you can choose from its six colors and three sizes. Use it in your living room or the comforts of your bedroom. Either way, you will love to snuggle in it!
Pros
Cotton backing

Arc-Cool cooling yarns

Available in six shades and three sizes
Cons
It cannot fit in the dryer.
Best for Travel

A must-have when traveling is a handy travel blanket. Cocoon Coolmax fits the bill perfectly for short or long-distance travel. Even aboard a bus or car, say goodbye to travel sweating, heat, and discomfort with this cooling blanket. Its secret weapon? The blanket uses CoolMax fibers which are knitted, taking away unwanted moisture. As a result, you'll get the cozy yet comfy feel of a blanket. Furthermore, the blanket is easy to carry and store away.
Pros
CoolMax fibers knitted in the blanket

Offers a carrying case

Choose from a selection of 14 colors
Cons
Tendency to have a "tee shirt-like" texture
Best Comforter
Drift into a calm, cozy slumber all night with Slumber Cloud lightweight comforter. Slumbercloud features a soft cotton cover and polyester fill infused with ClimaDry technology.
Every Slumber Cloud comforter is designed to keep you in a relaxed state and achieve stable body temperature throughout the night. In addition, the blanket has corner loop ties should you want a duvet cover secured. If you decide to have a duvet cover, use a cooling cover for maximum comfort.
Pros
It has a Cotton cover

It features Climadry technology for added comfort

Blanket be paired with a duvet cover
Cons
The cooling effect becomes limited if paired with a cover.
Top Linen Blanket
There's a blanket for everyone, even for hot sleepers. No more fretting from hot sleepers. With a
Brooklinen, breathable blanket at hand, you're sure to be feeling soft and cozy. Brooklinen linen quilt is created with long staple linen fibers for the softness you long for. Its polyester fill adds to the breathable insulation quality. Brooklinen comes in King, Queen sizes and is available in three shades.
Pros
Long staple fibers for extra softness

Polyester fill

365-day return period
Cons
Best Cotton Blanket
Pottery Barn Sleepsmart 37.5 Basketweave Blanket
Everyone who likes to have a restful sleep wants to feel calm and enjoy comfortable bedding. Look no further, for a Pottery Barn basketweave blanket is all you'll need.
If you like cotton bedding, you'll be glad to know that the blanket uniquely combines a cottony feel with the performance of 37.5 technology. The blanket is 80% cotton and 20% 37.5 performance polyester yarns. When your body gets warmer, the 37.5 technology keeps the heat and maintains the body temperature. The basketweave design gives it a classic yet contemporary look. Elegant yet very practical.
Pros
Uniquely offers 7.5 cooling technology

It has a classic design

The natural feel of cotton with cooling benefits
Cons
The blanket is limited to white color.

Only available in white
Best Weighted Blanket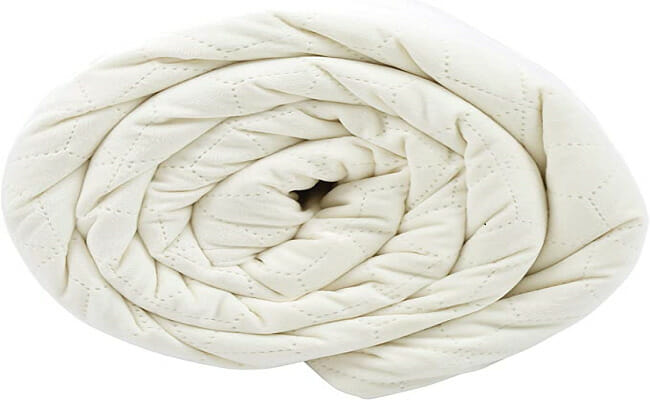 Have you ever heard of comfortable weighted blankets? Weighted blankets from BlanQuil have been well-liked and appreciated by many who are amazed by their excellent quality. The added weight doesn't mean added heat. The blanket's added weight is cool to the touch that will help you fall asleep quickly. Its added weight comes from glass beads, which quickly move around. Moreover, the removable cover of the blanket is easy to clean and keeps the blanket fresh.
Pros
15 or 20 pounds weight options

Ultra-soft microfiber

Removable cover for easy cleaning
Cons
Some reviewers said the weight was difficult to distribute evenly.
Best Duvet Cover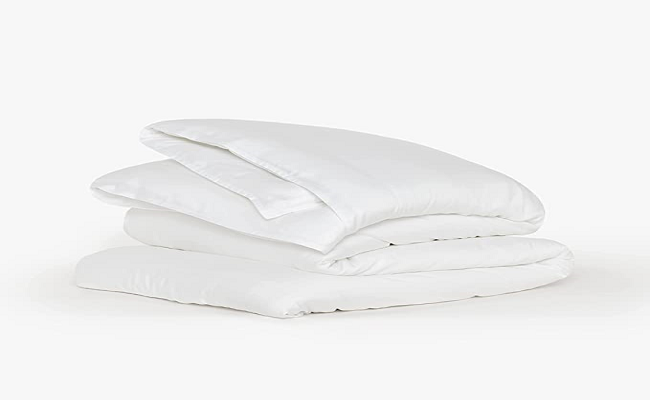 When it comes to duvet cooling covers, Buffy is the top brand choice. Buffy has an amazingly soft and cool texture due to its smooth fabric made of Tencel lyocell fibers.
In addition, the eucalyptus cover is made of plant-based materials such as pomegranate, turmeric, and gardenia. The fabric is machine washable and comes with a 7-night free trial.
Pros
7-night free trial

Nearly 5,000 reviews

Machine washable
Cons
Buffy's dyes can fade in direct sun

Misleading green marketing claims
Best Budget
Are you looking for a top-value cooling blanket that will not break the bank? Get hold of Dangtop's Bamboo Cooling Blanket. It is considered one of the lightest at 2.5 pounds at just $30. Dangtop's bamboo fabric material is naturally cool and silky to the touch, which makes it the preferred bedtime cover, especially on hot nights. Sizewise, it isn't too large to handle and comes in a variety of colors and patterns.
Pros
Soft, cooling bamboo fabric outer

Naturally temperature-regulating fabrics

Ten available colors

Great price

Versatile enough for couch use

Machine-washable
Cons
Requires line-drying overnight
Best All-Season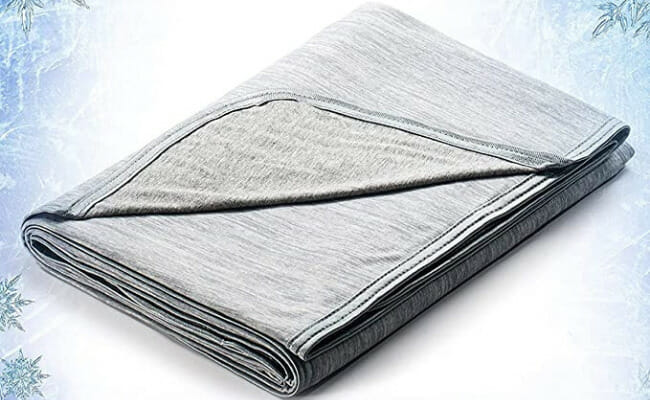 Set your sight on Elegear's Revolutionary Cooling Blanket. The blanket has an incredible dual-sided design which you can use all year round. One side has the Arc-Chill fabric, which is cool and comfy. On the other side is the cottony, breathable material for warming winter evenings is on the other side. Elegear truly offers excellent quality and value at a reasonable price point.
Pros
Dual-sided design for year-round use

Eight available colors

Great price

Machine-washable
Cons
Some have observed strange fabric feel
What to consider in a cooling blanket?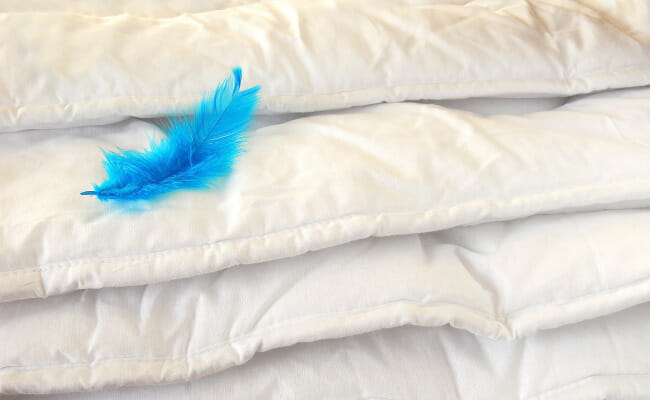 Before deciding to get a cooling blanket, there are three factors to weigh in, namely cooling technologies, materials, and lightweight nature.
Cooling technologies
Some cooling blankets have infused cooling technologies that absorb and release heat to help you maintain a more stable body temperature throughout the night. Check for temperature-regulating technology like Outlast or 37.5 for the ultimate cooler sleep.
Breathable materials
Choosing the blanket material is an important consideration. Certain materials hold moisture, while others keep you sweat-free. Choose fabrics such as polyester or regenerated cellulose fibers like lyocell. Cotton material holds more moisture. If you want the natural cotton feel, opt for a blended material.
Lightweight Construction
Another factor to check is the blanket's weight which depends on your preference. Opt for a lightweight blanket with looser knits or airy bedding for warm nights. Others may want a snugger or closer fit. You can also consider a mid to heavyweight cooling blanket.
Conclusion
It pays to have a cooling blanket at hand. Some nights can be hotter than usual. Also, you might find yourself being on the road traveling. We hope our top picks will help you decide which cooling blanket matches your needs, lifestyle, and budget. Wrap a cooling blanket of your choice soon and have a sound sleep.
As an Amazon Associate INQUIRER.net will earn from qualifying purchases.