Best Nose Hair Trimmers 2022
We've got you covered if you're looking for a nose trimmer that will give you the best trims for your buck.
We tested every nose trimmer on our list and created this ranking of the best nose hair trimmers. These products are affordable and effective, and they'll help you get rid of those pesky hairs that crop up around your nose and make it look like a raccoon was living there.
Top Nose Hair Trimmers for Clean Grooming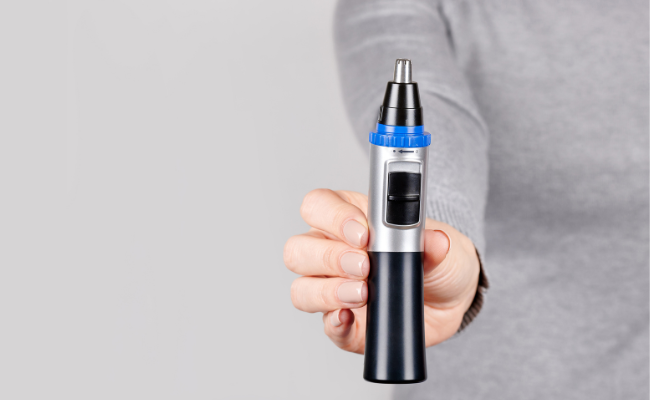 Here are our top picks:
Best Battery-Powered Nose and Ear Hair Trimmer:

Conair Man Nose Hair Trimmer

Best Nose Hair Trimmer for Travel:

Wahl Micro Groomsman Personal Pen Trimmer

Powerful Nose Hair Trimmer:

Philips Norelco Nose Trimmer 3000

Best Dry and Wet Trimmer:

Toilet Tree Products Ear And Nose Trimmer

Best Noiseless Nose Hair Trimmer:

Manscaped WEED WHACKER

Best Premium Nose Hair Trimmer:

Panasonic Ear And Nose Hair Trimmer
Make any overgrown hair manageable with these tested and trusted grooming trimmers.
Best Battery-Powered Nose and Ear Hair Trimmer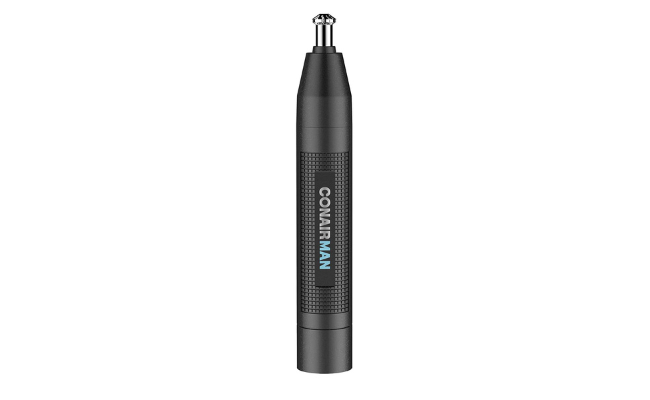 Price: $20 On Amazon 
Product Description 
This simple trimmer trims the hair without pulling. The unique blade cuts hair softly, rapidly, and without snagging it while protecting the area inside your nostrils. It has the perfect positioning for trimming hairs from your nose and ears. 
Pros
Cons
Might be too loud for some users. 
Best Nose Hair Trimmer For Travelling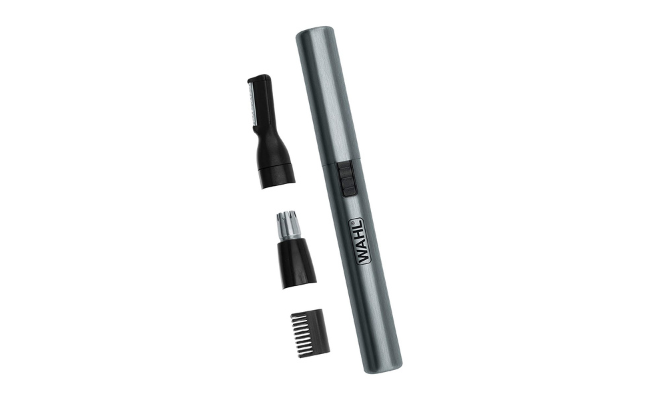 Price: $11.95 On Amazon
Product Description
This multipurpose facial hair trimmer is as tiny as a ballpoint pen. 
It is so tiny that you can conveniently store it in your gym bag or Dopp kit for grooming on the go. One attachment cuts stray hairs from the nose and ears, and the other is a full brow, sideburn, or beard detail trimmer.
Pros
TSA-friendly

Includes a facial detailing attachment
Cons
Lacks discreet noise for some users.

 
Powerful Nose Hair Trimmer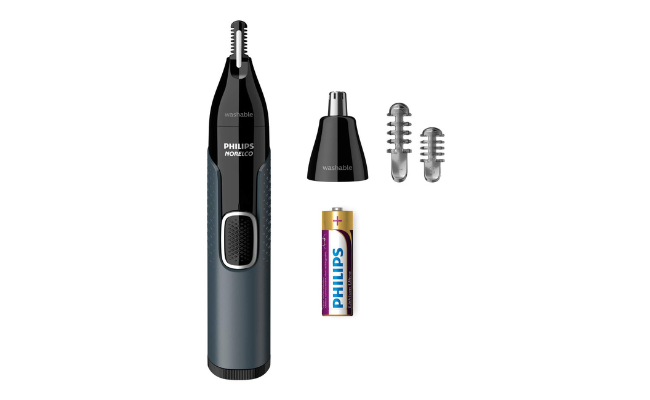 Price: $13 on Amazon
Product Description
Along with a rotating hair trimmer with an ergonomic design, this washable trimmer includes an eyebrow attachment with two-length combs. It is a complete solution that can carry out all of your requirements.
Pros
Additional attachments for retouching. 

Powerful blades

Includes a system of defense that shields delicate skin 
Cons
Best Dry and Wet Trimmer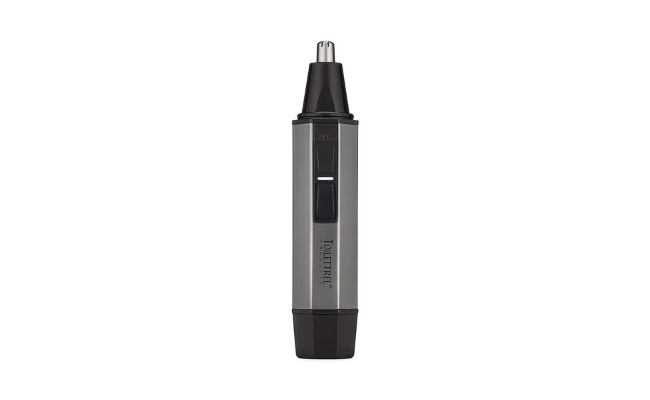 Price: $18 On Amazon 
Product Description 
With this ToiletTree Nose trimmer, you don't have to worry about attachments. The LED light sets it apart, which can help you successfully remove every difficult-to-see hair from your nose. Additionally, it is wet/dry, which is usually advantageous for cleaning.
Pros
Includes LED light 

Easy to clean

Suitable for wet and dry trimmings 
Cons
Best Noiseless Nose Hair Trimmer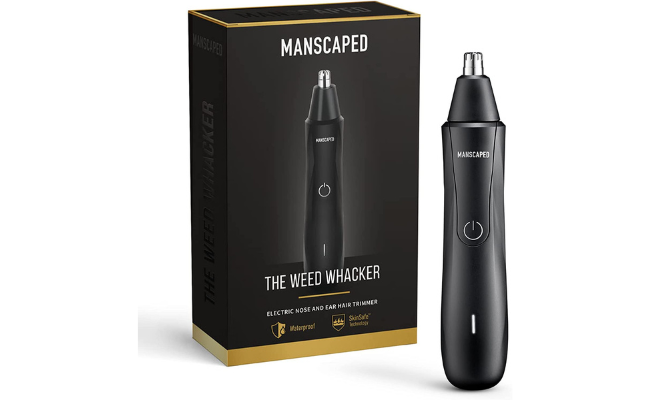 Price: $35 On Amazon
Product Description 
A hypoallergenic stainless steel cone shields the tiny, 9,000 rpm engine in this effective trimmer to prevent cutting your skin while you trim. Unlike most of the other trimmers on our list, it is USB rechargeable, so batteries don't need to be changed. You get 90 minutes of trim time with each charge. Additionally, the tip is slanted to help you access even the most difficult-to-reach areas of your nose.
Pros
Effective at removing hair from the nose

Allergen-free steel cone

USB-rechargeable battery 
Cons
Best Premium Nose Hair Trimmer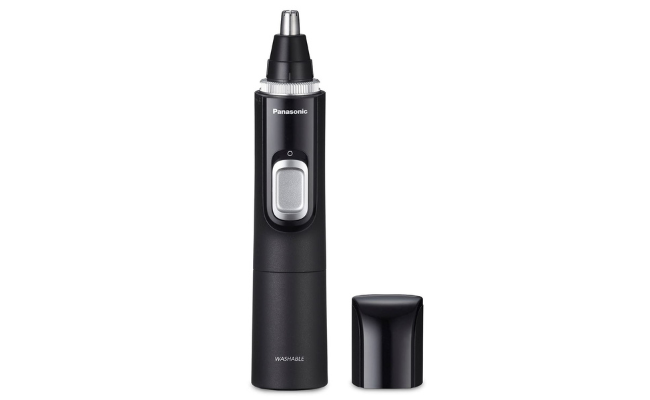 Price: $45 On Amazon 
Product Description 
This is the top-of-the-line, pricey Rolex of nose trimmers. The wet/dry feature makes trimming hair and cleaning the trimmer a child's play. The trimmer also includes a vacuum system that captures hair inside before it lands on your sink, and this is absolutely the best feature. 
Pros 
Simple to hold

Use on both dry and damp hair

Integrated vacuum system
Cons
How To Choose A Nose Hair Trimmer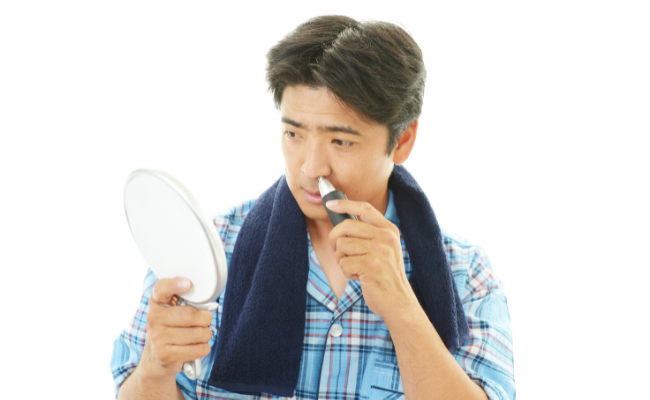 If you are serious about trimming the hair in your nostrils and ears, here are some things you need to know before shopping:
The first thing you want to consider when choosing a trimmer is the length of the blade. A longer blade will allow you to trim hair more precisely, while a shorter blade will be better for those with short or stubby noses.
The second thing you want to consider is whether or not the trimmer has an adjustable comb. This allows you to set the blades at different lengths, depending on what you need them for.
The third thing you want to consider is whether or not it has adjustable settings for where you want your hairline to be trimmed—whether it's on top or bottom, left or right, etcetera!
Comfort and performance are essential too. Although trimming the hair on your nose can be an irritating grooming task, it doesn't have to hurt. Pick a trimmer with sturdy, sharp blades that provide a clean, accurate cut. You can also cut the hair on your nose without tugging it with blades bent to fit your nostrils. 
Another thing you want to consider is how easy it is to clean after each use (and if there are any benefits from using it regularly).
Finally, consider whether you can use a particular trimmer, dry or wet. While you can use some on dry skin and hair, others are completely waterproof, allowing you to trim while in the shower to save time.
Conclusion
Nose hair trimmers are one of the best budget products for keeping unwanted hair away. They are a great way to keep your facial hair at home while enjoying the freedom of going sans-beard. 
Using a nose trimmer is a safe, painless technique to keep your nose in check. These tools are created specifically to remove hard-to-reach hairs. The trimmers we've featured include fantastic features like attachments for overall facial hair detailing, such as a brow trimmer for eyebrow hair, a beard trimmer, LED lighting, and even vacuum systems. We hope this list of best nose hair trimmers helps you pick the right one for you!
Frequently Asked Questions FAQs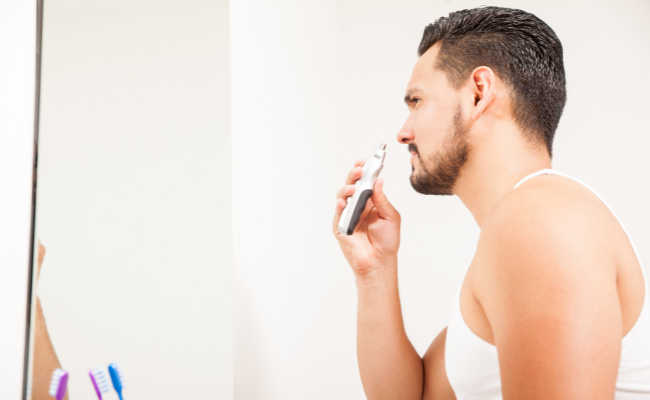 Is it safe to use a nose hair trimmer? 
Using a nose trimmer won't hurt, even if you have extremely long or thick hair in your nose. The strands are only clipped to a length so they won't hang out of your nose. The hair is not being shaved to the skin by the blades, just like getting a haircut. 
Does trimming nose hair remove it permanently? 
Snipping, tweezing, or trimming your hair from your nose are all temporary at-home procedures. You will have to repeatedly pluck the hair from your nose if you do it at home. Laser hair removal is the most effective way to stop body hair growth.
As an Amazon Associate INQUIRER.net will earn from qualifying purchases.