Emil Amok!
Not-so-little act of hate at Stockton's Little Manila
Next Wednesday, October 18, I'll be doing a special performance of my one-man show, "Amok Monologues: NPR, Harvard, Death on Mission Street," at the College of the Pacific in Stockton, CA at 7 p.m. at the Wendell Phillips Center, Room 140. It's free and it's open to the public.
I was especially looking forward to the show because Stockton was at one point the epicenter of what I call American Filipinoness in the U.S. and October is, not so coincidentally, Filipino American History month, as designated by the Filipino American National Historical Society.
But now my performance comes in the wake of a little news too.
This week the Little Manila Center in downtown Stockton sustained nearly a thousand dollars in damages when someone ripped up posters of iconic Filipino banners at the center's store front site.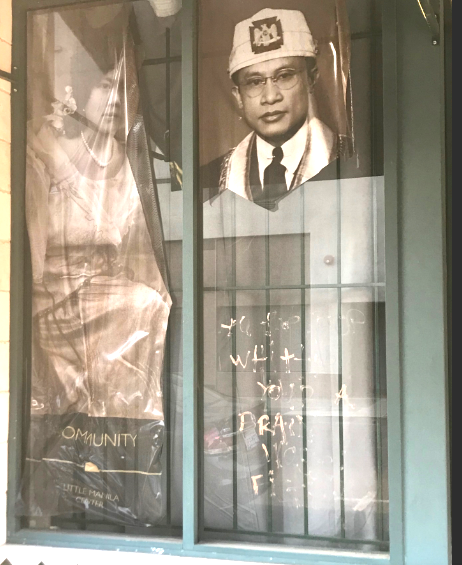 No big deal?
It's a very big deal.
Five of six wall size posters were ripped, including wall- sized images of a 1920s local beauty queen; an Army veteran of WWII; and an asparagus worker in the fields, typical of the manual laborers who found jobs in the valley and then came to Stockton to live and play.
Dillon Delvo, the executive director of Little Manila told me the incident should be seen as a hate crime, though reportedly it's being seen as an act of vandalism by the Stockton Police. The culprit, whom a witness described as a female, is still at large. But besides ripping the paper images, she scrawled some graffiti that included a sentence scrawled on the store front window that read, "You're the real bigot."
What does that mean? A non-sequitur? Or Perhaps a resentment toward the Filipino-centric?
"We've been here 3 ½ years and have had no problems, and no other businesses were hit," Delvo told me indicating his belief the center was targeted.
He too was struck by the irony of how the vandalism was a fresh reminder of the history that Filipinos have endured since the 1930s. The Little Manila Center is on Main Street which back then served as a de facto Mason Dixon line. Filipinos weren't allowed to go north of Main Street. An infamous sign published in Look magazine, even showed an establishment proudly displaying signs that said, "Positively no Filipinos allowed."
At the time, the thousands of Filipinos who came to America triggered a reactionary eugenics movement that led to violent anti-Filipino race riots in California. Labor newspapers reported Filipinos were being lynched.
That more Filipino men were brought to the U.S. than women led to policies fueled by sexual jealousy. Filipinos were banned from inter-marriage to whites in California and a handful of other states. On the federal level, the U.S. shut down the flow of Filipinos to America by changing their status from colonized nationals to foreigners. Essentially, it was a Filipino ban. Sense a familiar pattern between whites and other people on the margins?
"It's hard to look at our history, and look at the news today and not think that there's something more going on here," Delvo said referring to defacing of the center.
I tend to agree. The police may never find the culprit. But there's an ignorance of the past that needs to be addressed this Filipino American history month.
My late father, who arrived in California in 1928, lived through all of that history. When I walk inside the Little Manila center in Stockton, the replication and the décor of Filipino life are more than nostalgic artifacts. They break my heart as I walk back into time as if with my father.
My dad was a city boy who didn't want to pick the vegetables. He wanted to cook them in the restaurants in San Francisco. But he knew Stockton too.
His story is the basis of my "Amok Monologues," which I bring to Stockton next week with a renewed sense of urgency.
The Amok Monologues, written and performed by Emil Guillermo is coming Oct. 18 to UOP Stockton, 7pm, Wendell Phillips Center Room 140. FREE, sponsored by College of the Pacific.
And coming to Baltimore's Charm City Fringe Festival in November.