What is the hottest pepper in the world?
The king of the world's hottest peppers is continually changing. Right now, the hottest pepper is none other than the Carolina Reaper. The Reaper has had an exciting journey to the top, but new peppers are continually being discovered and bred—and each one claims that it has the Scoville rating to proclaim it as the hottest pepper in the world.
Which is the hottest pepper in the world?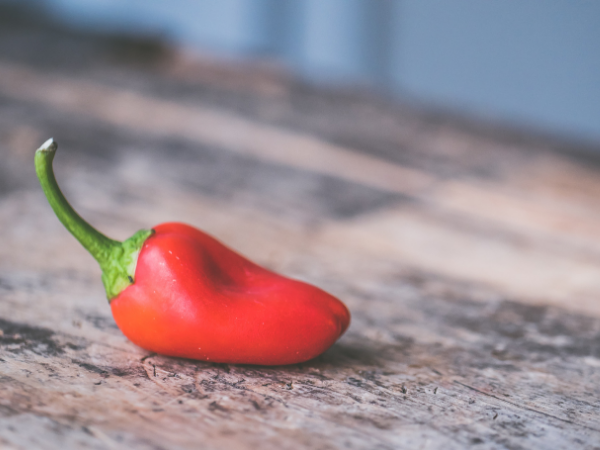 The Guinness World Records lists the Carolina Reaper as the hottest chili pepper in the world. The Reaper, known as HP22B, was developed by Ed Currie and was already 7 generations old by 2013.
The hottest pepper in the world is a cultivar of the Capsicum chinense plant. It was created by crossing Pakistani Naga with a Red Habanero from Saint Vincent Island in the Caribbean. According to Winthrop University, Carolina Reaper is bred in South Carolina and tests 2.2 Million Scoville Heat Units (SHU) and averages at 1,641,000 SHU.
The Reaper's distinct feature is its scorpion-like tail. It comes in smaller pods of about 1 to 2 inches wide and 2 to 3 inches long. When fully mature, these pods turn into a vibrant red color. The skin is typically bumpy though some smooth textures have also been observed.
Flavor-wise, Carolina Reaper is fruity and is commonly compared to the 7 Pot chili pepper. Even though it delivers a scorching hot bite, it is also surprisingly fruity and even sweet. This makes the hottest pepper in the world a favorite for creating dried powder to add heat and flavor to dishes. Of course, this also makes the Carolina Reaper the star of many hot sauce recipes.
What pepper is hotter than the Carolina Reaper?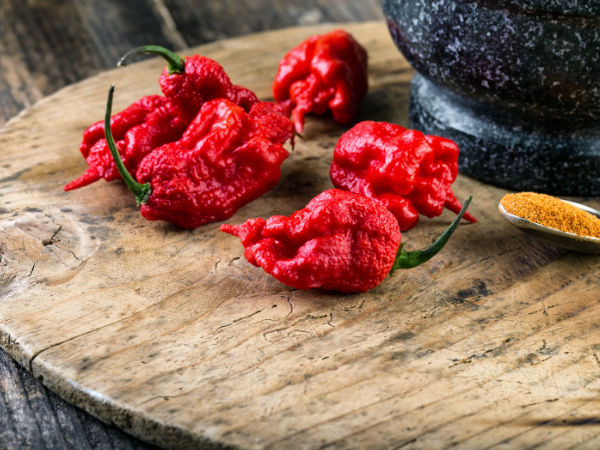 The Carolina Reaper holds the title of the world's hottest pepper. But did you know that it was also the previous winner? The Reaper already took the crown in 2013, but in 2018, it beat its previous record by 71,000 SHU!
Officially, there is no other pepper that is hotter than the Carolina Reaper. However, unconfirmed reports show that the Dragon's Breath and Pepper X, also bred by Ed Currie, reach 2,483,584 SHU and 3.18 Million SHU, respectively.
The Carolina Reaper has cemented its place as the hottest pepper in the world. Numerous challenges on social media have all attested to its extreme heat that warrants the respect of anyone daring enough to try it.
Taking a big bite out of the Reaper is no joke and can render you teary-eyed and nauseous for half an hour or more. This beast is best used sparingly. It doesn't take much to crank up the heat when you are cooking with Carolina Reapers.

Related Articles
What pepper is most spicy?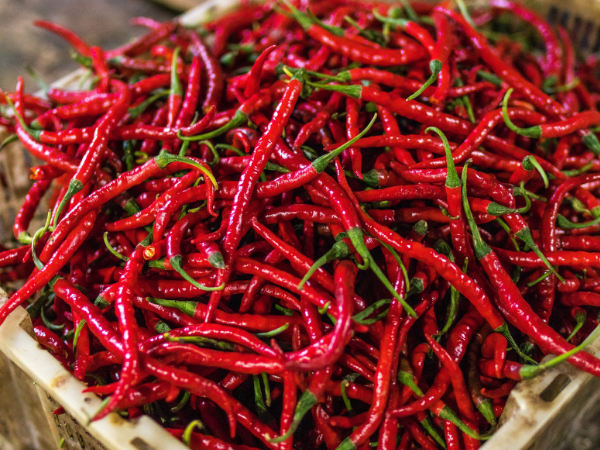 Peppers are spicy because of a chemical called capsaicin. Whenever you bite into a pepper, capsaicin produces a burning sensation when it touches mucus membranes. Although this was likely a deterrent to consuming it, people have since sought peppers precisely for this effect.
Pure capsaicin measures 16 Million SHU. In comparison, Carolina Reaper, AKA the world's hottest pepper peaks at 2.2 million SHU while a regular jalapeno averages just 5,000 SHU.
Not many super hot peppers can even compare to the Reaper's rating. However, there are some which give the king of peppers a run for its money.
What are the top 10 hottest peppers?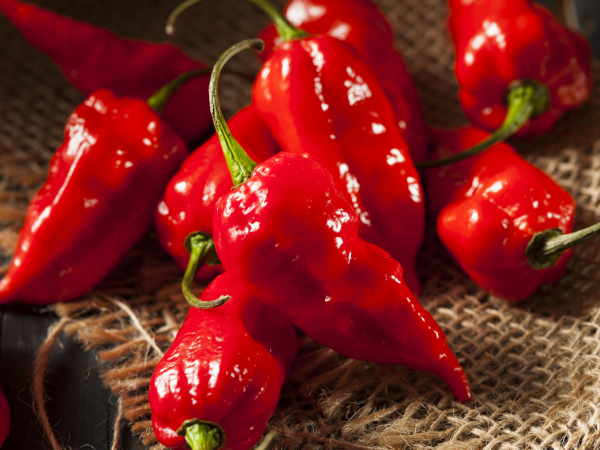 The Reaper may be famous, but it's not the only pepper enthusiasts should be trying. Check out this list of the 10 hottest peppers you can try today.
Trinidad Moruga Scorpion
The Moruga Scorpion has a Scoville rating of 2,009,231 SHU. It comes from the lands of Moruga in Trinidad and Tobago and features a similar appearance to the king. It may be missing the Reaper's stinger but make no mistake. The Scorpion packs a potent punch that keeps on building that has earned its spot among the world's hottest peppers.
7 Pot Douglah
Pepper enthusiasts are very well acquainted with the 7 Pot Douglah. Not only does it boast a searing 1,853,936 SHU, but it also has an unmistakably bold flavor. Even its appearance sets it apart. When most superhot peppers have a bright red color to warn you, this pepper has a low-key brown hue that can fool untrained eyes and taste buds.
Try this fantastic chile pepper, and be sure to look out for its other names, including 7 Pod Douglah, Chocolate 7 Pod, or the 7 Pot Brown.
7 Pot Primo
This pepper is another superhot pepper with a tail. Although skinnier than the Reaper, it clocks in with a Scoville ranking of 1,469,000 SHU, which is still enough to make even the toughest taste buds cry.
Created by horticulturist Troy Primeaux, other breeders have since tried to replicate its trademark tail by breeding the 7 Pot Primo with their own.
Trinidad Scorpion "Butch T"
If you are looking for a world-class pepper, then look no further than the Trinidad Scorpion "Butch T." With a Scoville ranking of 1,463,700 SHU, it used to be the world's hottest pepper in 2011.
This Australian scorpion pepper also has a telltale stinger and, though other peppers have since beaten it, still delivers a burn like no other.
Naga Viper
This pepper is not only potent, but it is also extremely rare. It is a hybrid cultivated in the UK and took years of cross-pollination to create. The Viper has a Scoville ranking of 1,349,000 SHU and has never been fully stabilized. For this reason, variations between pods are to be expected.
Ghost Pepper (Bhut Jolokia)
Before the Reaper became a household name, the Ghost Pepper captured enthusiasts' imaginations with its insane Scoville ranking of 1,041,427 SHU, the first pepper to test at more than 1 million SHU scientifically.
While the Ghost may no longer be number 1 in terms of heat, its relatively low ranking will not be trifled. Without a shred of doubt, a single bit of the Ghost can reduce a grown man to tears.
7 Pot Barrackpore
With a ranking of ~1,000,000 SHU on the Scoville scale, this superhot pepper hails, yet again, from Trinidad and Tobago and this time from Chaguanas. The 7 Pot Barrackpore occupies the lower end of this list, but this pepper is part of the world's hottest pepper list.
7 Pot Red (Giant)
This unique pepper was named as such for its ability to heat 7 pots of stew. With a Scoville rating of ~1,000,000 SHU, it's not hard to imagine how it does this. This pepper is extremely popular, and at present, there are hundreds of varieties created from cross-pollination.
Popular varieties include the 7 Pot Jonah, 7 Pot Yellow, 7 Pot Katie, 7 Pot Barrackpore, and many more.
Red Savina Habanero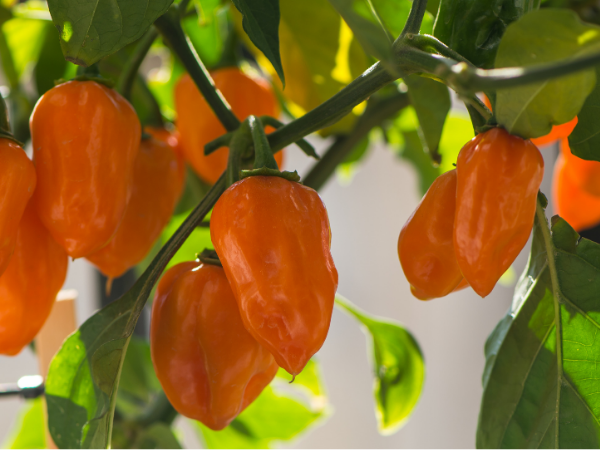 Last on the list is the Red Savina Habanero. Its' Scoville rating of 500,000 SHU seems humble compared to the rest of the list, but this bad boy was king for 12 whole years from 1994 to 2006.
While it's not the hottest, this Habanero is a top culinary favorite for its balanced heat and flavor. It's not the hottest, but the Red Savina Habanero makes up for excellent taste and respectable heat.
Final Thoughts
If you're on the quest to try the Carolina Reaper, the hottest pepper in the world, be sure also to explore the other peppers that have made it to the top 10 superhot peppers list. The different heats and flavor profiles of each breed are a treat to experience and complement different recipes, depending on how scorching you want your dishes to be!