IMPACT! Program opens application for young Fil-Am students and graduates
WASHINGTON, D.C. – Filipino American students and young graduates can gain firsthand knowledge about the current practices and opportunities available in Washington, D.C. through the IMPACT! Program for Summer 2021.
The program is now accepting applications, the US-Asia Institute (USAI), in partnership with the Philippine Embassy in the United States officially announced.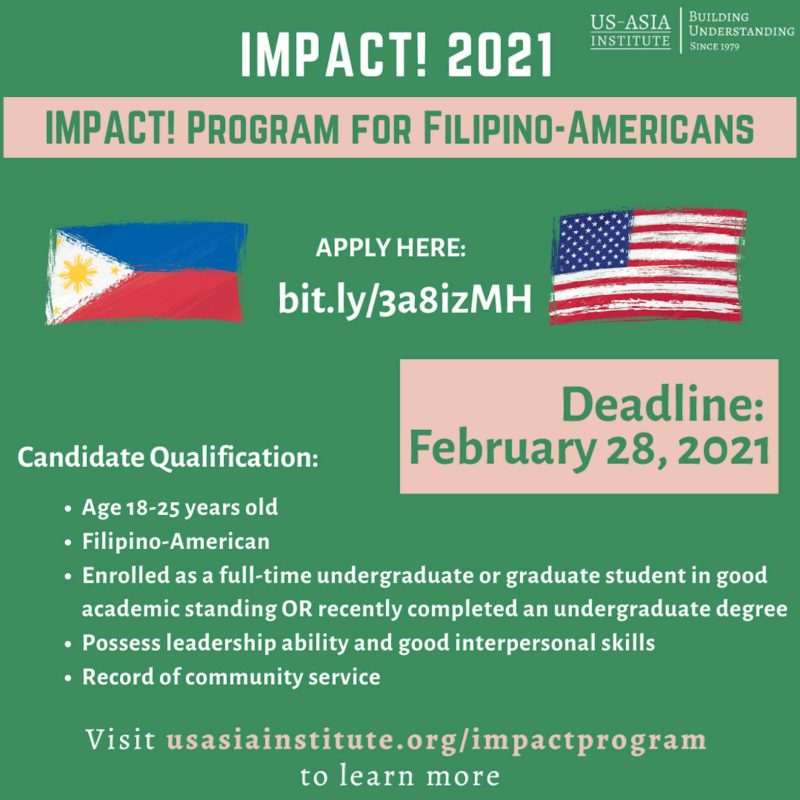 The 2021 program, conducted virtually from 7 June to 6 August 2021 (9 weeks), is organized to provide opportunity to become future leaders and to open the doors for young students to contribute to the strengthening of the U.S.- Philippines relations.
Last year's inaugural IMPACT! Program selected six candidates from all over the U.S. with a strong interest in civic leadership nationally and in their communities.
Kathleen Mallari was one of the selected few for the IMPACT! Program 2020 and she was placed at the Conference on Asian Pacific American Leadership (CAPAL) in Washington, D.C. Six months after the program upon Kathleen's graduation from her University, she said, "This program helped shape my post-college career…honestly, my placement with CAPAL and my internship with them…gave me the edge I needed to ultimately get hired".
Another selected participant, Clarissa Cabil, was placed at the Asian/Pacific Islander Domestic Violence Resource Project. On the program she said, "The IMPACT Program provided me with the opportunity to surround myself with brilliant minds from all over the world. This fellowship not only served as an invaluable and insightful experience in and of itself, but it opened up doors to various professional opportunities that I have not yet explored or discovered as an undergraduate nursing student before applying to the program."
Interested candidates may apply here (bit.ly/3a8izMH) until Sunday, 28 February 2021. For questions and further information, reach out to USAI Director of International and Government Affairs Zev Moses at [email protected] 
Subscribe to our newsletters! Get updates right into your inbox