Hemp Oil Benefits: Everything You Need to Know
Cannabidiol is becoming more widely known and researched in recent years as well as hemp oil benefits. With the United States' new 2018 Farm Bill, hemp, the source of CBD oil, has been legalized nationwide.
Production and distribution of hemp are no longer under the Department of Justice. They are now under the Department of Agriculture.
Cannabis sativa plants that have more than 0.3% tetrahydrocannabinol (THC) are commonly known as marijuana. Hemp contains more or less the same cannabinoids as marijuana but with significantly lower THC and higher CBD.
Previous studies centered on THC and its potential for medical use. It left the other phytocannabinoids in the background.
However, the rise of industrial hemp has led studies to CBD, another cannabinoid with many health benefits.
Benefits of Hemp Oil
Hemp extracts are said to have many health benefits, not just on the physiological level, but as topicals and supplements as well.
Hemp oil is more known for is its effects on the skin. The abundance of fatty acids present in hemp oil help nourish the skin and protect it from inflammation, keeping it moisturized. It can be an anti-oxidant as well.
Hemp oil benefits include other skin conditions such as eczema, dermatitis, psoriasis, lichen planus, varicose veins, and acne rosacea.
Aside from being a topical solution, hemp oil is also used in a variety of products including soft gels, capsules, tinctures, and gummies.
Different Types of Hemp Oil
Though they all come from the same plant, hemp oil has many different classifications.
The difference among these is mostly based on which part of the hemp plant they were extracted from.
Whatever cannabinoids are present, they all interact with and support the endocannabinoid system (ECS). The ECS is the system responsible for achieving homeostasis of the body.
The first type of hemp oil is hemp oil extract. Hemp oil extracts have been extracted from the stalk or seed of the hemp plant for its beneficial compounds called phytocannabinoids.
The most popular among these phytocannabinoids is CBD. However, unlike CBD isolate extracts, hemp oil is a whole-plant extract.
Thus, it is made up of different phytocannabinoids, terpenes, and flavonoids. These components work together and create a phenomenon called the entourage effect.
Hemp seed oil, on the other hand, has been extracted from hemp seeds. Hemp seed oil is used mainly for culinary purposes and contains little to no CBD or THC.
It is extracted for its fatty acids and beneficial for the skin.
Unlike the hemp oil extract and the hemp seed oil, CBD oil can be an isolated phytocannabinoid called cannabidiol or it can contain other cannabinoids depending on the CBD oil product.
CBD oil is mostly extracted from hemp plants to ensure that it has very little THC content.
Hemp oil and CBD oil are both non-psychoactive components of cannabis. This means that very little to no chance of either product inducing a high in users. They do not have euphoria or intoxication as side effects.
Though extracted both from hemp, hemp oil vs. CBD oil are distinguishable from one another. CBD oil is extracted from the stalks, leaves, and flowers of the hemp plant, all of which contain a higher concentration of CBD.
Hemp seed oil is extracted from the seeds of the hemp plant. The seeds contain a rich profile of nutrients, fatty acids, and beneficial bioactive compounds, though not nearly as many as the plant itself.
The extraction process for both CBD and hemp oil is often the same. Both usually undergo third-party lab testing to ensure high-quality hemp products.
To date, the Food and Drug Administration (FDA) hasn't approved any over-the-counter CBD products. It's important to do your research and make sure you're buying the best CBD oil.
Related Articles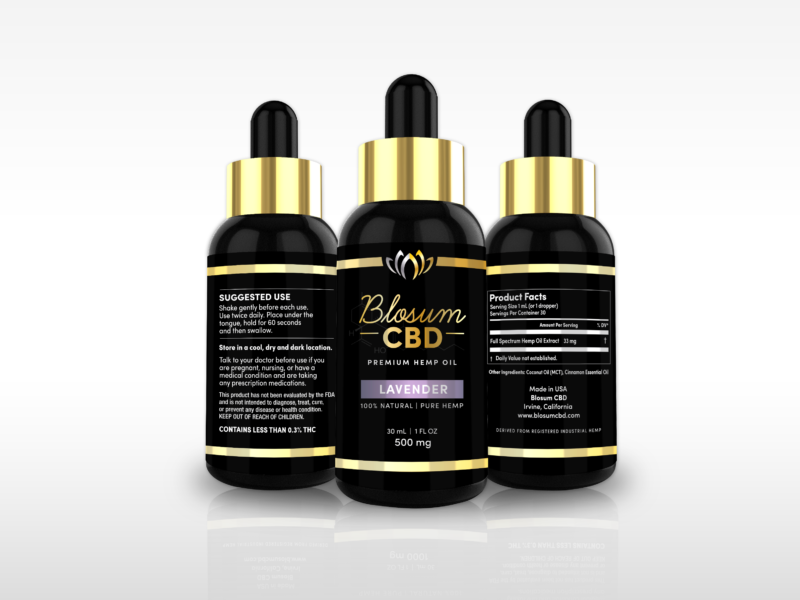 Hemp-derived CBD oil for sale is available in online stores, pharmaceuticals, cannabis dispensaries, and other wellness centers. There are many products to choose from and finding the right ones for a specific lifestyle can be confusing and intimidating.
Before choosing which is the best CBD oil to purchase, keep in mind that any and all CBD products have not been evaluated by the FDA. They are not intended to diagnose or treat any pre-existing medical condition.
Blosum CBD's products are a great supplement for everyday needs of vitamins and minerals. There are many to choose from including:
Oil tinctures: Apply a few drops through the sublingual method or add directly to food and drinks
Capsules and Soft Gels: Come in pill form that can be swallowed down with water or any other beverage
Gummies: Candy infused with CBD oil, can be eaten any time of the day
All of the products listed here are lab-tested, made from U.S.-grown cannabis, and have less than 0.3 percent tetrahydrocannabinol (THC).
Always check the labels of products purchased to ensure that it is lab-tested, GMO-free, and vegan-friendly. You need to know which phytocannabinoids are present.
Summary
Though they come in many forms, hemp oil for sale is a natural form of supplement that can be incorporated in daily health routines.
Hemp oil products contain a list of essential vitamins and minerals. Among other health benefits, CBD oils help relieve stress, aches, chronic pain, and induces a calming and relaxing effect.
It can also help regulate sleep patterns and lessen the symptoms of depression.
Is CBD Legal? Hemp-derived CBD products (with less than 0.3 percent THC) are legal on the federal level but are still illegal under some state laws. Check your state's laws and those of anywhere you travel. Keep in mind that nonprescription CBD products are not FDA-approved.