Best CBD Tincture on Amazon
CBD tinctures have become popular for aches and pains, along with stress and anxiety. Many people use them every day.
The CBD industry is only continuing to rise in popularity after the legalization of hemp. This paved the way for researchers to freely conduct studies on the apparent health benefits of cannabidiol (CBD).
To date, there are countless of CBD brands selling their own CBD tinctures. With so many choices, it can be hard to pinpoint which ones are worth purchasing.
Personally, we recommend Blosum's CBD oil tinctures which come in three amazing flavors. Better yet, they offer 30% off to new customers.
Full-Spectrum vs. Broad-Spectrum CBD
There are different kinds of CBD tincture oils you can procure on the market. There are three types of CBD: full-spectrum, broad-spectrum, and isolates.
Full-spectrum CBD oils are the least processed type of CBD product. These oils contain the hemp plant's cannabinoids, flavors, and terpenes. This includes THC.
However, federal law states that hemp-derived CBD products can only contain up to 0.3% THC content. Users who prefer full-spectrum products benefit from the entourage effect because all components of the plant are in the product.
Broad-spectrum CBD, on the other hand, contains the plant's cannabinoids, flavors, and terpenes except for THC. There are many consumers who want to avoid THC content. Broad-spectrum products are for those consumers.
Users don't have to worry about not getting enough of the health benefits the hemp plant has to offer.
Broad-spectrum CBD products still offer a rich cannabinoid profile of Cannabidiol (CBD), Cannabigerol (CBG), Cannabinol (CBN) and Cannabichromene (CBC).
There really is no one type of CBD that is best because each person reacts to CBD differently. There are many factors to consider when finding the right CBD product for you.
Is CBD Tincture Legal?
Are you legally permitted to use CBD oil tinctures? The short answer is it depends.
Each state has its own laws regarding hemp-based products. Some are more strict than others. There are states that have gone to legalize cannabis as a whole.
Most states permit CBD oil products–even those that include THC content–so long as they don't exceed the limit of 0.3% THC. Some laws also require that the person using the product be over 21 years of age.
Noncompliance with these can result in hefty fines and even jail time.
Tasty CBD Tinctures
When in the market for an all-organic CBD tincture, it's better to opt for high-quality products. Sometimes, this means foregoing Amazon altogether in favor of premier CBD products from established brands.
While Amazon provides affordable products with fast shipping, you can never be too sure where the products source their hemp extracts.
Most of the CBD industry remains unregulated by the FDA. This means that there is a likelihood that CBD products are inaccurately labeled or are contaminated with more THC content than advertised. Note that the legal limit of THC content is 0.3%.
Any more than that would subject you to legal complications that may result in heavy fines, or worse, jail time.
With that, it is best to go for CBD companies that provide third-party lab testing. These lab tests ensure the purity of the ingredients in the CBD oil and confirm the cannabinoid concentrations in each product.
Blosum CBD provides high-quality CBD products that come from the finest hemp strains in the country. Their goal is to improve the lifestyles of generations to come through safe and natural means.
The brand's CBD oil tinctures consist of Fractionated Coconut Oil (MCT Oil) made from the highest quality coconuts and is an excellent carrier for our pure Phytocannabinoid rich hemp oil extract.
Free from Pesticides, Herbicides, Solvents, and Chemical Fertilizers
Full-spectrum Blend of Active Cannabinoids
Lab-tested for Purity and CBD Content
Less than 0.3% THC
Blosum provides stronger concentrations of CBD for those who have high CBD tolerance.
This tincture contains more beneficial cannabinoids such as Cannabidiol (CBD), Cannabichromene (CBC), Cannabigerol (CBG), Cannabinol (CBN), and Cannabidivarin (CBDV). It's also full of nutrients of various naturally occurring terpenes, amino acids, essential vitamins, minerals, and fatty acids.
Third-party lab tested
Less than 0.3% THC
Oil-based, Not Alcohol-based
Pure Hemp Organic, Non-GMO
Blosum offers free shipping and big discounts for those who want to get world-class hemp extracts in the market.
BUY BEST CBD USE CODE: "EXCLUSIVEOFFER" 30% Off.
500 mg vs. 1000 mg CBD
Does it matter whether you're taking 500 mg or 1000 mg CBD oil? These numbers can sound irrelevant, but they actually play an important role in how your body experiences cannabidiol (CBD).
While there is no universal correct dosage for CBD intake, it is crucial to take factors into account to determine the optimum CBD dosage for you.
CBD oils normally come in 30 mL bottles, but each product's CBD concentration varies. CBD concentration refers to the amount of CBD in every single serving.
For example, a 500 mg CBD oil tincture in a 30 mL bottle contains roughly 17 mg of CBD per serving. This means that your body is receiving 17 mg of CBD with every CBD oil tincture use.
On the other hand, a 1000 mg CBD oil tincture will give your body 33 mg of CBD.
The stark difference between the two is that your body can receive almost double the amount of CBD with 1000 mg oil tinctures.
Finding the right concentration of CBD for you determines whether your body will reap the optimum health benefits or suffer from adverse side effects.
Too much CBD–especially for first-time-users–can negatively impact the body. Too little, on the other hand, will result in no changes in the body.
Those who are new to CBD intake should err on the side of caution and start with low potency CBD tinctures.
This is why we recommend starting with Blosum's 500 mg CBD oil tinctures.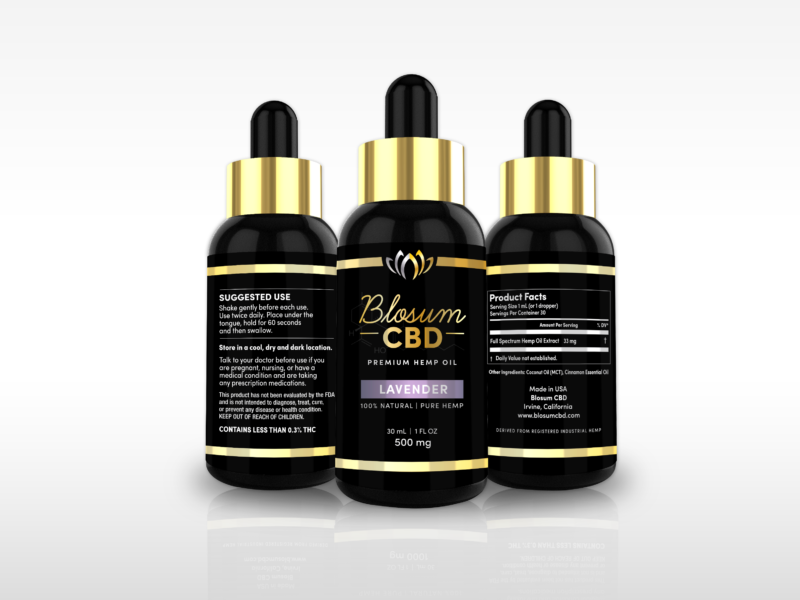 The 500 mg lavender tincture oil from Blosum is perfect for those who are still new to CBD consumption. It's so easy to use.
All you have to do is shake well before taking half to a full dropper as needed, directly under the tongue or in a beverage.
500 mg Concentration
Third-party Lab Tested
Mixed with Lavender Essential Oils
Made in the USA
It also comes in the fruity orange blossom flavor. This is perfect for users who love fruits. You can easily take this sublingually on its own.
500 mg Concentration
Pure Hemp Oil Extract
Full-spectrum Phytocannabinoid Rich
Third-party Lab Tested
For those who have a high tolerance level for CBD, you may want to increase your dosage to experience pain relief and other positive effects from cannabidiol.
You should increase in small increments which is why you should level up to Blosum's 1000 mg CBD oil.
If you feel like your body is building tolerance to CBD, it may be time for a more potent mix.
Our personal pick is Blosum's 1000 mg tincture oil in cinnamon.
1000 mg Concentration
Less than 0.3% THC
Filled with Minerals and Fatty Acids
Free from Pesticides and Solvents
You can get premium hemp oil without its natural earth taste because Blosum's tincture oils come in orange blossom flavor.
100% Natural and Organic
1000 mg Concentration
Mixed with Coconut Oil (NCT) and Orange Essential Oil
Contains Amino Acids and Essential Vitamins
BEST CBD: 30% OFF – CODE: "ExclusiveOffer" .
Best CBD Tincture
There are also CBD tinctures available on Amazon. Users are encouraged to exercise caution and research brands they are buying CBD products from.
Before experimenting with any form of CBD, consult a physician. Consumers should not take CBD products in hopes of curing any disease.
R&R Hemp Oil 1000mg
R&R's omega supplement of hemp oil gives you a natural way to relieve chronic pain, inflammation, and more using the benefits of the hemp plant. It provides anxiety and stress relief and promotes better sleep patterns.
Packed with essential omega fatty acids
Lab-tested
Premium hemp oil
Full-spectrum CBD oil
Hemp Oil Anti-Inflammatory Pain Relief
Pure Cold Pressed Hemp Oil provides the highest quality Hemp Oil for all of your uses. Apply to skin to moisturize and beautify. Apply to hair to brighten and vitalize.
Used externally for better health and beauty
Loaded with vitamins and vegan omegas
Works as a superfood for diets
SHOP BEST CBD 30% OFF WITH CODE: "ExclusiveOffer"
Organic Extra Virgin Unrefined Hemp Seed Oil
People who use hemp seed oil products have reported that after they begin to use hemp seed oil, they have seen smoother, thicker hair, stronger nails, and softer skin.
Filled with amino acids and vitamin E
Natural antioxidant
Rich in Omega-3, Omega-6, and Omega-9
Drug-free and non-hallucinogenic
Hemp 500 MG Extract for Pain

This brand's premium formula helps to reduce anxiety, decrease hormonal imbalances, boost metabolism and support weight loss.
100% all-natural formula
Promotes better sleep
Reduces anxiety and pain
Made from hemp extracts, Organic Hemp Seed Oil can reduce pain and inflammation naturally. You can also use it for skin diseases by applying it liberally to the skin.
100% organic premium quality seed ingredients
THC-free
Non-CBD
Best for pain relief
Quick absorption
PREMIUM CBD OIL: 30% OFF – CODE: "ExclusiveOffer"
SUMMARY
CBD oil tinctures have many functions. They can improve sleep quality, reduce pain, and even manage acne breakouts.
The legalization of hemp paved the way for more research on the apparent health benefits of cannabidiol.
Consumers who want to take advantage of this cannabinoid need to do thorough research on each brand in order to find the best CBD product for them.
Consult a physician before using any CBD-infused oil tincture.
Is CBD Legal? Hemp-derived CBD products (with less than 0.3 percent THC) are legal on the federal level but are still illegal under some state laws. Check your state's laws and those of anywhere you travel. Keep in mind that nonprescription CBD products are not FDA-approved.
Published August 26, 2019; Updated February 26, 2020.