MaArte Theatre Collective back with second new play festival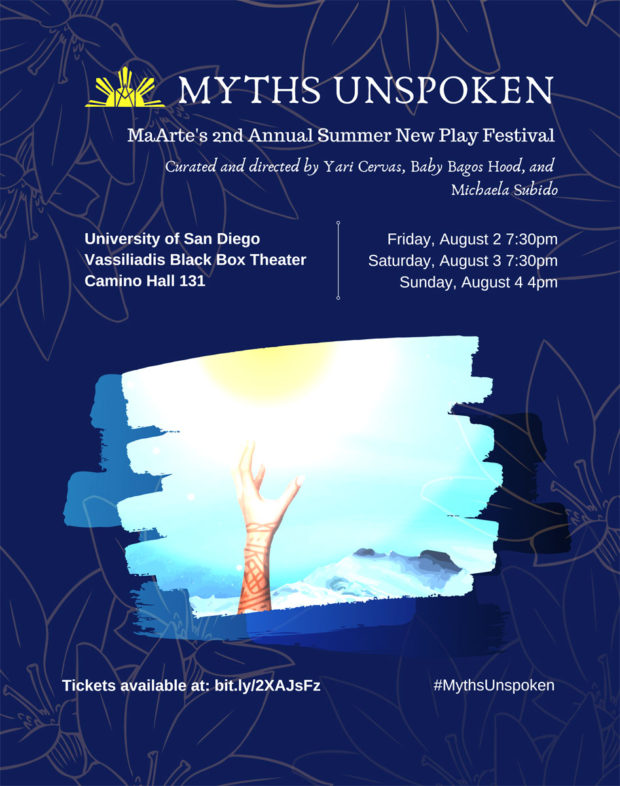 SAN DIEGO — MaArte's annual Summer New Play Festival is returning August 2 to 4 at the University of San Diego's Vassiliadis Black Box Theater.
"Myths Unspoken" explores "the freedom of the future by reaching into our past," states the festival's press release. It features 8 emerging Fil-Am playwrights and poets, including a new play commissioned for the event, "Song by the Cranberries "by Cristina Ibarra.
MaArte is celebrating its one-year anniversary with a second night of short plays. The FLIP side, its first night of theatre and second-ever project, was a huge success thanks to the kapamilya (family).
Each performance will take place in the Vassiliadis Black Box Theatre, Room 131 in Camino Hall, on the campus of the University of San Diego.
The artists
Yari Cervas (Artistic Director) is a director, producer, and San Diego native. She is proud to be a Founder and Artistic Director of MaArte Theatre Collective. She holds a B.A. in Theatre Arts from Westmont College where she commissioned and directed the premiere of Tar and Feather by Kristin Idaszak [Santa Barbara Indy Award for Directing]. Her most recent credits include MaArte's own YOUR BEST AMERICAN GIRL as Director,  M. Butterfly as Assistant Director (dir. Desdemona Chiang; Southcoast Repertory), and The Fire in Me by Thelma Virata de Castro as Director (Asian Story Theatre). She has also collaborated with Cygnet Theatre, The La Jolla Playhouse, San Diego Repertory Theatre, The Old Globe, MOXIE Theatre, and SDSU's School of Theatre and Television.
Cristina M. Ibarra is a playwright and actor based in Washington, D.C. Most recently, Ibarra played Lexie in Sooner/Later at Mosaic Theater and assistant directed Junk at Arena Stage. Ibarra's first full-length play, Landas, was performed at the Kennedy Center's Page-to-Stage Festival. Ibarra graduated from Georgetown University with a B.A. in Philosophy and Theater & Performance Studies. A song by the Cranberries is dedicated to Teresa – she can't think of anyone else she'd rather shimmy & kickballchange through the zombie apocalypse with.
Additional directors are Baby Bagos Hood and Michaela Subido. MaArte Theatre Collective also consists of Carole Lynn Castillo, Ciarlene Coleman, Patrick Mayuyu, Claudette Santiago, and Shaun Tuazon-Martin. Playwrights and poets featured are Jaime Estepa, Cristina M. Ibarra, Molly Krost, Jaime Legaspi, Conrad A. Panganiban,  Michel A. Rosengrant, Michaela Subido,and Luz Lorenzana Twigg. The cast includes Carol Cabrera, Carole Lynn Castillo, Jocelyn Cruz, Rusty Dimagaba, Kelly Doran, Joy Feria, Allain Francisco, Teresa Crespo Hartendorf, Baby Bagos Hood, Samantha Joun, Andres Lagang, Ava Mendoza, Kayla Morales, Ryan Nebreja, Sean Pope, Claudette Santiago, Sky Saxour,  Madeline Tulugan, and Emilee Zuniga. Additional production artists are Alyssa Castillo, Bertha Fuchian, Zephyr Lacey, Mio Rose Losoya, and Jeremiah Petersen.
Dates & Times
FRIDAY, AUGUST 2 7:30PM
SATURDAY, AUGUST 3 7:30PM
SUNDAY, AUGUST 4 4:00PM
Location
VASSILIADIS BLACK BOX THEATER
CAMINO HALL 131
Tickets
INDIVIDUAL TICKETS $20
WWW.BROWNPAPERTICKETS.COM/EVENT/4290671