How to Pay off Debt Fast With a Low Income: 7 Ways to Kill Debt for Good
When companies or rich individuals borrow money from banks, they'd pay easily because they've got fat cash inflow, but the case is different with low-income workers.
State or federal workers, who earn roughly $50,000+ find it difficult to pay their bills. Come to think of it — with the bulk of family duties, including house rents, student loan, car loan, and taxes, it's quite difficult not to default on loan repayment.
If you can relate to the financial situation faced by an average American worker, as a result of the loan payment, this post is for you. In this post, our discussions would range from the reality of an average Americans to actionable ways to pay off debt.
Note that this guide also answers similar questions:
"How Can I Pay off My Bills If I Have No Money?"
Personal Financial evaluation
"How Can I Pay off My Mortgage If Broke?"
"How Do I Pay off Debt If I Live Paycheck to Paycheck?"
Making extra money on the side
Ready for the surprise tips? Let's take a ride!
The Sour-Sweet Reality of an Average American Worker
According to the US Census Bureau, America is estimated to have an official poverty rate of 12.3%. Over 39.7million Americans lives in poverty.
This shows that the American dream is down the drain. Though America is performing better when compared to African and Asian countries, we're yet to attain heaven's economy (a state that lacks nothing)
The infographic above says it all, but these are the few points everyone must know;
Around 50% Americans survive below 250% of the federal poverty limit

Getting a degree doesn't necessarily exclude you from the lower class

Many American citizens beyond the poverty limit still depend on government support

Income can affect your diet

US tax system does not favor many low-income earners
The reason for providing these stats and data is to let you understand the situation at hand and the relevance of the tips in this guide.
Even if you're not affected, this guide would help you when advising your friends or colleagues, who might be owing banks.
7 Ways to Kill Debt for Good
As I walk you through the seven steps, you'd develop the necessary debt payoff methods needed to free you from debt. And this is the beginning of your journey to a loan-free lifestyle.
Below are the seven actionable tips needed to pay off your debts with no income;
1. Begin With a Minimum Needs Budget
A minimum needs budget aka basic needs budget shows that all it takes for a family of four to survive is 1.5 to 3.5 times the official poverty line.
This means $22,050 would cater for a family for a year.
Drafting a minimum needs budget is the first step towards paying off your loans regardless of your income. I've written an easy-to-follow guide on how to draft a feasible family or personal budget.
Cut unnecessary expenses by taking a deep look at;
Housing

Car expenses and tax

Food cost
This is best done by reviewing your monthly expenses and detecting the loops in your spending habits.
Devise a better way of saving cost on all your expenses.
If cutting down on food costs, getting a roommate or selling your car for a cheaper one would help you get rid of debt, do it.
2. Make Extra Money From Part-Time Jobs or Freelancing Sites
The best way to pay off debt is to make more money. And you can do this by freelancing.
A freelancer could be a full-time self-employed pro or a regular worker with a side hustle.
In your case, we'd recommend adopting freelancing, as a side hustle.
There are sites that would pay you cash via PayPal for completing a survey. For instance — Survey Junkie,  InboxDollars, mySurvey, Swagbucks, Prize Rebel, Global Test Market, Vindale Research, Pinecone Research, and Opinion Outpost.
If you don't like surveys, there are freelancing platforms that have clients searching for professionals in other niches. Fiverr, Upwork, and peopleperhour are the most popular sites.
We recommend these freelancing sites because they might help you free up funds to swing at your debt.
3. Don't Get Yourself Stuck in Misery
A Drug in high quantity is poison. No matter how good cutting costs is, it could be a threat if done the wrong way.
Do not make your life miserable because you want to pay off your debts asap.
Give yourself breathing space and don't overdo the Step 1. Satisfy your la vida loca urge, once in a while.
Some people think step 3 is an antonym of step 1, but that's not true. There's a difference between taking some time out of your comfort zone and making your life miserable.
If you don't satisfy yourself, once in a while, you might end up spending all the money on unnecessary things out of frustration.
Decide how much you can hold back without living in misery. And use the extra cash for whatever you want (after you've settled the payment for the month)
Learn how to pay off credit card debt using a fast calculator.
Related Articles
4. Maximize Your Debt Payments
A lot of people think paying their debts bit by bit is a great idea. But the reverse is true.
If you make the minimum payment, the smaller part of it is added to the credit balance while most of it goes to the loan interest.
The more you pay, the higher the momentum. For those who have low-income, it's important to reduce the interest rate on the lowest balance.
On lowering your interest rate,  you'll be able to add more money to the actual debt instead of interest rates..
Let's say you're expected to pay 15-20 on your credit cards, Avant can assist you in lowering those rates by 50%.
Reducing your interest rate by half would go a long way in catalysing the debt repayment process.
5. Save, Save, and Save
The major reason for cutting costs on all expenses is to increase your savings. Though it may sound difficult, it's simple when done the right way.
Always set aside some amount of money from your paycheck before spending or giving out money. Saving keeps the credit card away, during emergency situations.
There are some savings accounts that help you automate your savings with no minimum balance requirement. Open such account in any bank of your choice and save money, no matter how small.
6. Stay Away From the Things That Triggers You to Spend
Triggers are your weak points that force you to spend unnecessarily, especially when you've got loans to pay off.
You have to discover your triggers and set up a system to nullify it. Honestly, this requires much energy, but it's worth the stress.
My trigger was my girlfriend😂 Hell yeah! I love spending when I'm with my girlfriend. But I had to make myself unavailable anytime I wanted to cut my 'relationship costs'
7. Apply for Debt Relief Programs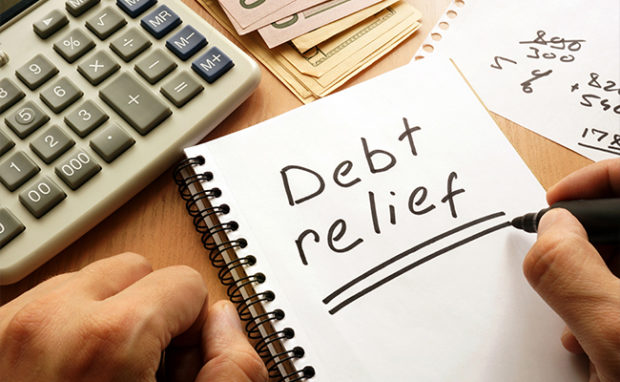 As the name suggests, Debt relief programs are government programs aimed at helping government workers pay their student loans.
The difference between private and government relief programs are;
Private programs convert government debt to private, thereby nullifying your right to government debt relief programs pending the time you're debt-free.

Though your credit score plays a critical role, private debt relief programs are easier than PSLF.

Private interest rates are relatively higher.

Most private companies offer refinancing instead of loan consolidation. Loan refinancing and loan consolidation are two different programs. Loan refinancing gives you the privilege of renegotiating the loan terms, such as interest rates and duration.
To qualify for government aid, your credit score must be on par. Every debt relief company (private or public) has its own rules and regulations. Ensure you read the terms and conditions before applying.
We've written a guide on the list of debt settlement companies and how to apply. Check it out.
Final Thoughts
I'll like to know your trigger. Drop yours in the comment box and share how you overcame it.
Thanks for reading
Subscribe to INQUIRER PLUS to get access to The Philippine Daily Inquirer & other 70+ titles, share up to 5 gadgets, listen to the news, download as early as 4am & share articles on social media. Call 896 6000.