Tale of two Pauls from the Marcos nightmare
Two characters, both named Paul, who played key roles in a dark chapter in Philippine history, were in the news recently.
Let's start with the one who just passed away.
Paul Laxalt was a Republican U.S. senator from Nevada and a close ally of former American President Ronald Reagan.
In February 1986, he played a brief but critical role in Philippine history. In the final hours of Ferdinand Marcos, another Reagan ally, it became Laxalt's job to convince the corrupt dictator that it was time to give up power.
In 1986, Marcos cheated his way to yet another term as president, sparking massive protests that threatened to explode into a full-blown rebellion. As the situation grew more volatile, the dictator called Laxalt, whom he had met a few months before in Manila. Marcos was already barricaded in his palace when they had the phone conversation.
"Should I step down? Senator, what do you think?" Marcos asked.
Laxalt replied:  "Mr. President, I am not bound by diplomatic restraints. I am talking only for myself. I think you should cut and cut cleanly. I think the time has come."
There was a long pause. Then Marcos said, "I am so very, very disappointed."
It was a dramatic turn of events for a Philippine president who is now remembered as one of the most corrupt leaders in history.
Roughly three years earlier, in 1982, Marcos was at the height of his power. Reagan himself welcomed him to Washington: "Mrs. Reagan and I have been long looking forward to returning the hospitality you showed us on our 1969 visit to your country."
"Mr. President, under your leadership the Philippines stands as a recognized force for peace and security in Southeast Asia," Reagan added.
The year before his state visit, Reagan's No. 2, Vice President George Bush stunned the world, particularly the human rights community, when he sang praises for a president known for some of the most atrocious violations of human rights in Southeast Asia and for routinely rigging elections.
"We stand with the Philippines, we stand with you, sir," Bush saidduring a visit to Manila. "We love your adherence to democratic principles and to the democratic processes . . . . We will not leave you in isolation . . . . It would be turning our backs on history if we did."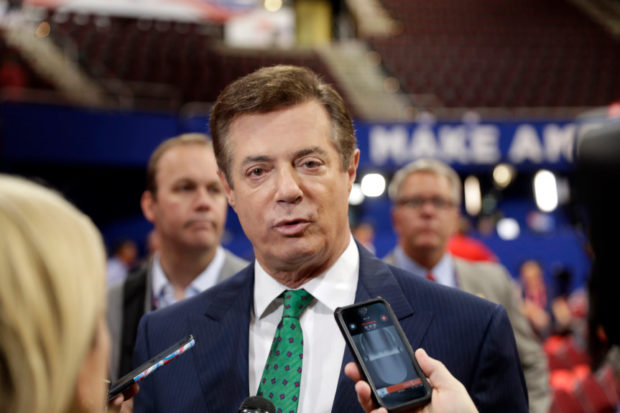 As it turned out, Reagan's team did eventually turn their backs on Marcos, swiftly dumping the dictator when it became clear that he had become major liability and a PR embarrassment for his administration.
The other Paul is currently in jail. Paul Manafort now on trial for bank and tax fraud charges. He is known as Donald Trump's former campaign manager. In the 1980s, he also played a prominent role as a lobbyist and fixer for Marcos.
As Politico reported in a 2016 article "Paul Manafort's Wild and Lucrative Philippine Adventure,", "Manafort and his associates advised the couple on electoral strategy, and in Washington, where they worked to retain goodwill by tamping down concerns about the Marcos regime's human rights record, theft of public resources, and ultimately their perpetration of a massive vote-rigging effort to try to stay in power in the Philippines' 1986 presidential election."
Unfortunately for Marcos, despite Manafort's efforts, Washington eventually abandoned him, sending the other Paul to tell him, "Time to go."
Visit the Kuwento page on Facebook
Subscribe to INQUIRER PLUS to get access to The Philippine Daily Inquirer & other 70+ titles, share up to 5 gadgets, listen to the news, download as early as 4am & share articles on social media. Call 896 6000.