How to Find the Best Nail Shape for You
Are you looking for ways to transform yourself? Why not grab a file and experiment with a different nail shape instead of pulling out the scissors and trying to give yourself a haircut? With some pointers to help you, you will know how to find the best nail shape for you. 
There are more nail shapes in the world than fingers on our hands. To thoroughly enjoy your ideal manicure, we are here to help you choose the right angles for your nails. Please take a careful look at your hands before we begin. Are you interested in learning more about the best ways to shape natural nails? We've identified the ideal nail shapes and polish for your hands below.
Best Nail Shape and Polish for Every Finger Type 
By determining the form of your cuticle and nail bed, you may choose the optimal nail shape for your hands and how to accentuate those tips. To see your simple cuticle shape, push back your cuticles with a cuticle stick before beginning.
Begin shaping by filing the sides down and slightly narrowing them. You will go more or less thin depending on the form you want to achieve. To reduce nail fraying and achieve the best results, file in a single direction. Once the sides are in place, begin shaping the tip to get your desired outcome. Below are the best nail shape and polish for your finger type:
Short Fingers with Short Nails
Best Nail Shape:

Round Nails

Best Polish:

Nude and Pastel Colors
Your fingers will appear longer and slimmer due to this form. Wide nail beds also seem narrower with round nails. Start by nail filing the fingertip following its natural contour. Flip your hands over and examine the curve's symmetry after that. 
For short nails, neutral and pastel hues look wonderful since they actively lengthen their appearance. They provide the impression that your finger line is continuing, making your fingers appear narrower and slimmer.
Wide Nail Beds and Long Nails  
Best Nail Shape:

Oval Nails

Best Polish: Nude,

Sheer, Bold, or Opaque Colors
This trend from the runway lengthens nails both in breadth and length. It has an almond-like form but is somewhat blunter. To form an egg-like shape, file each side of the nail and slightly bend it toward the center.
Since this shape is among the most adaptable, it goes well with any hue. When choosing a shade, the world is your oyster, whether it be nude, sheer, bold, or opaque. If you have a natural rounder shape, you can file your tips straight across to make them look more square, and if you have a naturally square shape, you can file the corners down to make them look softer.
Chubby Fingers
Best Nail Shape:

Almond Nails

Best Polish:

Beige
For chubby fingers, the aim is to slim and lengthen the fingers. Almond Nails is immediately attractive because of its small base and slender sides. You may file the nail on both sides, and you should shape the tip by trimming the free edge to a peak.
The nail colors that lengthen and expand the fingers are ideal for chubby fingers, those that appear to make your fingers longer than they are. These are frequently beige-like colors that are delicate, gentle, and neutral.
Low Maintenance Fingers 
Best Nail Shape:

Square Nails

Best Polish:

Clear 
Square Nails is suitable for you if you like a short length and have long, narrow nail beds. Do you need more sizes? Acrylic fans should rejoice since long, square nails make the ideal backdrop for trendy nail art and colors. You may get this form by filing across the open edge in a straight line. Clear nail polish is the best for low-maintenance fingers because you don't need to retouch it always. 
Universal Shape Fingers 
Best Nail Shape:

Squoval Nails 

Best Polish:

French Tip 
Everyone looks good wearing squoval nails! Both short and long fingers may wear this generally attractive nail shape. This style combines square and oval shapes and is simple to maintain on short nails. Start by filing straight, then round the corners with a single, lengthy motion, joining the free edge. Adjust as necessary and flip your hands in your direction. A french tip nail art will also suit this kind of nail. 
Short Fingers with Long Nails
Best Nail Shape:

Stilleto Nails 

Best Polish:

Light Shade
This lengthy nail style has a strong statement point at the end. This form resembles an almond but is pointy instead. Find the nail's center, then file both sides into a little taper towards the nail's center. 
It would help if you narrowed the free edge to form a peak to start shaping the tip. Lighter shades of polish always work best to elongate nails since darker polishes draw attention to how long your nails already are.
Best Nail Shape and Polish for Your Personality
Nails aren't generally the first thing you notice about someone unless they're particularly dazzling, but they may tell you a lot about them if you pay attention. The shape and pattern of a person's nails might provide information about their personality. Here are the most flattering nail shapes for every personality type.
The Acrylic Enthusiasts
Best Nail Shape:

Coffin Nails or Ballerina Nails

Best Polish:

White 
Salon upkeep is necessary for these forms. This shape fits long, thin fingers and angled cuticles since it is long, narrow, and squared off at the tip. As the nail tip resembles a pointed shoe, these nails are also known as ballerina or coffin nails. Are you trying to find something a little more cutting edge? 
Try the coffin shape, which is similar to a ballerina's nails but a little more angular and less rounded on the sides of the nail. White may be eye-catching, mainly when used with coffin nails. To wear the pure color on your nails, decide between a shiny finish for a classically luxurious appearance and a matte finish for a contemporary and fashionable appearance.
The Influencer
Best Nail Shape:

Lipstick Nails

Best Polish:

Bright Colors and Geometric Design
Set the trend! This squared nail design, like your favorite color, slants diagonally for a distinctive manicure form. The bright colors, geometric pattern, and tilted tip produce something unique.
The Diva
Best Nail Shape:

Long Square Nails

Best Polish:

Burgundy or Sultry Red polish
If you have long, thin nail beds and want a longer length or acrylics, this is the form for you. Trendy colors and nail art look great, such as an ombre on long square nails. Create this form by filing a straight line across the free edge and parallel to the sidewall. When you want to try something new, file it down into different forms. This shape is also one of the favorite distinctive shapes for the Kardashians.
The Hardworking Lady
Best Nail Shape:

C-shaped curving down

Best Polish:

French Tips
This fingernail form represents a hardworking personality that has had to overcome a barrier in the past. This fingernail form shows a person who is tenacious and brave.
The Girl Next Door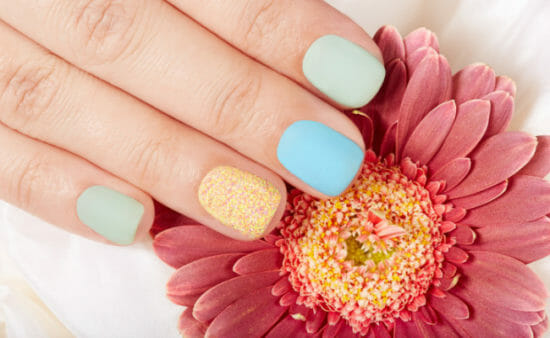 Best Nail Shape:

Short Round Nails

Best Polish:

Pastel Color
Short nails imply simplicity, minor maintenance, and ease of care. This person may like to dress in jeans and a t-shirt. They may paint their nails, but they will not go all out.
Conclusion
So, what's the best nail shape for your hands? We've looked at all the different nail shapes and identified which are best suited for each hand type. It's now time for you to put them to the test! Look at your hands and find the nail shape that suits you best. 
Remember, a well-manicured set of nails can make you feel more confident and put together, so don't be shy to experiment with various shapes and colors. Which nail shape are you going to try first? Please provide your comments in the comment field below.