Best Makeup Vanities to Elevate Your Morning Routine
In practice, it takes more than pricey cosmetics to look great. Your makeup vanity can make or break your routine. Not having to stress yourself about the little things like mirrors, lighting, and tools is key to wearing an outstanding makeup face.
Everyone who is a makeup fan can attest that applying makeup can take hours. Some ladies spend more time searching for their makeup tools than applying makeup! 
A makeup vanity table makes the process of contouring, baking, highlighting, and reaching for tools (such as a stippling brush, kabuki brush, etc.) very convenient for users. 
With this in mind, there is a need for makeup vanity since it aids in the course of makeup application.
What is a Makeup Vanity Table?
Curiously one would ask – what is a makeup vanity? A makeup vanity is a piece of furniture assisting in applying makeup. 
It provides a place for applying makeup and storage for toiletries. Having a makeup vanity set reduces aches and allows you to sit comfortably when applying makeup. 
Best Makeup Vanities
Below are the best vanity tables. You can get them at physical and online stores – we have added their respective links to make purchasing easier. These are the best deals you will find online.
Vasagle Vanity Makeup Set
Topping the list is a Vasagle vanity makeup set. This is a dressing table we love. If storage is one of the key things you had in mind when getting a vanity, then a Vasagle vanity makeup set should be worth checking out and purchasing instantly. 
It has seven drawers, four open compartments that can comfortably contain makeup tools, makeup products, toiletries (even sexy lingerie), and two brush holders. Besides, it has a tri-fold mirror that gives a classic aura and comes in black, white, walnut, or espresso finish. 
The sweetest part of this vanity is the minimal time required to assemble the piece, as it comes almost completely fixed.
Pros
The product is of high quality.

Easy to assemble.

Offers an enjoyable and comfortable experience to makeup; it is crampy in space.

Long lifespan.

Large drawer space.
Cons
Financial worthiness? It is incoherent.
Tribesigns Vanity Table with Lighted Mirror
Makeup artists can attest to lighting. Good lighting is one of the requirements for having beautiful, flawless makeup. What better, easier way than owning a lighted vanity, namely the Tribesigns vanity mirror?
Pros
Cons
Overpriced.

It is of low quality and has many issues, especially its drawers. It doesn't fit.

It is hard to assemble.
Giantex Vanity Table Set
Without any doubt, this makeup vanity desk is the best! Unlike other vanities, it offers the three primal needs people look out for when buying a vanity; repository, style, and size. 
It has two wide drawers that are big enough to contain large tools or items; moreover, with a dimension of 31x16x52 inches, what would you have expected? Sweet right? To top the icing is the lighted mirror. 
The Giantex makeup dressing table has a round mirror surrounded by LED bulbs to assist in the application of a flawless makeover. 
And if you are the sort whose taste in style is somewhat between "GenX" and a feeling of "Oldies," the Giantex vanity has got you. The design is a beautiful artistic ray of mid-century fused with modernity.
Pros
Easy to assemble.

Offers a cozy aura to the bedroom.

The product is of excellent quality.
Cons
Read more: 12 Best Makeup Brush Sets for Beginners and Experts
BEWISHOME Vanity Set
Are you looking for a makeup table set with a stool? We've finally found a perfect one for you. The BEWISHOME vanity set is a unique makeup vanity set. It has a storage cabinet with hooks for hanging necklaces, rings, and earrings. 
This vanity has two drawers and a small shelf for creams and perfumes. This fixture is available in white furnish and comes with a rugged padded stool.
Pros
Enhance your makeup application by regulating the lighting condition using the touch screen switch.

Sit comfortably on the cushioned stool that comes with the makeup vanity set. 

Elegant design.  

Keep your makeup essentials in the five drawers and three additional compartments.

Rest assured that the makeup vanity set is made of premium materials.

Offers enough storage space.

Sturdy in structure.

Wide vanity.

The jewelry box has a great capacity to hold lots of accessories.
Cons
Challenging to assemble using the complex user guide. 

The top mirror cabinet is unstable. It falls off easily.

The white color gets stained easily and is hard to clean.
BEWISHOME Vanity With Mirror
If perhaps you want a vanity that serves another purpose other than a space for making up, more like giving essential storage space for work? The BEWISHOME vanity with a mirror is a must-have. 
The vanity is big enough to accommodate your makeup essentials, help you organize your skincare routine, and shelter an extra chair in case your friends want to join you. Its dimension is 43.3×17.7×53.2. 
The black BEWISHOME vanity has three drawers, one having a divider to accommodate smaller items like lipsticks, lip gloss, hair clips, etc. It also has a mirror with compartments to hold makeup brushes, which you could fold.
This vanity is available in three colors; white, brown, and black. It comes with a stool, and directions are easy to follow in assembling this excellent piece.
Pros
Easy to assemble.

Affordable.

Designed with materials of premium quality.
Cons
Mecor Vanity Table Set
If you want a makeup vanity to get a "cool vibe" feeling in your bedroom and wouldn't mind having a small vanity, the Mecor Makeup Vanity Table Set is right for you.
This vanity gives a vintage vibe with its floral theme design. It has four drawers, two built-in shelves, and a top mirror that you can tilt for a better view. Along with a stool that matches its table's aesthetic theme, it is available in brown, black, and white.
Pros
It saves space in the room and is strong in structure.

Eye-catching and beautiful design.

Easy to clean.

Quite affordable.
Cons
The top mirror is weighty and hard to attach.
Hilitand Victory Corner Vanity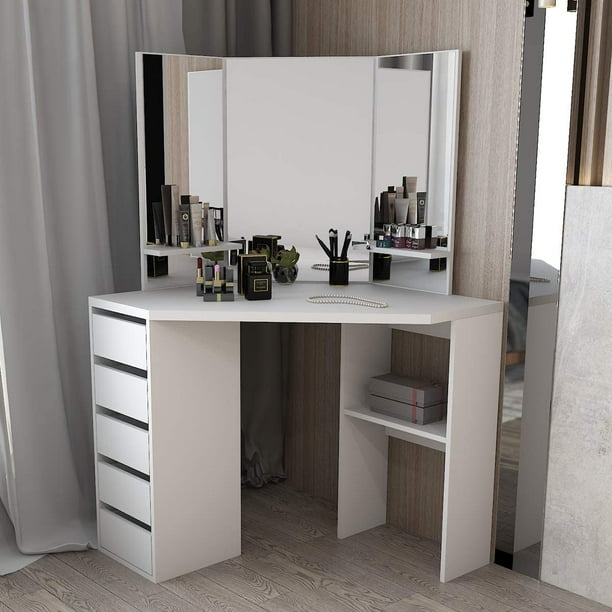 This vanity can be shifted into a corner giving ample opportunity for more expanse in the dormitory or bathroom. 
This vanity, which is only available in white finish, has four drawers, a shelf, and three angled mirrors (with two of the mirrors having small shelves), thus enough storage for makeup products, tools, etc. 
However, the downside to having this beautiful vanity is it doesn't come with a stool. You pretty much have to get that separately. Moreover, assembling the piece is challenging and takes a little more time as there are no directions on how to do it.
Suppose compactness is your top priority for wanting a vanity, and conceding to the downsides wouldn't be an issue. In that case, the Hilitand corner vanity should be on the list for your consideration.
Pros
Sturdy in nature.

Great for the amount sold.

You can tuck it into a corner.
Cons
Hard to assemble.

Doesn't come with a stool.
Vasagle Vanity Set
Do you want a makeup vanity that doubles as a table for work? 
The Vasagle vanity set doubles as a desk and a vanity for makeup. This beautiful set of wooden furnishings comes with a cushioned stool and a flip-down mirror that invertedly becomes a surface to write on, place your laptop, etc.  
Now, the only little drawback to this vanity is that it is suitable for people who are not so tall as it is low in height. Other than that, this beautiful piece of furnishing is good to go. It is easy and more straightforward to assemble.
Pros
It is quite befitting for a small area.

It has a strong structure that lasts long.

Affordable and worth the money spent.

it has double drawers with compartments.

The ability to assemble each part easily.

Flexible.
Cons
Final Thoughts
Beyond its fundamental benefits, the glowing lights, reflective mirror, and inspiring finish of the aforementioned makeup vanities give your room a luxurious feel that keeps you going even in your down times, as we all have our rough days. Getting yourself a vanity helps you look forward and prepare for the present day and the day after.
As an Amazon Associate INQUIRER.net will earn from qualifying purchases.