Pinoy pop's royal family begins 'Revelation' U.S. tour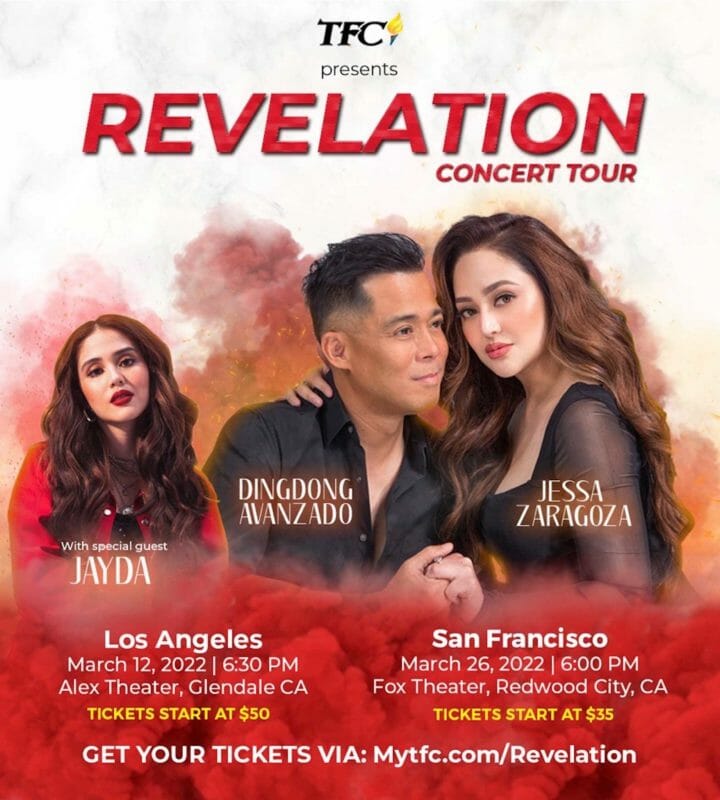 Pop singer Avanzado, the "Original Prince of Pinoy Pop" and his wife, Jessa Zaragoza, the "Phenomenal Diva" and one of the Philippines' biggest selling female recording artists, began their U.S. tour with successful shows in Glendale and Redwood City, California.
"Revelation: Concert Tour," first live event from The Filipino Channel, also features the couple's daughter, Jayda, who is billed as the next artist to watch for.
Avanzado told a Zoom briefing with news media that "no matter what, family comes first whether on or off stage."
"Personally, I always put a premium on the basic unit of our society, which is the family where it all starts especially when it comes to the value formation of the children that we really need to nurture and strengthen. That is also how our nation moves forward and progresses. If there is no family I don't think our nation would progress. So there should be strength within the family," Dingdong elaborated.
"For us, the strength and harmony of our relationship as a family is what we really want to impart and show," Avanzado explained.
Zaragosa added: "The family is God's design with a father, a mother and their children each with their own roles and functions in their effort to towards having a balanced respectful God-fearing members of the family."
Avanzado and Zaragosa are two of the big-name artists in the '90s and many 1st-gen Fil-Ams are familiar with their discography. Jayda is an up-and-coming artist for a new
With hit songs like "Makapiling Ka Sana", "Basta't Kasama Kita", "To Love Again", "Tatlong Beinte Singko" and "Paalam Na," which all became love anthems and movie themes in the late eighties and early nineties, Avanzado is regarded as one of the most outstanding concert performers in the Philippines over the last two decades.
Avanzado was member of Kundirana, a renowned high school music ministry and organization composed of 3rd and 4th year high school students from La Salle Green Hills known for developing successful professional singers and musical artists.
Other notable singers and music artists in the ministry were Ogie Alcasid, Randy Santiago, Carlo Orosa, Louie Ocampo, Mel Villena, Rowell Santiago, and Gary Valenciano.
Jessa Zaragoza is known as the Philippines' "Phenomenal Diva" due to the success of her hit song "Bakit Pa?" which became the number one ballad in the Philippines in the late '90s and the lead single of her album, "Just Can't Help Feelin'," which reached sextuple platinum months after its release in 1996.
Their daughter, Janelle Amanda Loyola Avanzado, or Jayda is now making a name in the music industry as a singer-songwriter with her hit composition "Happy For You," a single from her debut EP, "n My Room," which was released in 2018.
Jayda has shown extraordinary musicality even at a very early age, writing her first song at the age of 12, and has performed at 1MX, the biggest International Filipino Music Festival, held in Singapore in 2019 and 2021 in Manila.
For other concert dates and venues, to myTFC.com/revelation to get your tickets and more information