Flourish & Prosper
Can you change the course of a country?
Healthier, wealthier, happier. These are new year resolutions we aspire for, yet many face frustrations and end up gaining the weight that we wanted to lose! What do you do?
This new column, Flourish & Prosper, asks practical questions and opens with the view that there are common-sense, ethical solutions and answers; no matter how uncommon they may seem to be. For this month, I start with a 4-part inquiry that may raise eyebrows of cynicism and doubt; posing the question: Can you change the course of an entire country? How? What is the role of ethics in such a change?
Yes. It has been done before. Incredulous as it may seem, a number of countries in recent history, have actually demonstrated successes in Latin America, Africa and Asia. Within a generation or less, whole countries have risen out of dire poverty and lawlessness, and transformed their culture to that of responsibility and self determination. Though popular media may focus on worsening global scenarios, it's possible for an entire nation to change its course:
Global poverty statistics plummeted in two decades when 650 million Chinese moved out of poverty.
The Colombia Miracle was achieved with its six-fold economic growth and peace after a fifty-year civil war with 500,000 casualties.
Singapore reinvented itself from a fishing village into an international powerhouse of trade and commerce with a per capita income that now exceeds the United States.
How? 
There are 3 common sense components. Analogous to a hardworking breadwinner, who works in a good company, and is assured that his/her earnings could be kept and not stolen:
1) There is a personal work Ethic of aspiration and values,
2) An economic system of Prosperity that respects growth and social mobility, and
3) Within a political environment that enforces Peace–the rule of law.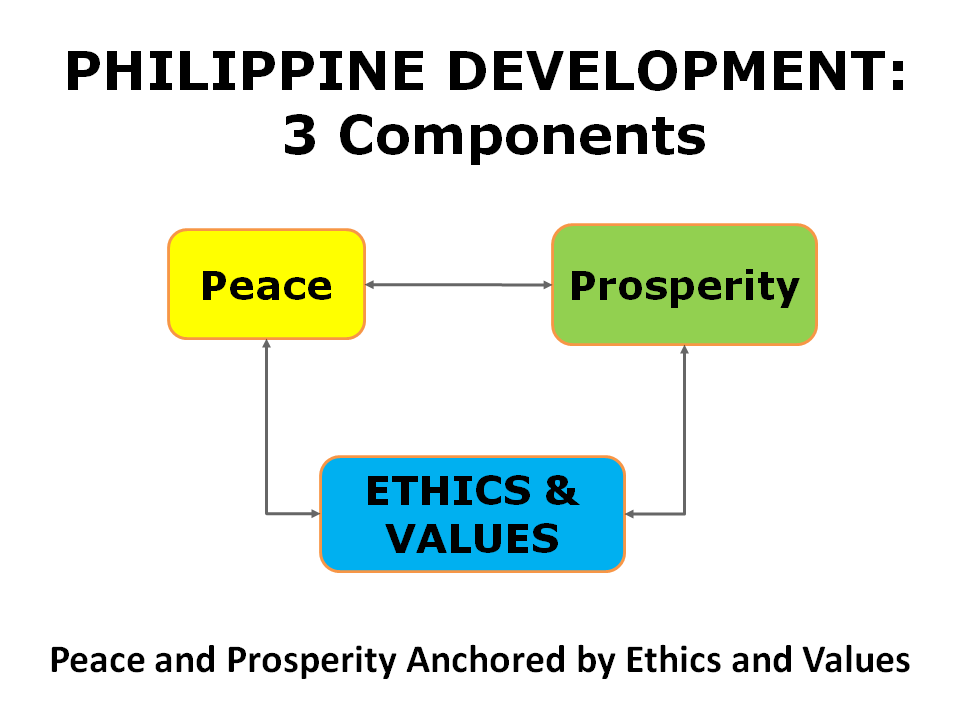 These components have similarity to Francis Fukuyama's 3 Dimensions of Development from the book, Political Order and Political Decay. To understand from a practical perspective, let's define further "ethics" and how it works in society:
We all operate from a practical "Ideology of Ethics," which is the blueprint for sustainable social change.
"Ideology" is defined as,
the body of doctrine, myth, belief, etc., that guides an individual, social movement, institution, class, or large group.
"Ethics" Is defined as,
a complex of moral precepts held or rules of conduct followed by an individual. The actions an individual takes on himself in         order to accomplish optimum survival for himself and others on all levels.
For some, the term "ethics" reminds one of wrongdoings and personal guilt, taboo subjects that are avoided or best left in the realm of religious practice. However, the common-sense view here is if you work hard for yourself and your family, while adding value to your company and greater society, then you are ethical. You are the foundation of social change.
When you as an individual, carry on your personal ethics in collaboration with others; an ideology of ethics, a moral code is operating. When you teach your kids to be disciplined and honest; when you work hard together with your office mates; and when you take your turn in line to ride the train, argue with your neighbors to vote for the candidate you think is best; you are operating within an ideology of ethics. This is the anchor of social change.
It is when an ideology of corruption, extremism-terrorism, lawlessness and drug abuse becomes the common and accepted culture, then society goes into disarray. When wealth and the economy is controlled by an elite few and poverty is widespread; when you have warlords, drug lords, extortionists, and criminals running your barangay-municipality-city; then you have the ideology of a failed state.
Chicken or egg? Where and when do you start? Is this something you can even influence or is it totally out of your control?
The starting point is in the good news. The majority of the people are good, hardworking, ethical and would want to do what's right for the common good, if they had the choice.
Do I have a choice? 
No, it seems not if the elections are rigged in favor of the elite, the drug lords and warlords.
I outwardly don't have a choice if the government is in regulatory capture and allows only an elite owned duopoly of phone providers with similar price and service.
Whereas most individuals are stopped when external circumstances are unfavorable, an ethics aware person is driven from within. Start by seeing objectively where things are. Distinguish what is true for you, as opposed to slanted or fake news. Make the ethical choices in your life. That is the only way to a truly healthier, wealthier and happier life.
Collaborate with, and only support like-minded individuals and groups who demonstrate an ideology of ethics. Notwithstanding the despairing picture that some mainstream media may portray, the majority of people want to live a peaceful and prosperous life that is anchored in an Ideology of Ethics. Ethics is a crucial foundation. You have a definite role, in changing the course of the country.
Today's Flourish & Prosper column is the first part of Changing the Course of a Country series. The next parts will cover, "Genuine Peace Grounded on Ethics and Values", actual events now occurring in the Philippine Department of National Defense; the topics of GNH, Gross National Happiness Index, and the Ethics Economy.
Jorge "Jerry" Perez de Tagle, lives in the US and the Philippines, is an author and change management consultant for the private and public sector. He taught at Syracuse University, New York and has his PhD in Social Change, Honoris Causa, and is a PhD Candidate in Organization Development. He was one of the 10 Outstanding Entrepreneurs in 2009 and is now the National Chairman of The Way To Happiness Philippines Foundation, and is the Vice President for Global Outreach with the US Federation of Philippine American Chamber of Commerce.