Rachel and Nino Alejandro Live in SF at the Fort, Nov. 12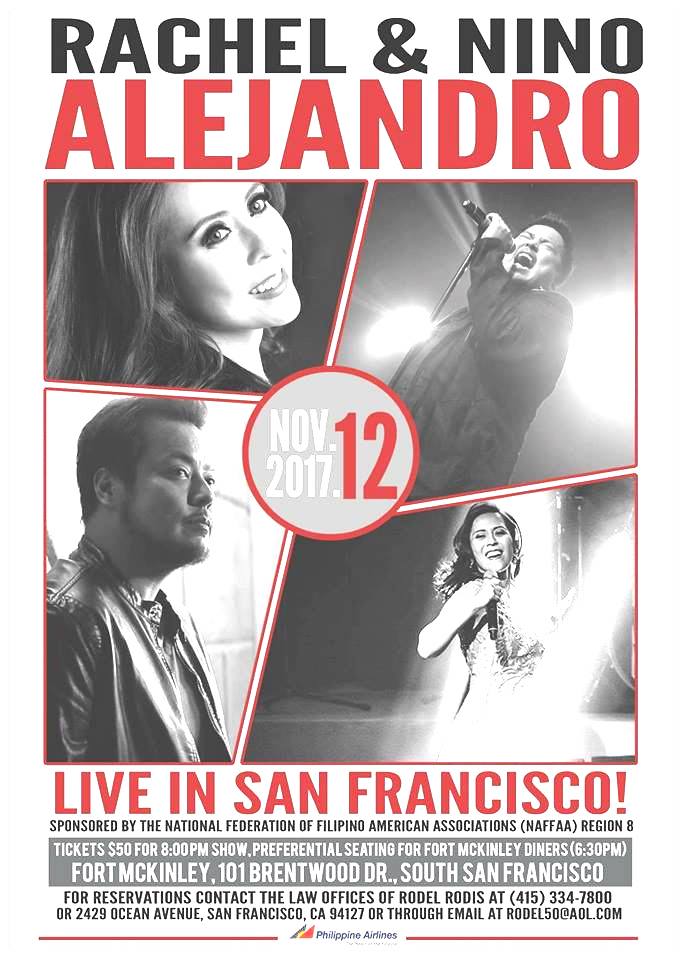 SAN FRANCISCO — Philippine music royalty Rachel Alejandro and her equally talented cousin, Nino Alejandro, of Voice Philippines fame, will perform in a concert that celebrates Original Pilipino Music (OPM), which began with the generation of Rachel's father, OPM icon Hajii Alejandro.
They will cast their OPM magic on Sunday, November 12, at 8 p.m. at the Fort McKinley concert hall in South San Francisco.
Rachel and Nino's concert is being sponsored by the National Federation of Filipino American Associations (NaFFAA R-8), which just celebrated its 20th anniversary in Washington, DC on October 21.
Rachel will showcase the greatest hits of her 25 years in showbiz, with selections from her full-length studio albums including the U.S. premiere of her "Kahapon, Ngayon at Bukas" (Yesterday, Today and Tomorrow) composed by award-winning singer-songwriter Ebe Daniel. It is climbing up the Philippine music charts and part of by the official soundtrack of the upcoming film "Ang Larawan," which Rachel stars in.
Voice Philippines Team Lea finalist Nino Alejandro will regale his audience with his own pop rock hits along with his own original chart-topper "Ako'y Iyong-Iyo" (I Am All Yours), co-written with Ogie Alcasid. Also for the first time in America, he will be performing a brand-new single, "Lagi Na Lamang" (Always), which Nino co-created with hit maker Aaron Paul, composer of "Nandito Ako" (Here I Am) among many other beloved Pinoy pop favorites.
"It's always so much fun sharing the stage with Rachel because she and I have always been partners-in-crime in music, dancing and sometimes even mischief since we were kids," says Nino. "We share so much history and funny true stories which naturally come out when we are on stage."
The San Francisco concert will be a homecoming of sorts for Nino Alejandro who was born in nearby Palo Alto. "Rachel and I are so looking forward to sharing our music with our folks in the San Francisco Bay Area," said Nino.
Coinciding with Rachel's concert performance in San Francisco on November 12 is the North America premiere of "Ang Larawan" at the First Cinematografo International Film Festival, November 9-12, at the Kabuki 8 Sundance Theatres in San Francisco's Japantown.
"Ang Larawan," with Rachel Alejandro in a lead role along with Joanna Ampil, Paulo Avelino and Celeste Legaspi, is based on the play, Portrait of The Artist As Filipino, by Philippine National Artist Nick Joaquin, with original music by Ryan Cayabyab. It is one of the most anticipated films of 2017 and is competing at the Tokyo International Film Festival.
Tickets for the Rachel and Nino Alejandro Concert can be purchased at the Law Offices of Rodel Rodis at 2429 Ocean Avenue, San Francisco, CA 94127 or by calling 415.334.7800 or by emailing Rodel50@aol.com. Checks should be made out to "NaFFAA R8". Tickets can also be obtained at the Fort McKinley.
Those interested in dining at Fort McKinley Bar and Restaurant at 101 Brentwood Street (near the Tanforan Mall) in South San Francisco may come at 6:30PM and will be given preferential seating at the concert hall.
Subscribe to INQUIRER PLUS to get access to The Philippine Daily Inquirer & other 70+ titles, share up to 5 gadgets, listen to the news, download as early as 4am & share articles on social media. Call 896 6000.