Fil-Am organizer makes virtual comic con feel live
NEW YORK —  Diversity Comic Con on Oct. 16 at the Fashion Institute of Technlogy (FIT) did what other virtual comic cons had been unable to do: Let people socialize.
Like many people in the pandemic, comic creators are feeling the isolation of not being able to interact with each other, to hang out with their peers and fans, which is the whole reason why comic artists and writers love going to comic cons. But even with the slew of virtual cons this year, that human connection had been missing.
"Most online comic cons just put up pre-recorded panel discussions and that's it!" explains FIT Diversity Comic Con organizer Ramon Gil. "We might as well be attending a webinar or watching a video."
Not so with Diversity Comic Con (DCC). Gil and his team did everything they could to make the online event as close to a live one as possible. Aside from live panel discussions from DC Comics and Scholastic, and Q & As with the likes of Shawn Martinbrough (Batman, Black Panther, Thief of Thieves), Mika Song (Donut Feed the Squirrels), Alex Segura (Archie Comics), and many more, DCC had a few features that made this internet event unique.
The Virtual Exhibit featured videos from creators pitching their work. "I am glad that I was a virtual exhibitor at this year's Diversity Comic Con New York!" says Josipa Cok, an award-winning graphic novelist from Serbia. "It was great to be part of this festival, get to know new talented people, share comics!"
In fact, there were many creators and attendees from around the world like China, Germany and Indonesia. Something that couldn't have happened had the event only been live like previous years.
Even more interactive was the Creator Speed Networking sessions held on Friday and Saturday nights. Using a new service called Meetaway, creators were randomly matched with other creators in one-on-one video sessions where they could share their work and possibly talk about collaborating.
"I had a great time meeting people from 12 hours in the past!" joked Tintin Pantoja, a Philippines-based illustrator with books from Simon & Shuster, Houghton Mifflin, and Atheneum. "Seriously, I'm so happy events like this allow greater communication across time zones and geography."
"When we got word from the school that they wanted to make DCC 2020 virtual, I looked at every possible way to allow creators to not just present their work, but to also interact." says Gil. "Then three days before the event, I got contacted by another company that let us take the social aspect to a new level!"
Kumospace is a company that lets you host get-togethers in virtual spaces that look like bars, backyards, student centers, among other settings. "It was too good to pass up, so as an experiment, I hosted an afterparty for all the exhibitors and guest speakers" Gil shares.
"The Kumospace was great because it was more like a normal party, where you could have small group conversations and move about freely." recalls Jonah Newman, a writer and editor at Scholastic. "It was a welcome change from the normal Zoom rooms where there are too many people talking at the same time to have a good conversation."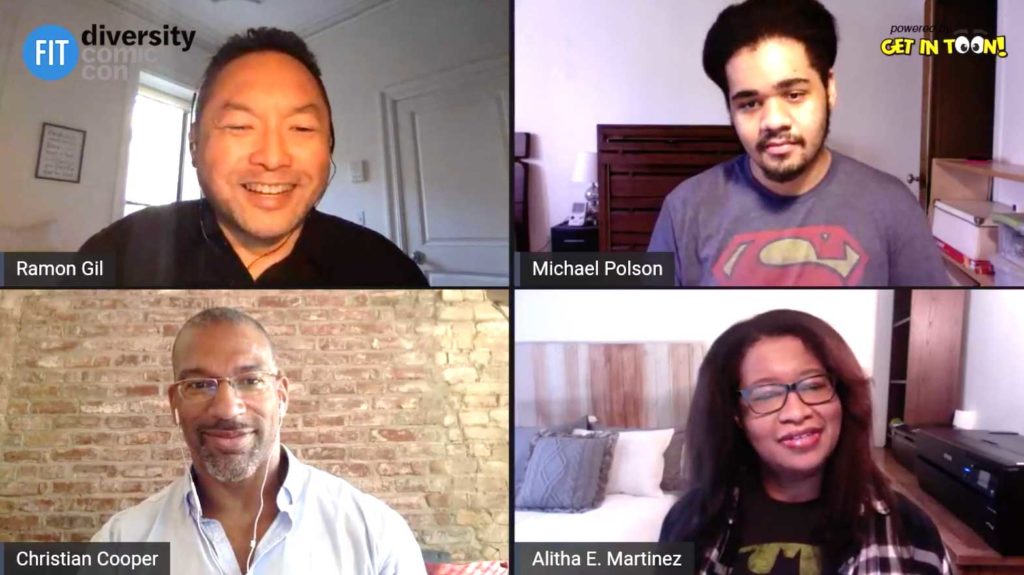 The event was a hit. "Ramon graciously hosted an out-of-this-world meet-up and after-hours party LIKE NO OTHER," proclaims Stephanie Pitsirilos, graphic novel author and public health advocate. "I spent hours meeting other creators and editors in real-time from across the globe. By far my best virtual comic con."
The secret ingredient of comic cons is that it's not just a trade show or industry event; it's a time when old friends gather and new friendships are made. Something hard to make happen online.
"Diversity Comic Con delivered an unbelievable sense of community and connectedness in a virtual world navigating a pandemic," adds Pitsirilos. "It might sound strange to talk about parties since we're living in a Zoom world because of a pandemic, but somehow Diversity Con figured out how to make it happen," offers graphic novelist Jill Pratzon.
Based on post-event surveys, feedback has been very positive according to Gil. "We're planning to keep the virtual events as part of DCC even when we go live in the future."
Many of the programs from Diversity Comic-Con are still viewable at http://diversitycomiccon.com