'Basurero' to screen online at prestigious LA film festivals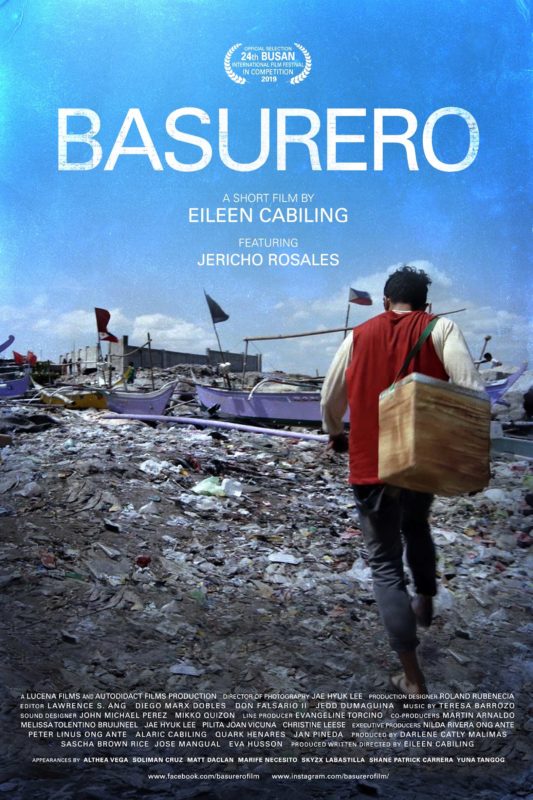 LOS ANGELES – "Basurero," which debuted to critical acclaim at the prestigious Busan International Film Festival in South Korea in 2019, continues its successful festival run.
The film (17 Minutes / Tagalog-English Subtitles) will be shown at the Asian American International Film Festival (AAIFF), known as "The First Home to Asian American Cinema," which will be held online this year, Oct. 1-11. It is the first and longest-running festival dedicated to showcasing the moving image work by media artists of Asian descent for and about the Asian diaspora experience. (For more information on screenings of Basurero Shorts Program in the Moment: https://www.aaiff.org/aaiff43/in-the-moment ).
It will also run online Sept. 24—Oct. 31,  at the Los Angeles-based Los Angeles Asian Pacific Film Festival, the premier showcase for the best and brightest of Asian Pacific American and international cinema.  (For more information on screenings of Basurero (being showcased Oct. 1-31) Short Program Windows:  https://festival.vcmedia.org/2020/movies/basurero ).
Called a "must watch" by Asian Movie Pulse and starring Filipino film and television leading man Jericho "Echo" Rosales ("Alagwa," 'Baler," "Siargao") as "Bong," the poetic, neo-realist, short film plunges viewers into the complex world of a Filipino fisherman who, desperate for cash, finds himself embroiled in a dangerous undertaking. Wracked with guilt and fear, Bong feverishly seeks a way out.
"Basurero" marks the directorial debut of Filipina-American filmmaker Eileen Cabiling, who also penned the original short screenplay. Manila/Los Angeles-based Cabiling is a screenwriting fellow graduate of the prestigious American Film Institute who has worked as a writer for Disney and as a story development producer.
Cabiling's film is a fictional expose inspired by actual events and a story anonymously related to Al Jazeera by Filipino fishermen, who told of widespread human rights abuses among the nation's most vulnerable. Rather than serving audiences a high-octane expose of the violence, Cabiling renders a more nuanced portrait, taking viewers inside the psychology of a man trapped by impossible circumstances.
Born to immigrant Filipino parents in the U.S., Cabiling is drawn to the subject matter by a desire to explore the psychology of her ancestral home. Currently, Cabiling is set to make her feature-length directorial debut with her original screenplay, "Manhid," starring and produced by Rosales.
Says Cabiling, "What attracts me most to Bong's story is not just the inhumane politics and the vilification and killings of drug users, sellers and the poor in the Philippines, but also how this character's circumstances are a window into the complex Filipino psyche's search for value in the world."
"Basurero" is in collaboration with Globe Studios with Quark Henares and Jan Pineda as attached Executive Producers.  Directed and written by Eileen Cabiling, Director of Photography is Jae-Hyuk Lee (Lighting Director, Okja, Black Panther—Korean unit). Produced by Eileen Cabiling, Darlene Catly Malimas, Philippines (Aparisyon, Lingua Franca), Sascha Brown Rice, U.S. (California State of Mind, Mango Kiss), Jose C. Mangual (How the Garcia Girls Spent their Summer) and Eva Husson (Girls of the Sun, Bang Gang). Co-produced by Jericho  Rosales.
It is a Lucena Films and DCM Autodidact Films production in association with Fire of Life Films, Eclipse Production, Jen Lighting Company, Bullet Manila, Globe Studios, Contagious Inc., G-Ward Production, Wapak Sound and Monoxide Works.  "Basurero" was shot in the urban fishing port and village of Cavite City and in Metro Manila.