Healers grapple with mental health issues in Fil-Am community
SAN FRANCISCO – Anxiety, fear and isolation during the Covid-19 pandemic, and the social unrest sweeping the country, are bringing mental health issues to the forefront.
Poor mental health is still largely misunderstood in the Filipino American community. Often unseen and disregarded, its consequences can be devastating and often lead to a lifetime of suffering.
"The mind is the unseen but we use it all the time," says Rey Novicio, coordinator at Filipino Mental Health Initiative-San Francisco (FMHI-SF). "We don't put that much importance to it, but it's the spark to everything that affects our physical health."
Until recently, mental health had been relegated behind physical well-being. But health professionals, wellness practitioners and community advocates have been tackling the issue of mental health as far back as the 1980s when the Filipino Mental Health Resource Group convened to address the  need for access to services in the Filipino American community.
FMHI-SF is a "grassroots initiative" established in 2012 as an offshoot of FMHI-San Mateo, the first of four initiatives, along with FMHI-Solano and the soon to be established FMHI-Alameda. Their aim is to "reduce the stigma of mental health and substance abuse, increase access to services, and reach out to the community."
Licensed clinical psychologist and community wellness educator Jeannie Celestial, PhD, a "community-raised and classically trained" professional mental health and wellness provider, was among the first batch of volunteers at FMHI-SF, which she had also helped to launch. This has allowed her to have a comprehensive view of mental health from different perspectives.
Celestial was a community worker before becoming a clinician and can look at a case both from the "western medicine angle" and from a "culturally informed or culturally responsive and adaptive angle."
Against stigma
"It was really hard for me to label a person with a disorder because I felt like it was stigmatizing," Celestial says. "But now, as a clinician, I find it empowering to diagnose very clearly what is someone's struggle so we can have a very targeted treatment plan."
Being mentally healthy "involves being able to manage everyday stress that comes with life," says Celestial. "A clinical condition, however, is diagnosed when a person is suffering from significant distress and functioning in their life, like social or occupational, becomes impaired."
She says further, "The only thing consistent in life is change. We need to be able to roll and adapt to changes and be able to function in the different domains in our lives. A normal amount of stress can be expected in life, but when there's too much stress, we can become overwhelmed and when there's not enough stress, we tend to stagnate. The pandemic, increased racial trauma, and effects of climate change (fires and smoke) are cumulatively triggering stress levels that are beyond 'normal."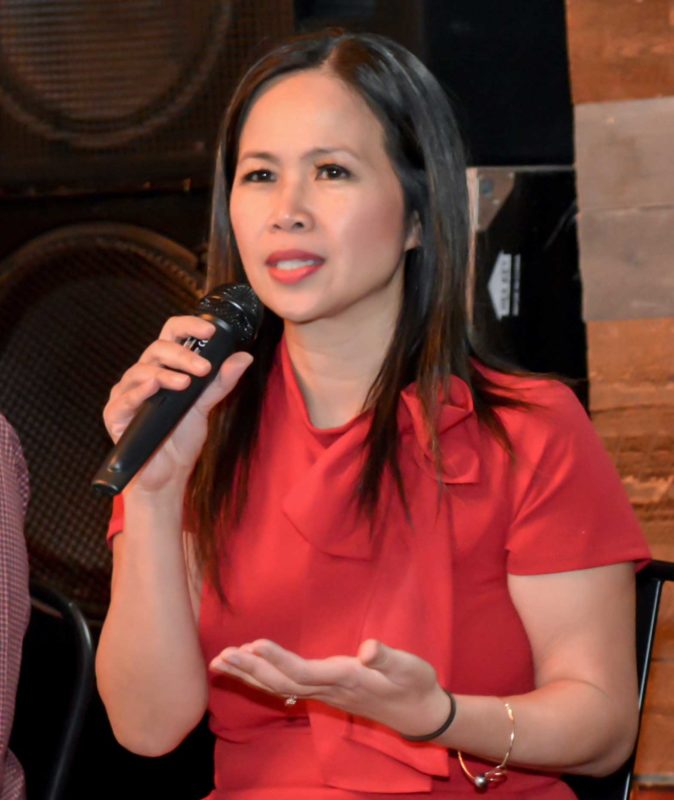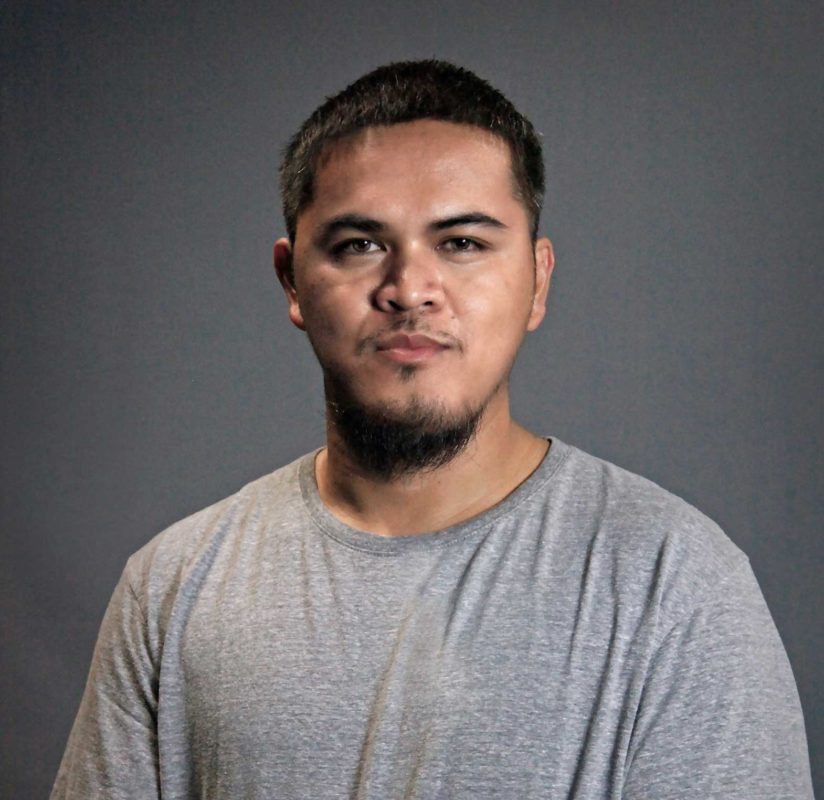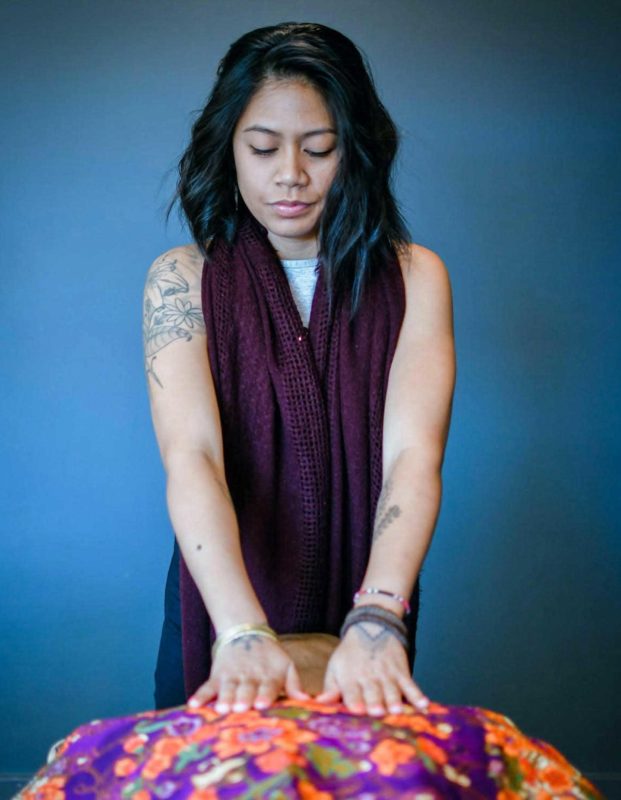 Dr. Jeannie Celestial, Rey Novicio and Verma Zapanta. (Photos by Nicolas Photography/Joe Ramos/David Pasol)
For Angela Basbas Angel, a herbalist, healing practitioner, ceremonialist and medium, "the mental affects the physical; the physical affects the mental. That's how we should approach medicine and wellness. It can't be one or the other."
Trauma
Verma Soria Zapanta, wellness practitioner and program coordinator of FMHI-SF, says mental issues include the existence of trauma in one's life and "being able to acknowledge the effects of historical trauma, ancestral trauma, childhood trauma, present-day trauma, intergenerational trauma and how these things can impact your quality of life."
Novicio adds,  "The shift in our psyche can be influenced or induced by the social, political, and economical systems that we're a part of."
Novicio had been familiar with mental health issues and the cultural implications that come with it while growing up in Makati, close to the National Center for Mental Health in Mandaluyong, the largest mental health institution in the Philippines. "I've always been aware of the stigma around it."
"Culturally our elders and folks associate mental health with disability or being sick or you're crazy, you need to be locked up," says Zapanta. "It's really important to see how there are so many things about our cultural values that are beautiful, but there are things that can be paralyzing and taxing."
The stigma around mental health can be debilitating and is the main reason why people do not seek the help that they need. "In our culture, there are stigmatizing words for mental illness, such as loco-loco, sira sa ulo, or people are often told to 'just pray to God about it.' I believe that spiritual care can be a useful tool for healing and I also believe that God gave us science and therapy as additional tools to heal," says Celestial.
Cultural shift needed
In order to better deal with mental health in the Filipino American community, a cultural shift needs to happen. "De-stigmatization work is really critical to my practice as a mental health advocate, as a teacher, as a culture bearer, as a healer. What that can look like is holding space for community members to have courageous conversations about their mental health journey," says Zapanta. "If we dig deeper, these are deep colonized beliefs; like you're supposed to carry your burden, the burdens of your family, and not complain."
Openness and understanding around mental health need to happen. "Socially and culturally, we need to catch up to where it would be as common to say, 'I'm struggling with anxiety' as to say, 'I have diabetes.' We have to come out and say, 'do not be alarmed, do not be afraid, this is normal and you can get help.'"
Storytelling is a big part of Zapanta's healing practice — known as hilot — with Verma, an "evolving practice" based on the traditional Filipino healing practice. "It's an entry point for people to talk about their mental health journeys. My mental health journey is my decolonization journey, is my healing journey. All of those things are tied together."
Angel emphasizes the importance of ritual and ceremony as integral in healing the mind, body, and spirit. "Talk/western therapy can get us to a certain place, but there's so much more to our health that you can't get it all out of talking. It requires ritual, this beautiful way of working with the elements and with what's around us. It also has to happen through the body; it also has to happen through the senses."
Mounting anxiety
These last few months of the pandemic, civil unrest, and the mounting anxiety about the country's political future have had a negative impact on people's state of mind and well-being. "There's the biological pandemic and there's the social pandemic. Both are affecting us as a community," says Celestial.
"I limit and filter how much I expose myself to. Be mindful of fake news. A lot of people are getting sucked in by hysterical propaganda," says Celestial.
"After a certain amount of clicks and a certain amount of videos you've watched, you already know the core of what's happening," says Angel. "After that it starts to become fear porn, it starts to become sensationalized. It starts to mess with you on a different level. We would go crazy trying to process every issue."
"I try to be aware how what I'm consuming is affecting my mind, body, and spirit," says Zapanta. "Social media, news, even energies, conversations, interactions that I'm having with people, how are those things sitting in my body? What kind of physiological reactions are happening?  Am I also aware of my actions, my words, and how it affects others?"
The lack of accessibility to mental health care, particularly culturally responsive care, is of special concern to health practitioners in the community.
Celestial has been offering healing and wellness services by using the arts as a means to healing. "I do believe that art is a powerful way to heal people and communities."
The reality, says Novicio, is there's a lack of Filipino American clinicians that are willing to work in this kind of landscape," says Novicio. "A lot are volunteers who are just putting their time in outside of their own day jobs and professions. A lot of this is passion work, heart work."