Logitech G502 Review: The Best Gaming Mouse on the Market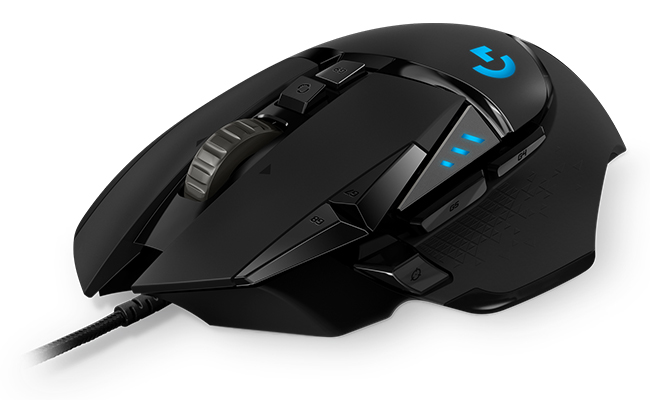 Gamers are continually trying to level up their gaming hardware for a better performance and, all in all, their gaming experience. If you're one of them, here's a recent product for you to consider: the Logitech G502 Hero, a state-of-the-art gaming mouse.
A high performance gaming mouse can aid you in taking your gameplay to the next level, so we're giving you a comprehensive Logitech G502 mouse review.
First of all, at an initial retail price of $79, which is now at $69, the Logitech G502 Hero gaming mouse hits at a fair price point for a gaming mouse, considering how much it has to offer the user.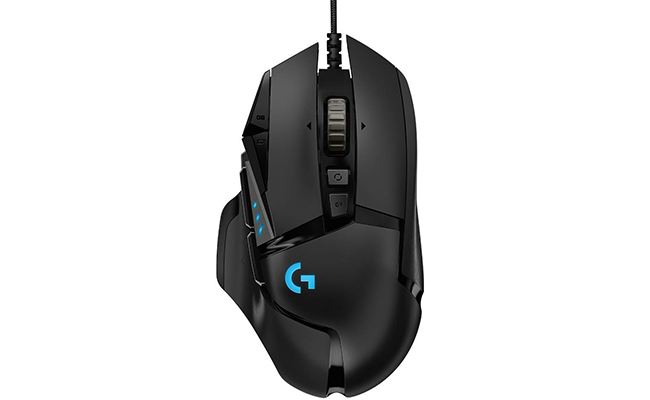 Logitech has implemented its most accurate sensor yet, holding up to 16,000 DPI for the ultimate gaming speed, accuracy, and responsiveness across the entire DPI range. It's a significant improvement over the older, 12,000 DPI Proteus sensor.
The Logitech G502 Hero has a 1,000Hz polling rate, and 1ms response time as anticipated for an advertised gaming mouse, but we barely notice any limitations in this department. However, the Hero sensor is what really makes the mouse shine in comparison to other mice on the market.
The Hero sensor improves the computing performance on white surfaces or light grey surfaces, which was a development on the Proteus sensor for some gamers. The mouse gives the world-renowned Steel Series Rival 600 a run for its money, and stand out among cheaper models like the Rival 310 and Sensei 310.
The Logitech G502 Hero is also packed with different features, like the 11 customizable buttons and onboard memory display that gives users the ability to assign custom button commands and save these configurations in up to 6 preset mouse profiles.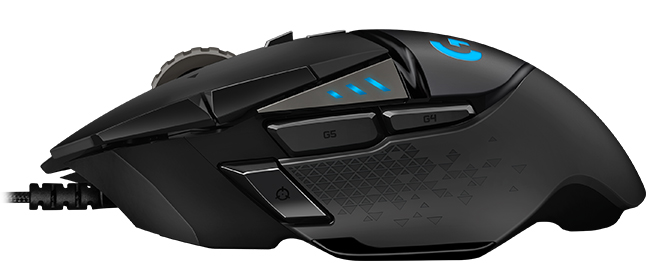 It may sound a bit complicated, but don't be intimidated by what the G502 Hero has to offer. Logitech's customization software is fairly easy to use, and highly advised for a mouse with this many buttons.
There is a metal scroll wheel which has a pleasingly smooth and satisfying scroll feel under your finger. A button below the wheel enables you to change between smooth scrolling and notched scrolling, according to your preferences. A rare feature found here are the button inputs located at the left and right hand side of the metal scroll.
Speaking of clicking, the Logitech G502 Hero has a metal spring tensioning system and pivot hinges that are built into the left and right gaming mouse buttons. These offer a crisp, clean click feel with rapid feedback.
The build has matte black plastic for the primary buttons and grips, then sets glossy plastic between the mouse's visually diverse pieces and additional buttons. The thumb and pinky grips on the mouse are also ergonomically comfortable. They're made from a springy, textured rubber – perfect for hands that get sweaty during a heated match.
The G502 Hero is certainly made for people who play first person shooter games. Two of the buttons are precisely made to increase performance in clutch situations, and both of these features should be mentioned.
First is the sniper button, which has become a popular feature on newer gaming mice. The other specialized button is the mechanical wheel lock button, which allows the user to switch between fluid and notched scrolling.
Moreover, the Logitech G502 also has a "sniper" (aka DPI shift) button at the end of the thumb, which is for holding down to temporarily lower your DPI for precision aiming.
Another neat feature of the Logitech G502 is its lights. The lights on this mouse can be programmed to light up in 16 million different colors. If you have a favorite sports team, you can use their colors. You can also set your G502 Hero to light up the same color as whatever you're mousing over. 
The G502 Hero is a plug and play mouse on most up-to-date PCs. If you just want to plug it in and go, you can do that, but you'll be missing out on some of its more innovative features.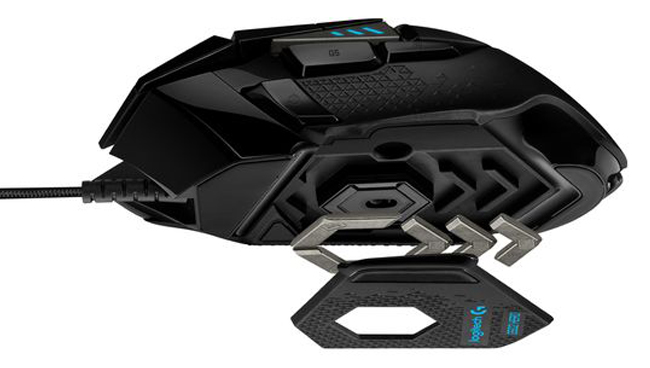 You ought to download Logitech's Logitech Gaming Software. This software enables users to configure the custom buttons, change the LED colors, and use the other customization features that we have mentioned above. Installing Logitech's software only takes a few minutes, and will let you get the full benefit of your new mouse.
All in all, our final verdict for the Logitech G502 Hero gaming mouse is all positive. It's arguably the best gaming mouse on the market today, and considered a worthy expense for competitive gamers and casual gamers alike. Check out the Logitech G502 mouse this year to bring your gaming performance to a whole new level.