Google Home vs Alexa: Which Smart Speaker Is Worth Your Money
Smart homes are the rage nowadays, but it's easy to get confused if you're just starting your smart speaker comparison. Which assistant is better? Which one connects to which devices? As you narrow down your options, the choices boil down to these two: Google Home vs Alexa.
The first thing to consider is how the smart speaker will integrate with your household. The base models for both Google Home and Amazon Echo (Alexa's home device) are customizable but have distinct looks. Figuring out which one matches your interior design comes down to one key difference.
A major difference between Google Home vs Alexa is its shape. Google Home has a distinctive bulbous shape on its colored lower half and a slanted white top interface. The default set comes in a white-gray combo called "White Slate," but for $20 you can get a reddish fabric case called "Coral." If you have a bit more cash, $40 nets you two steel cases: a black case called "Metal/Carbon" and a brown case called "Copper."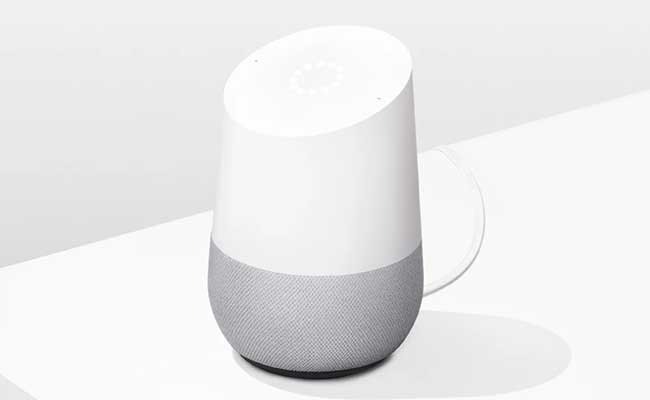 Meanwhile, the Echo just comes as a cylinder with a flat top interface and a light ring around it. It comes with a dark grey "Charcoal Fabric" shell right out of the box, with five other colors for purchase. For $20 you can get a gray "Heather Gray Fabric" or a light gray "Sandstone Fabric." If you're feeling fancy, you can get the "Silver Finish" for a brushed metal look, or you can get the "Oak Finish" and "Walnut Finish" for a wooden accent. Those cases cost $30 each.
Assistant Showdown
If you're doing a smart speaker comparison, chances are you're interested in each device's voice assistants. You can't say "Google Home vs Alexa" without examining how the assistants perform. They work similarly: utter out a request after calling its name and the device will oblige. There are a few key differences, of course.
The most obvious difference is the way you address them. Because of Amazon's head start, the name "Alexa" is synonymous with smart speaker assistants. And it really is just that simple: just call out Alexa's name and string it together with a request.
On the other hand, Google's device requires you to say "Hey Google" or "Ok Google" before it starts listening. It's awkward to call a device by its company name and it's a mouthful compared to Alexa. Even though both wake words have roughly the same number of syllables, Alexa just flows easier on the tongue.
The smart speaker comparison doesn't just end with their names. Each device specializes on a certain task depending on what you ask from it. Basic tasks like setting alarms are a no-brainer, but more detailed tasks like ordering cup noodles yield different results. Alexa will obviously do all of her shopping through Amazon, while Google Home will utilize Google Express.
And when it comes to voices, Google Home beats Alexa with customization options. Alexa only has one female voice with a customizable accent. Meanwhile, Google Home can be a male assistant with different inflections. Unfortunately, you can't rename your Google Assistant to match the voice.
Comparing their intelligence
If you're preparing to turn your dwelling into a smart home, then you need the best smart speaker. Google Home and Alexa may both be knowledgeable, but device management is really what revs up the Google Home vs Alexa debate.
Here's something to consider for your smart speaker comparison: device compatibility. A Nest smart thermostat or a Philips Hue smart bulb will work just fine with either Alexa or Google Home. Both of these items are popular, widely accepted, and have tons of brand recognition. A good start for a budding smart home owner, regardless of where they stand on the Google Home vs Alexa battle.
If you're on the techier side, things start to get a bit tricky. Alexa has a lot more coverage when it comes to smart device compatibility compared to Google Home. But don't worry: Google Home is doing a lot of catch up with their partnerships to close the gap. You just have to wait.
The way you get answers from both devices also differ. Though both smart speakers are constantly updating, Google Home is the current favorite when answering questions. Unlike Alexa's Wikipedia reliance, Google Home leverages Google's search engine to provide a more detailed answer.
Both devices do have access to a wide library of "skills" (Alexa) or "routines" (Google Home) through their respective marketplaces. Skills and routines are a set of actions that each smart speaker performs whenever it hears the command. Alexa currently has more third-party skills to support its intelligence, but Google Home is quickly catching up.
But if you're in the market for a smart speaker that reads your emails out loud, note this in your Google Home vs Alexa scorecard: Google Home can't alert you about your emails even in Gmail. Alexa can.
Let's play some music
If you just want a smart speaker to play music, then your smart speaker comparison depends on what you have at home. Alexa can blast music to your speakers physically, thanks to the 3.5 mm audio jack on the Echo. Use any existing sound system setup you have and let Alexa take care of the playing.
Meanwhile, Google Home can only beam music via Bluetooth. If you have an older speaker setup, you'll have to get the Chromecast Audio separately. Google Home sends the audio via Bluetooth to the Chromecast, and Chromecast relays the sound to the speakers. This may not be an ideal setup for those worried about Bluetooth interference.
If you just want music to stream with no fuss, both devices can play music from their built-in speakers. Popular music streaming apps like Pandora and Spotify work smoothly. If you use Google's Youtube Red or Amazon Music, you can only play them in their respective company's smart speaker.
Which one is the best smart speaker?
Ok, so you've done your research and filled out your smart speaker comparison checklist. But you're still not sure which device wins the Google Home vs Alexa battle.
The best way to pick the best smart speaker is to consider how you want each assistant to perform. Do you want more conversational answers from a device that's expanding its capabilities quickly? Then your best bet is a Google Home. Do you prefer a widely supported device with a friendly name? Then Alexa's Echo will be the best smart speaker for you.