Kuwento
To the young man who was bullied at the Ateneo
I don't know your name but, like many others, I've seen the video. You were minding your own business when the bully came up to you and gave you a choice: Give up your dignity, or get beaten up.
"Gusto mong mabugbog o gusto mong mawala yong dignidad mo?"
I did not share the video. It's not because Ateneo officials asked the public not to, a request they made in a disingenuous, tone-deaf letter that called what was clearly a bullying incident a "fight video."
I chose not to share it out of respect for you. There are those who would say that you were humiliated in that video. Perhaps you yourself felt that way.
That's not how I saw it.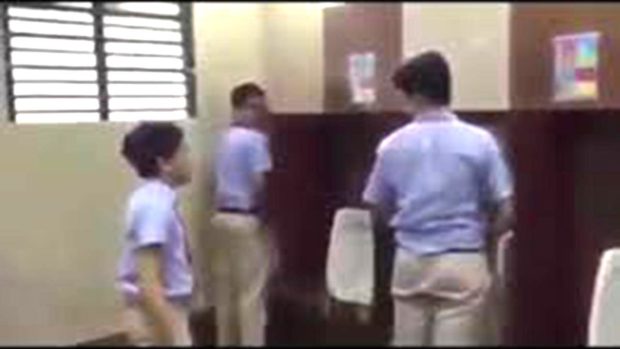 The video was only a minute long. But in those 60 seconds, three key points stood out for me:
You refused to be humiliated — and you were NOT humiliated.
"Pili ka! Bugbog o dignidad! Mamili ka!" the bully said. "Choose! A beating or your dignity! It's your choice!"
The bully wanted you to kneel in front of him and then kiss his shoes and his balls.
"Kung pinili niya ang dignidad, papaluhurin ko siya tapos hahalikan niya yong pareho kong sapatos, tapos papahalikan ko sa kanya yong bayag ko."
You refused.
Then the assault began. The bully began hitting and kicking you. You were no match for a kid who, it's been reported, was trained to fight, who is known to enjoy fighting, taunting, attacking, hitting, kicking other kids for no reason other than to show he can do anything he wants.
You tried to fight back
Toward the end of the video, you could be seen raising your fists. You were ready to fight back.
But the bully overwhelmed you. That was not surprising — the thug knew how to fight. The thug enjoyed fighting.
He landed a solid punch to your face that clearly stunned you. And as you retreated into a corner of the bathroom, disoriented and in pain, the bully attacked even more ferociously, like an animal. He kicked and hit you harder, without mercy.
Then he stopped. And you walked away, bloodied, in tears. But, in my view, you were not humiliated.
You kept your dignity.
You refused to play the bully's game. No, you were not going to kneel in front of the bully or do the disgusting things he asked. You did not beg him not to hurt you. You did not try to run (even though in some situations that would have been a smart move).
You stood your ground. You know what that's called? Courage. Tapang.
You now know what it often takes people years, even a lifetime, to understand and accept: There are many things in life you will not be able to control. But it is totally up to us how to react.
You will encounter bullies, thugs, including classmates, co-workers perhaps even family and friends who may and will do you harm. You may be in a school where officials couldn't care less about your safety because they're more concerned about public relations. You may even have to deal with leaders of your country, including presidents, who lie, cheat, bully and encourage others to lie, cheat, bully — to rape and kill.
You will not have control over what others say and do. But you will always have control over how you respond to attacks, to crises, to acts of cruelty and deception. In that brief encounter with a bully, you made brave and dignified choices.
You will face other choices in the aftermath of that assault. I can imagine that you would continue to be haunted by your encounter with the bully, that you would sometimes feel afraid and vulnerable.
The next steps are up to you. Perhaps you could base your decision on the video itself, and on how people like me focused not on the bully who showed you no respect — but on the kid who refused to surrender his dignity.
When I was at Ateneo High School decades ago, we read a story for my Pilipino class under my favorite teacher, Onofre Pagsanghan. "Impeng Negro" by Roger Sikat, another great teacher and writer, tells the story of a boy who fights back against a local bully who constantly harassed and bullied him because he's half-black.
Impen wins at the end of the story, but what was most important was not his triumph, but the way he always maintained his dignity, even during those times when he wasn't the winner, when the thugs were having a field day beating him up. The main point of the story was that he refused to surrender his dignity, refused to be a willing, helpless victim of bullying and oppression.
That's what you showed us in the video.
Wala kang dapat ikahiya. Hindi mo sinuko ang dignidad mo.
Visit the Kuwento page on Facebook