Flourish & Prosper
Choosing Time or Money: Fourth step to being your best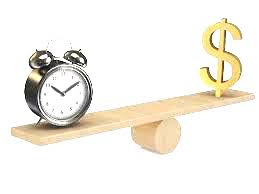 (Fourth of a series) Choosing between time or money is a common dilemma that seems to confront most people. Do you feel like you don't have a choice, like you're a victim of the pressures of time? What is your relationship with time: Is it friend or foe? Do you feel that there's just not enough time for what you need? Is it scarce, or do you have all the time you need? Is it abundant?
If these questions seem absurd to you, it's because I'm asking fundamental questions. It's like if you were a fish, do you know that you live in water? Or you just never asked the question. There is no awareness.
This is the whole point. What is your Paradigm ("framework containing the basic assumptions, ways of thinking, and methodology that are commonly accepted…" dictionary.com) of time? How you experience and relate with time is determined by that paradigm. This may explain why some people are constantly frazzled, struggling, and pressured with always not having enough time. Can you figure why some people are cool, un-frazzled, and still very productive with ease and grace and no stress as they go about their full day? These two kinds of people have very different paradigms of time and thus have a very different relationship with time and its handling.
Let's go back to the definition of "time." Dictionary.com has 64 definitions, and I like "a period with reference to personal experience of a specified kind: to have a good time."What this tells me is that time is a personal experience and that its scarcity or abundance is dependent on my viewpoint – paradigm. As an example: Have you ever experienced how time seems to be slow, or fast? On your first date with your sweetheart, or your reading his/her love letter, doesn't time seem to stop? Or you may be having fun, focused on a game, or you're extremely productive, and time just escapes you. As such, time as measured by a clock does not determine you. Your personal experience, given your paradigm of time at that moment, is the determining factor! Time is not an absolute. The experience of time is determined by you.
Yeah right, but how can I practically use this? This brings us to the fourth segment of this article: Being yourBEST!
Believing in yourself and your dream,
Enthusiasm as a chosen emotional state of excitement,
Systematically going through your chosen activity-job-business, and
Time allocation; what you focus and act on is what you get.
To get the most out of your Time depends on three factors, that you can call as your P-S-T, Paradigm-System-Task experience. Understand your PST regarding time, and you master time itself.
Paradigm. If you have a paradigm of time scarcity then that is the reality of your experience. Choose and create instead a paradigm of time abundance and that becomes your reality. A key affirmation, or statement that you can learn to create for an abundant time mentality is to say to yourself constantly: "I am the master of my time." "I have all the time that I need." "What I have now is perfect." I notice that when I give myself this self-talk or dialogue, I seem to become more at ease, calm, confident, and relaxed, thus removing the tension, pressure, and stress. I become more focused with the task at hand and I begin to have more fun instead of worrying if I have enough time.
System. Remember to copy your system from the best and brightest so you don't waste a moment trying to reinvent the wheel. "Systema" comes from the Greek "organized whole." Thus, the key lies in organizing your time from the wholeness of your life, who you are, and what is truly essential and purposeful in your life. Live life as a whole and not from the segmented view of family separate from work, that's separate from faith, that's segmented and separate from your social life, that's separate from the needs of our planet, and the needs of your body for a healthy lifestyle. All you need is to be aligned with the key values and principles that are most important to you. This may require some discernment and thinking through of your True North values and principles. As you figure this out, your practical application of the paradigm of time abundance becomes a system for lining up your focus with what is most important for yourself and your dreams. This is a feedback loop that connects to your Belief, which is the first step and acronym to being your BEST.
Task. This refers to the action steps and skills involved as you prioritize and make decisions in scheduling your week-day-hour. Where do you decide to focus your attention for the moment at hand, and where do you intend to focus your attention for the coming hour-day-week-month-year-lifetime? Notice that a lot of time management approaches focus on the scheduling tasks of a planner, day timer, or calendar. These tasks are most effective only if you have thought through the paradigms and systems that are the foundations of Time.
The assignment here is for you to first observe and see-listen to your predominant relationship with time. Is it a stressful struggle that there's never enough time in a day, that time is scarce? Or are you predominantly at ease that you have the time that you need? Given what you notice and become aware of, you can now choose to make a conscious decision of having an abundant paradigm towards time. By the way, it's the same process towards the resource of Money!
Jorge "Jerry" Perez de Tagle, lives in the US and the Philippines, is an author and change management consultant for the private and public sector. He taught at Syracuse University, New York and has his PhD in Social Change, Honoris Causa, and is a PhD Candidate in Organization Development. He was one of the 10 Outstanding Entrepreneurs in 2009 and is now the National Chairman of The Way To Happiness Philippines Foundation, and is the Vice President for Global Outreach and International Relations with the US Federation of Philippine American Chamber of Commerce.