Some professions automation can't take over yet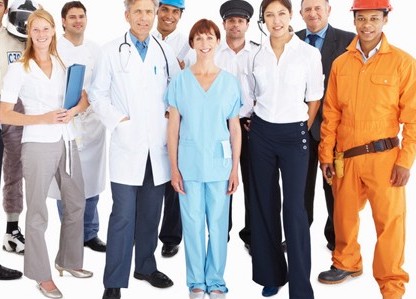 We are staring right in the face of the fourth industrial revolution. Digitalization and automation are the buzzwords on the lips and mind of every business, company, and office.
Think of the smart industry and the manufacturing sector. The highest returns on profits are set to rely on automation as a cost-cutting measure. Human jobs are at their greatest risk since evolution. Here, every manufacturing company is working towards maximizing on use of robotics and automation to raise its value.
The motor industry is onto it too. A career in driving looks to be threatened as well. The impending changes in the motor industry are good for mankind; they will make life easier and cheaper. Meanwhile many ethical questions are being raised and it's very interesting to follow the recent news about moral decisions that are being made by machine intelligence building the moral compass for the revolution in driverless cars.
However, the downside of this positive revolution is that many people are going to lose their jobs. Robotic cars will not need human drivers and mechanics anymore.
From a very young age, people are used to making some of the most important decisions of their life. These include career choice. It is a necessary path that impacts on your overall plans and how you manage the changes in your life.
As you make plans for your desired profession, the occupation you decide on has to put into perspective the current and future technological trends and how your career progression fits in.
Although the acceleration towards automation is on, there are just some careers that will not be obsolete any time soon. This is because these occupations are programmed with their basic functions needing a human touch. Sample this.
Creating and Writing Content
There are algorithms that are programmed to write nonfiction. They do not necessarily need human input to function. We're already familiarized with the automation of e-mail marketing where automation has played its part and is actually working, saving many marketing agencies in time and money. However, when it comes to creating fiction and content writing, this is a story for another day.
Writing content of any subject requires thought, creativity, and art. Humans can do this, but not programs.
To be entertained and to enjoy a fiction story emanate from a human perspective, artistry, and personality. It is not possible to automate humanness.
For instance, if you are writing a marketing content, you need to analyze and understand your customer. It needs connecting with your customer, building and making lasting relationships.
Once you have done that, you are able to write content that is clear and accurate. This aspect is lacking in automated programs.
Human Translation
In the translation industry, people are talking about machine translation; it is the rave word now. Businesses and translation companies now feel and imagine that it is easier to deal with automated machines, which are considered to be more efficient and cost-effective.
What they fail to understand is that the ability to come up with any professional document, you require the skill and proficiency of a human translator and native speakers.
There are major advances in machine translation and neural network translation. But, we're not worried about getting replaced by robots any time soon. Machines can't understand culture in the way that humans do, make judgment calls, or find necessary synonyms and understand context, says Sean Hopwood from Day Translations.
Machines are not programmed to speak native languages. The complexity of this fact is that during any translation you are required to convert the language of the source document into the language of the readers.
In this context, the translator has to put into consideration many factors such as the familiar language and slangs, as well as peculiar expressions. A machine will never acquire the skill to do that.
Nursing
Nursing as a career will not be automated any time soon. This is an occupation that involves people-facing and sociological equilibrium. It is a job that requires empathy and understanding to speed up the healing process of the sick.
Future healthcare trends will, in fact, require more personnel in comparison to other jobs because of the continuing population growth in the world.
Teaching
As much as robots and artificial intelligence software could take over some human functions of teaching, these cannot be wholesome. A teacher basically functions as a primary caretaker of students. A teacher is a role model and works to build learning and human foundations in students that a programming software or robot can never aspire to.
There are lots of some teaching subjects that only a teacher can handle. These include special subjects like art and physical education. Such disciplines require human creativity, intellect, and artistry. It is just prudent to know that some levels of teaching are more personalized than can be computerized.
Indeed, automation is picking up speed; new innovations are happening day and night. In the same way, there are just some careers that will take a long time to be automated. As of now, these professions require humans to achieve the ultimate results.
Rilind Elezaj is an experienced a Digital Marketing Specialist with a demonstrated history of working in the marketing and advertising industry. Rilind possesses a strong entrepreneurial mindset and has devoted his career to enhancing the sphere of digital marketing. In his methodological approach, Rilind integrates web development and other digital marketing solutions to create hybrid strategies that bring the best results.