Hotel vs. Motel: What's the Difference?
It's the holiday season! And one of the things we enjoy doing during the holiday is travel. After several hours of debating, we pull up our favorite travel magazines and choose our destination. The trip is beginning to pan out, but accommodation needs to be sorted out.
Unless you have deep pockets, it is often challenging to pick the right accommodation that fits your needs and taste without putting a strain on the budget.
There are many accommodation options, but understanding their differences will help you make the right choice. This article will discuss the differences between hotels and motels and which you may choose.
What is a Motel?
The word "motel" combines the words "motor" and "hotel." It goes back to when the automobile became the all-new method of transportation by road. Also called motor inns, motor courts, tourist lodges, or motor lodges, they are accommodation buildings originally intended for people traveling by automobile.
Motels serve travelers, tourists, businesspersons, and people attending meetings or conventions. Motels usually have plenty of parking and easy access to a highway because of where they are situated.
They are relatively cheap for short-term stays and close to highways and popular tourist destinations. Now you may wonder how these motels differ from the traditional hotel, let's find out.
What is the Difference Between a Motel and a Hotel?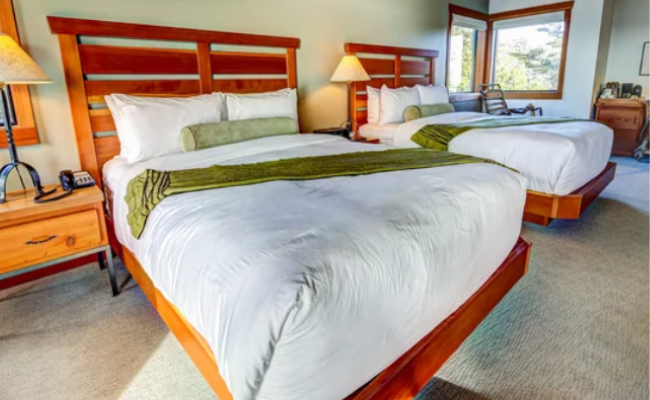 A hotel is like a motel providing the same basic accommodation service. But a hotel goes way beyond that to offer other services such as indoor swimming pools, spas, and restaurants. Some even have their shopping facility.
Types of hotels include full-service and limited-service hotels and can be categorized based on location or size. But typically, they are rated in stars, one being the lowest and five being the highest. They also target people looking for extended stays ranging from weeks to months, even years.
Contrary to motels, hotels are usually within the heart of the city, often close to other large establishments such as airports, stadiums, and popular tourist attractions. While motels are known for their expansive parking, hotels do have parking spaces, but many hotels do charge for parking.
As for personnel involved, hotels are equipped with more trained staff with various unique skills to make your stay more pleasurable. Receptionists, parking valets, door attendants, chefs, and hotel room service are a few personnel you may find working in a hotel.
Lastly, pricing is another major difference between the two. Motels are generally cheaper, and it is easy to see why. They offer way fewer services and amenities as opposed to hotels.
When Should I Book a Motel Instead of a Hotel?
Several factors may influence the decision to choose a motel over a hotel. Price is a major one; if you have a limited budget and don't care about luxurious amenities, consider a motel.
If you are on a road trip and are looking for a place to pass the night, or have a relatively short stay, say a few days, then a motel is a great choice.
When Should I Book a Hotel Instead of a Motel?
In certain instances, it may be preferable to book a hotel over a motel. This, of course, will involve spending extra money, but it will be worth it. You should book a hotel when:
Convenience matters to you, and you are looking to get the best of services such as room service with wifi, saunas, fitness facilities, spas, and generally more luxurious accommodation.

As a business person, if you want to attend a conference or a meeting, you may require a hotel's amenities such as conference rooms, halls, or even a properly fitted restaurant for important conversations.

Touring a new location you don't know very well, hotels have better-trained staff such as valets, concierges, guides, and sometimes even chauffeurs to make your stay in that area more enjoyable and without stress.
Cost of a Hotel vs. Motel
The expense of these two will depend on the quality of service as well as location. A night at a motel in a rural area can be as low as $30 and go as high as $100 in well-developed areas.
Hotel costs depend on factors such as rating (a five-star hotel typically costs more than a three-star one), location, amenities, and season.
The average hotel costs around $150 per night for a basic not-too-fancy experience. Still, this figure can quickly rise and go as high as your imagination as more amenities and luxuries are added to the list of things offered.
Hotel vs. Motel Main Differences
Cost: Hotels are generally more expensive, with rooms and even suites. Motel rooms are cheap, which is why they are so popular.
Facilities: Indoor swimming pools, spas, bars and restaurants, fitness centers, and conference rooms are usually available in hotels. Basic services such as internet and sometimes an outdoor pool are the standard in motels.
Structure size: A hotel may possess several floors with numerous rooms, internal corridors, stairwells, and elevators. Whereas motels typically have fewer rooms on one or two floors for easy access to the car park.
Location: Hotels are usually situated in common areas near other big establishments in city centers. In contrast, motels are typically situated on major highways, outskirts, or places with easy road access.
Personnel: Hotels have a wide range of professional staff. On the other hand, Motels tend to have very few staff, mostly a receptionist and one or more cleaners.
What are the Most Popular Hotel and Motel Brands?
There are many hotel and motel brands out there, some you may know, and their standards set them apart from the others.
Popular Hotel Brands
Sheraton

Marriott

Comfort Inn

Holiday Inn

Radisson

Four Seasons

Best Western

Hyatt

InterContinental
Popular Motel Brands
Motel 6

Knight's Inn

Econo Lodge

America's Best Value Inn

Super 8
What is an Inn?
An inn is an establishment, typically along the road, providing travelers with food and lodging. Inns are small properties with limited rooms, mostly found in rural locations. One can expect lesser amenities than a hotel or even a motel.
As a result, inns are cheaper than hotels and motels. Another reason is that they target travelers looking for a place to spend the night.
Conclusion
It is helpful to understand the differences between hotels and motels, as this will be handy when planning that trip with your partner or family. Now you can decide which best suits your needs, a hotel, a motel or even an inn.
FAQ
Is a hotel or a motel better?
This is a subjective question; the answer will depend on several factors. Are you looking for a luxurious facility to spend the next few weeks in? Or, looking to spend the night somewhere while passing through a town on your way to visit a beloved aunt?
What's the difference between a hotel and an inn?
Inns are usually small establishments, maybe family-owned, that provide the bare minimum in services. At the same time, hotels are much larger facilities owned by corporations or well-funded individuals with many more rooms and many services and amenities.
What's the difference between a motel and an inn?
Motels have a more standard floor layout with huge parking lot often located off highways and roads, while inns are more common in rural settings as a place for travelers and tourists to take accommodation. Typically a motel will have more amenities, like a pool and wifi, whereas an inn may not.