Best Christmas Cookies
No one can deny Christmas is the best time of the year for multiple reasons, like the beautiful fairy lights, family reunions, all-around joy, good food, and amazing confectionaries.
Among the joys of Christmas are amazing Christmas cookies everyone in every household, including Santa himself, can't seem to get enough of during that wonderful time of the year.
Christmas cookies are traditional sugar cookies or biscuits made with butter, sugar, eggs, flour, baking powder, salt, and the flavoring of your choice and cut into various fun shapes relating to Christmas.
They are amazing, chewy, gooey, and delicious and are a perfect Christmas gift to neighbors, family, friends, and loved ones. Spread joy and happiness in the coming holidays with this list of amazing Christmas cookie recipes.
18 Tasty Christmas Cookies For You
Nothing says "Christmas" quite like a platter of homemade cookies! But with so many different types of cookies out there, it can be hard to decide which ones to make. That's why I've put together a list of my all-time favorite Christmas cookies. From classic sugar cookies to festive gingerbread men, these recipes are sure to please everyone on your list.
Basic Sugar Cookies
No Christmas is complete without our simple sugar cookies. In every household, basic sugar cookies are a favorite all year round. In addition, they are made with all-purpose flour, baking powder, butter, sugar, eggs, and vanilla and are easy to prepare and bake. This holiday, try to add a twist to your cookies by using decorative cutters to make creative shapes and give yourself a variety of beautiful cookies to choose from.
Sugar Cookie Trees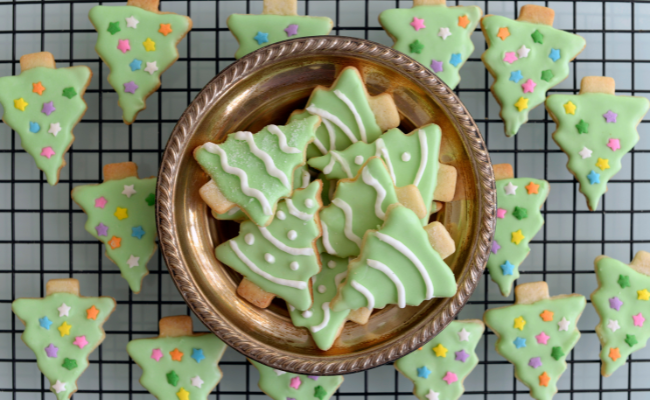 The sugar tree cookies look like cute mini Christmas trees. They are basic sugar cookies mixed with green gel food coloring and assembled with green royal icing. They are beautiful, easy to make, and perfect for people with a sweet tooth.
Linzer Stars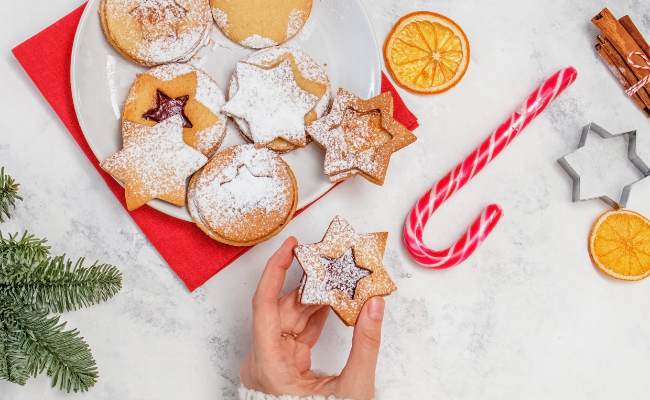 The Linzer stars are traditionally Australian and made using pecans, cinnamon, kosher salt, and, most importantly, jam. What makes this cookie unique is the spread of delicious red seedless jam in between its star-cut shapes. Moreover, they are simple, chewy, thick, and a Christmas favorite of mine.
Black Forest Cookie
If you like black forest cakes, you're going to love black forest cookies. The cookies have all the main ingredients in a black forest cake, including cocoa powder, dark chocolate, and dark brown sugar, topped with brandy-soaked cherries and a generous helping of whipped cream.
Matcha Snowball Cookies
These cookies are perfect for people who don't fancy a lot of sugar. They taste bitter-sweet and are made with pecans, matcha powder, and vanilla flavoring.
Chocolate Spritz Sandwiches
The chocolate spritz cookies are traditional Christmas chocolate cookies but with a twist. The ganache filling in between the cookies is made with heavy cream semisweet chocolate and finely chopped peppermint. These cookies are rich tasting, easy to make, and among the best-tasting Christmas cookies.
Cherry Pistachio-Cornmeal Biscotti Cookies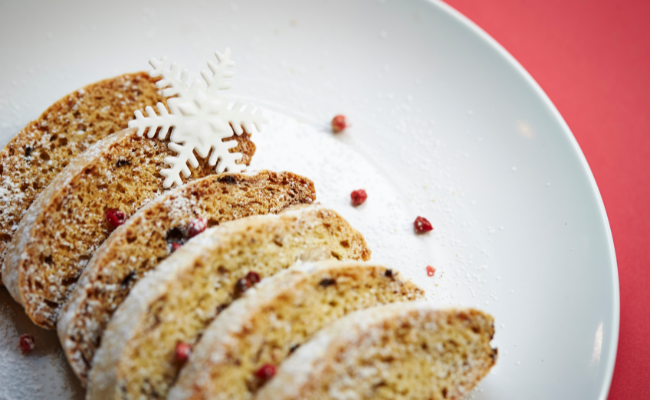 These Biscotti cookies are made with yellow cornmeal, ginger, canola oil, pistachios, orange zest, and cranberries. You can drop melted chocolate to add a decorative touch and sweet flavor. Furthermore, the cookies are divinely crunchy, tasty, and perfect for pairing with morning coffee or hot cocoa!
Neapolitan Cookies
For those who find it hard to decide which is better, chocolate, vanilla, or strawberry, this is the perfect Christmas bake for you. The Neapolitan cookies are a mix of strawberry, vanilla, and chocolate cookie dough stacked on top of each other, then sliced and baked. They are beautiful, colorful, and really sweet.
Jammy Walnut Rugelach
These cute cookies look like mini cinnamon rolls. It has cream cheese, roasted walnuts, cinnamon cloves, and raspberry jam. They are baked until the delicious filling is bubbling. Furthermore, the cookies are chewy, buttery, and among the most popular Christmas cookies.
White Chocolate-Dipped Madeleines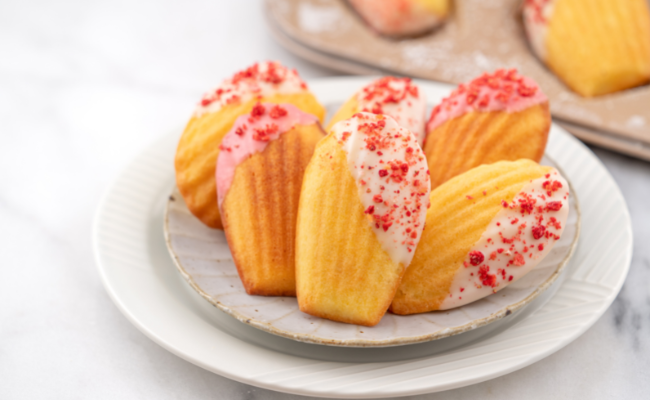 These cookies are store-bought Madeline's dipped in melted white chocolate and topped with pistachios for a brilliant, elegant touch.
Peppermint Meringues
This spin-off from peppermint candies is a gluten-free holiday favorite. They are made with egg whites, sugar, and peppermint extract and are crisp on the outside and also chewy on the inside. Paint the inside of your piping bag with stripes of red food coloring to get the perfect peppermint candy look.
Red Velvet Cookies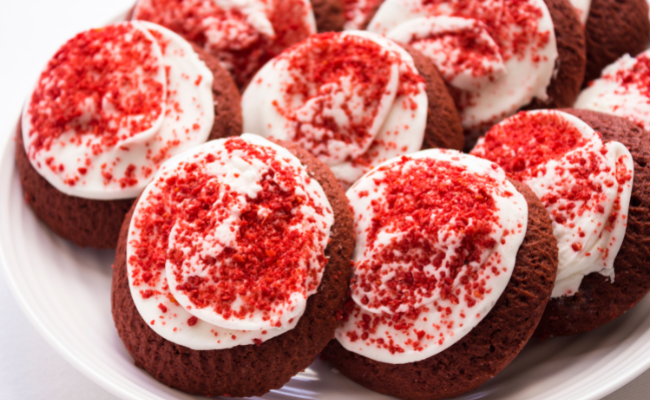 The red velvet cookie is a spin-off of the red velvet cake and is a real holiday hallmark. It is a composition of chocolate chips and cocoa powder instead of the red velvet cake's white chocolate chips and cream cheese. The cookie is also perfect for any holiday, including Valentine's day.
Chocolate Caramel Cookies
These warm gooey cookies are made of double chocolate dough and store-bought caramels. Moreover, the caramel is wrapped in the dough, and the cookie is topped with sea salt. Eating them can get a little messy, but it is more than worth it.
Flourless Chocolate-Walnut Cookies
Out of flour? This Christmas confectionery does not need flour to be delicious. It has cocoa powder, walnuts, and bitter-sweet chocolate chips, and it's also amazing any time of the year with coffee.
Mint Chocolate Cookie Dough
This peppermint-infused dough features unsweetened cocoa and peppermint in simple cookie dough as an alternative for those who don't fancy gingerbread.
Pecan Apricot Rugelach
The pecan apricot rugelach is a perfect Christmas holiday dessert. They have cinnamon sugar dough and pecan apricot rugelach. Then you can fill them with the jam of your choice.
Old-School Peanut Butter Cookie Sandwiches
Everyone loves a classic peanut butter cookie. This cookie features a peanut butter cookie base and a dark chocolate buttercream filling. In addition, they are rich, tasty, and perfect with hot chocolate or chocolate milk.
Soft Apple Spice Cookies
These soft mouth-watering sweets are a holiday favorite for people of all ages. They have Granny Smith apples, cinnamon, grated nutmeg, packed brown sugar, tart-dried cherries, and walnuts. In addition, they are a spicy, sweet slice of heaven.
Conclusion
There you go, folks, 18 of the most amazing cookie ideas to spread love, joy, and happiness this holiday season. Spread some sweetness this season with the best Christmas cookie recipes you could ever find. Happy holidays!