Best Biodegradable and Compostable Garbage Bags
Plastic garbage bags are single-use and have a similar impact on the environment as plastic bags from restaurant takeout or the grocery store. Though it may seem overwhelming to replace your plastic garbage bags, it's an easy switch that can reduce waste and global plastic demand.
Compostable trash bags are designed for the quick breakdown in compost, and using them will aid your food composting efforts. In addition, composting food helps the environment since landfills don't break them down.
If you're searching for a sustainable and eco-friendly alternative to traditional plastic garbage bags, biodegradable garbage bags present a good option for lining your compost bins. When choosing the right biodegradable garbage bag, you'll need to consider its size, material, and thickness.
Top selections of the best biodegradable garbage bags
Worried about the environment? You can help simply by changing the type of garbage bag you use. Check out our top picks for the best biodegradable garbage bags to help reduce your environmental impact.
Best overall:

Biobag Original Compostable Bag

Best large-sized:

Stout by Envision EcoSafe-6400 Compostable Bags

Best rated on Amazon:

UNNI 2.6-Gallon Compostable Bags

Best drawstring:

AYOTEE 4-Gallon Garbage Can Liners

Best for home composting:

BIOOK Compostable and Biodegradable Trash Bags

Best budget:

Full Circle Fresh Air Biodegradable Compost Bag

Best size options:

EcoSafe Compostable Bag

Best for municipal use:

Reli. Compostable 13-Gallon Trash Bags
Best Overall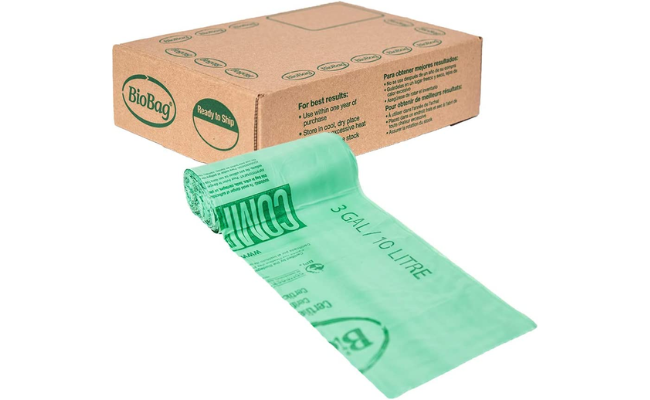 With its 3- and 13-gallon options, Biobag offers compostable bags that are suitable for use in a countertop compost bin and a tall kitchen garbage can. In addition, these garbage bags come in several sizes and are packaged in a recyclable paper box.
Biobag original compostable bags meet the industry guidelines for compostability and biodegradability and are certified by the Biodegradable Product Institute (BPI) as compostable. They are also good for backyard composting since they comply with OK Compost Home certification from TUV Austria.
They're also strong and made from vegetable oils, plant starch, and fully compostable polymers. Just ensure to swap the bags after using them for three to five days and use them within a year of purchasing to retain their strength.
What we love:

They're OK Compost Home- and BPI-certified. They also come in recyclable packaging and are great for home composting.

Things to consider:

They may lose strength after a year, so it's recommended to use them within the year they're purchased.
Best Large-Sized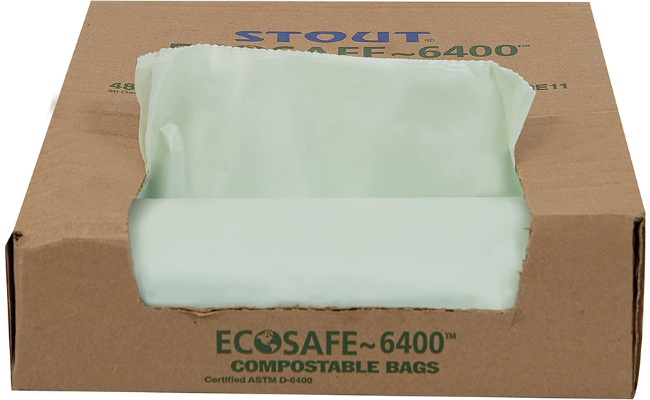 Envision is a popular name in composting, and their Stout line is one of the best compostable bags in the market. Stout by Envision compostable bags employ a lovely balance of size and convenience.
This compostable bag can hold up to 30 gallons and is a perfect large option. Additionally, it's thin and durable even at near-full capacity and has its freshness dates marked on them so you can tell how long the entire box will last.
They also meet the specifications of the ASTM D6400, meaning that they are biodegradable and compostable in compost facilities. They may start degrading between 10-45 days of use, subject to heat, light, and moisture exposure.
What we love:

They're tear-proof and BPI-certified, and their boxes are marked with freshness dates. They're also a great option for commercial composting.

Things to consider:

It starts degrading within 10-45 days of use.
Best Rated on Amazon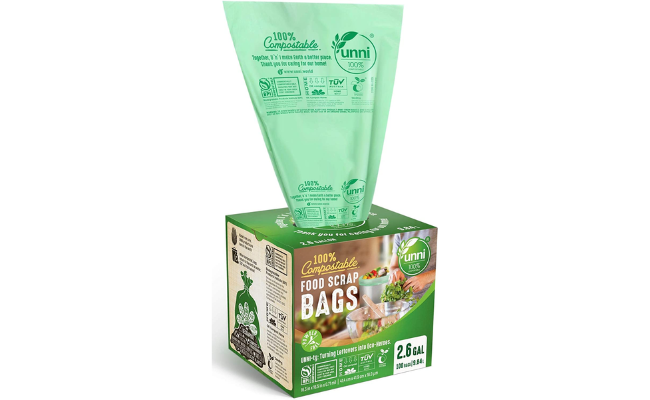 With ratings over 21,000, this compostable garbage bag from UNNI provides a great option for home composting. They're an environmentally-friendly alternative to regular single-use shopping bags and can hold up to 2.6 gallons of kitchen garbage without a tear.
In addition, these compostable trash bags are certified by BPI in the US and OK Compost Home in Europe and meet the ASTM D6400 requirements. They're also EPA-approved and are safe to collect food waste, even frozen foods.
What we love:

It can hold compost for weeks and is perfect for home composting.

Things to consider:

These compostable garbage bags aren't suitable for hot areas.
Best Drawstring
AYOTEE garbage bags are made from plastarch material (based on renewable plant starch extract) and comply with the US ASTM D6400 and OK Compost Home certifications. They are safe for home and backyard composting.
They come with a convenient drawstring to prevent exposure and overflow of trash. This ensures that the garbage bag contains as much as possible.
What we love:

Its drawstring frees your hands from touching the trash. These bags are strong and can hold a week's worth of waste.

Things to consider:

It may tear if used for extended periods.
Best for Home Composting
BIOOK compostable garbage bags are BPI- and OK Compost Home-certified and come in three different color options. They're also available in four size options to suit your countertop bin or backyard composter.
What we love:

They have several color and size options. They're certified by BPI and OK Compost Home.

Things to consider:

Best to use within 9 months to 1 year of purchase.
Best Budget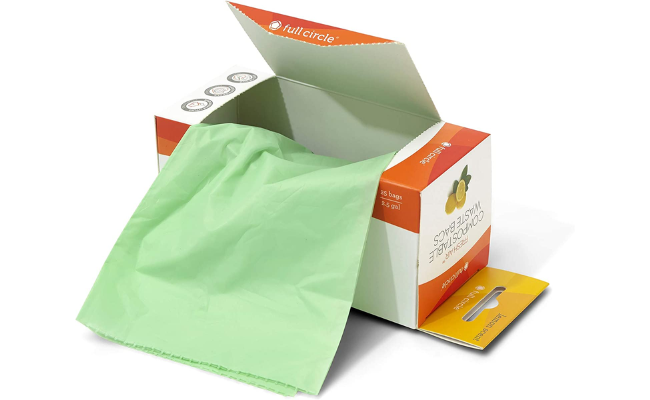 At under $10, this compost bag from Full Circle offers a lemon-scented option to prevent unwanted smells from your garbage. It can also hold 2.5 gallons of waste and is great for countertop compost bins.
What we love:

They're inexpensive, BPI-certified, transport friendly, and good for countertop compost bins.

Things to consider:

They're not very strong and can tear easily.
Best Size Options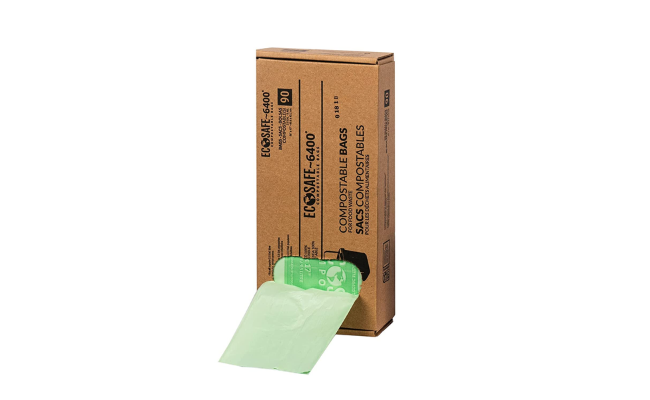 This durable, biodegradable garbage bag comes with a wide range of size options, starting at 2.5 to 152 gallons. In addition, they're very strong and versatile to fit different users and are best for commercial use.
What we love:

They come in many different sizes and are BPI-certified.

Things to consider:

You may need to swap these bags between 2-5 days of use.
Best for Municipal Use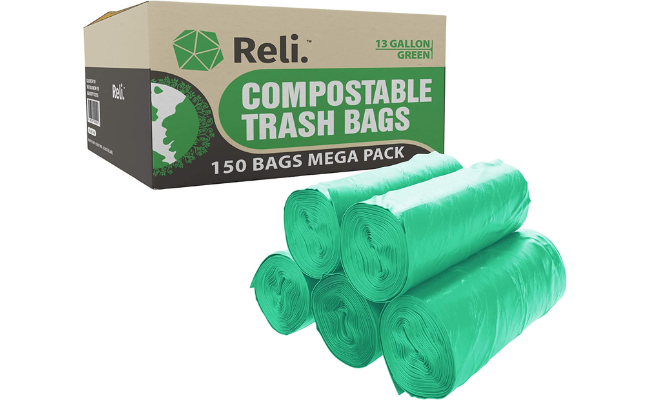 These biodegradable garbage bags from Reli are ideal for industrial and municipal facilities. Additionally, they're sturdy, leak-proof, and meet the compostable requirements from ASTM D6400. This family-owned brand is a great option for eco-friendly composting.
What we love:

They're smell-resistant and have large storage space.

Things to consider:

Only for use in municipal composting facilities.
What's the Difference between Biodegradable and Compostable Garbage Bags?
Typically, compostable and biodegradable garbage bags are manufactured with the same material. We'd go through a couple of helpful explanations to assist you in identifying the differences between these garbage bags and other useful phrases.
Degradable is the ability for any material to break down, decay, or collapse to pieces. For this topic, all kinds of plastics are degradable.
Oxo-degradable is a process where plastic breaks down quicker when exposed to light and heat. In addition, it's easier for photodegradable plastic to break down under sunlight. However, oxo-degradable does not mean the material will return to its original state after it breaks down; instead, it forms micro-plastics.
Biodegradable plastics decompose into water, biomass, carbon dioxide, and methane by enzymatic action caused by microorganisms. Also, it takes weeks or months, under the proper condition, for these plastics to break down. Under enough amounts of light and heat, oxo-biodegradable plastics decompose more quickly.
Compostable plastics are derived from biodegradable plastics that decompose into water, biomass, carbon dioxide, and inorganic compounds in a compost system, using a comparable rate to other compostable materials such as cellulose without a toxic remnant.
Bio-based plastics are plastics that exist naturally, unlike conventional plastics that are made using petrochemicals. Additionally, bio-based plastics are made from polysaccharides like cellulose or starch, lipids, and proteins. This kind of plastic isn't naturally biodegradable in-spite-of their origins.
Are Biodegradable Trash Bags More Sustainable?
It is important to know if bio-based, compostable, or biodegradable garbage bags are better or more sustainable for the environment than conventional plastic garbage bags. However, the issue of sustainability is a current problem that needs extensive LCAs (Life Cycle Analyses) to fully understand the products that will reduce any negative effects on the earth.
According to research in 2017, the option of using biodegradable garbage bags can reduce the waste in landfills and greenhouses when they are disposed of properly. Despite this, a study at Pittsburgh University in 2010 shows that LCAs on different bio-based plastics are not as eco-friendly as most people think because water, land, energy, and chemicals are required during production. 
Suppose you are searching for more sustainable methods of disposing of your trash. In that case, the Executive Director from Good Housekeeping Health, Beauty and Environmental Sciences Lab suggests users separate recyclables from food waste and gather them around the house to reduce the amount of garbage to be disposed of.
Things to Keep in Mind When Shopping for Biodegradable and Compostable Garbage Bags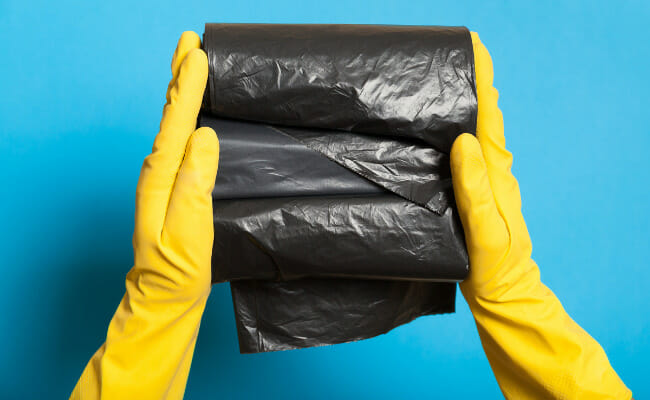 Target Use
Ensure you check the product before buying because some compostable bags are best u for commercial use rather than domestic purposes. Also, check if the TUV Austria emblem is on your product, look out for the "home" or "industrial" mark, and use it as directed. 
Standards
To ensure you purchase compostable or biodegradable garbage bags, look for products with tested standards from ASTM International. ATM International is a body offering various guideline testing sets for any material, mainly ASTM D6400 for compostable bags and ASTM D5988 and D6691 for Biodegradable garbage bags. People widely use these standards. 
Certifications
Other than ASTM International, some other groups vet claims of compostability and biodegradability. Listed below are some of the groups (and their meaning) that can be useful while you are shopping:
The BPI (Biodegradable Product Institute offers compostable product certification in North America.
The Australasian Bioplastic Association (ABA) gives the seedling symbol. It is provided for compostable and biodegradable plastic in New Zealand and Australia that can meet the 4736 – 2006 Australian standard. 
TUV Austria issued the OK Compost Home symbol and promises full product biodegradability according to special requirements and in compost heaps from gardens. This program is the foundation for many standards that France, Australia, and Europe use today for domestic composting.
The OK Compost Industrial symbol issued by TUV Austria guarantees that every part of the product, with additives and inks, is certified biodegradable plastic in an industrial composting plant following the EN 13432:2000 European standard.
Conclusion
It's alright if you can't make drastic lifestyle changes in our bid to save the environment. However, you can start by using biodegradable and compostable garbage bags for your waste. Using biodegradable garbage bags ensures you'll reduce toxic plastics that can harm the planet.
Of the different options on the list above, our top overall pick from Biobag is the best overall for its sturdiness and home composting capabilities. But you can choose based on your preference, and let's start small to save our planet.
As an Amazon Associate INQUIRER.net will earn from qualifying purchases.