Best Cargo Pants for Men
Do you like the look and feel of a traditional pair of jeans but need something more versatile for your busy lifestyle? Cargo pants may be the perfect solution for you.
With plenty of pockets to store all of your belongings, these pants can easily take you from work to the gym and back again. But with so many different types and styles available on the market, how do you know which ones are the best? Lucky for you, we've done the research and put together a list of the best cargo pants for men. Check it out!
How to style men's cargo pants
Urban casual pants can look dope or bland depending on the brilliance of their styling. Regardless of the outfit idea, you choose to explore, let your mood and event dictate the style.
Most cargo pants come in the colors black, navy, and olive. Following the advice of Samuel Smith, a creative director at Media Monk, Combat pants with a tailored design look best with a slim-fitted shirt and Derby shoes. You can make the relaxed fit appearance of baggy cargo trousers more pronounced by adding an oversized hoodie, jumper, or sweatshirt.
In all your doings, don't style Cargopants on formal wear. It simply doesn't fit. While those who hate Cargopants are simply doing too much, it doesn't take away from the fact that combat trousers don't have the classiness of dress pants.
Things to consider when choosing cargo pants
Before proceeding to recommend the best cargo pants for men, we will like to take you through the factors we considered on our end. You can also use these tips while shopping for combat pants.
Size
The leading factor to consider when choosing tailored casual wear is the size. Cargo pants OGs barely go for skinny variants as they believe that the thinness defeats the purpose of the combat trouser. This is because these pants are for people to carry around items without discomfort.
However, you can choose to think outside the box by slim-fitting your cargo trousers. I prefer the straight-leg and baggy versions to the tapered ones.
If you choose baggy cargo pants, ensure the trouser is perfect for your waist. If it's baggy around the waistline, don't go for it. Consider the size of your thighs and waist before ordering your combat trouser.
Cargo Pockets
The patch pocket is the unique selling point of the cargo pockets because it holds objects that are too big for the slash pocket.
The patch pocket space should be big but not too big. Also, you don't want to pick a pair of cargo trousers with a patch pocket smaller than the slash pocket. The patch pocket can be in the back, front thigh, or knee area. You should also consider the number of patch pockets when choosing cargo pants.
Color
Like we said earlier, mature colors like black,  brown, grey, green, and khaki are the most sought-after in the men's cargo pant category.
Material Used
The material used is equally important as the size. While most cargo pants are relatively thicker than dress trousers, let the season determine the thickness or thinness. During hot summer, go for ultra-thin cargo pants.
Style 
Cargo trousers brands that stand out have unique styles. Some go with a practical style, while others champion classic functional style with a sprinkle of decadence. It's all about your taste and goal.
Best cargo pants for men
Cargo trousers are a must-have for every man's wardrobe or closet. The classic cargo pant is your best option if you want to hang out with your homies or embark on your next outdoor adventure.
Best Pants for Heavy-Duty Workers
Carhartt Force Relaxed Fit Ripstop Cargo Work Pants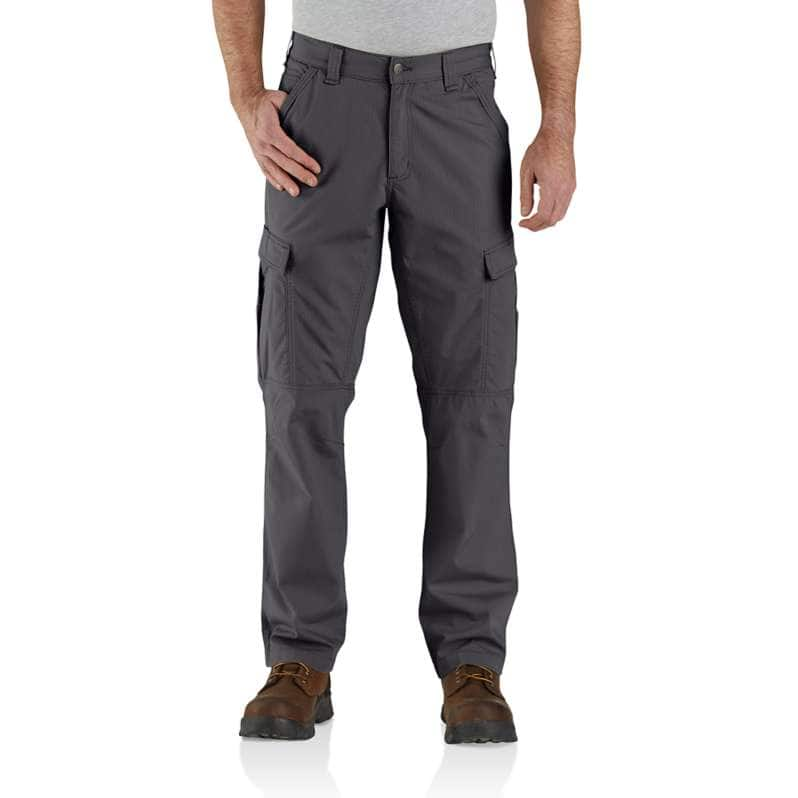 Have you had to wait forever for sweaty cargo pants to dry up? Considering that you don't have the luxury of time and have a long list of clients bugging you, sweaty pants can be an itch in the working place. With force technology, sweat and odor become a thing of the past as it dries up faster than the average cargo work pant.
Carhartt is one of the most reputable cargo pants manufacturers known for heavy-duty and fire-resistant working clothes. To ensure that its fashion brand maintains its premium functionality and look, Carhartt was a 133-year-old company that remained a family-run business. 
Its main slogan, honest value for an honest dollar, tells you everything you need to know about the American Apparel Company. Carhartt cargo pants are for people who love remarkable, strong, durable cargo pants. 
Carhartt men's pants are made of lightweight cotton ripstop, which helps you move more freely and faster. If you work in a factory where fire accidents are common, you might want to check out the Carhartt store for fashionable flame-resistant pants.
Pros
Flexible but rugged.

Dries fast using the force technology feature.

Has enough space for your legs to move and stretch when work gets tough.

The dark khaki color commands authority.

Possesses heavy-hauling slash, back, and utility pockets.

Comfy gusseted crotch.

Durable.

Affordable.
Cons
Toughest Work Pant
Men's Timberland Pro Ironhide Flex Utility Pants
Your Timberland shoe flex isn't complete without Ironhide flex utility pants. Designed for intense working environments, the breathable pants have an elastic touch, enabling the user to move their legs farther apart and faster.
Available in the classic dark wheat color reminiscent of the popular yellow Timberland boots, it matches your evergreen footwear.
You've most certainly come across a best-seller pair of Timberland shoes, and one quality that the brand exudes seamlessly is toughness and durability.
Timberland cargo pants are suitable for all kinds of weather conditions, cold or hot. If you are a climate change advocate who won't bend your values for any brand that destroys our common "heaven," Timberland cargo pants are perfect for you. Timberland only uses eco-friendly materials that minimize its carbon footprint. 
Timberland cargo pants are made with superior tech, providing users with waterproof features, knee pads, a pack of pockets, and stylish but tough military-grade cargo pants.
Pros
Rugged but breathable.

Premium cotton quality.

Carry your tools around using its back and utility pockets.

Machine washable.

Affordable.
Cons
Lacks dry fast capability.
Most Fashionable Cargo Pant
Boohoo Man Tall Relaxed Fit Twill Cargo Trousers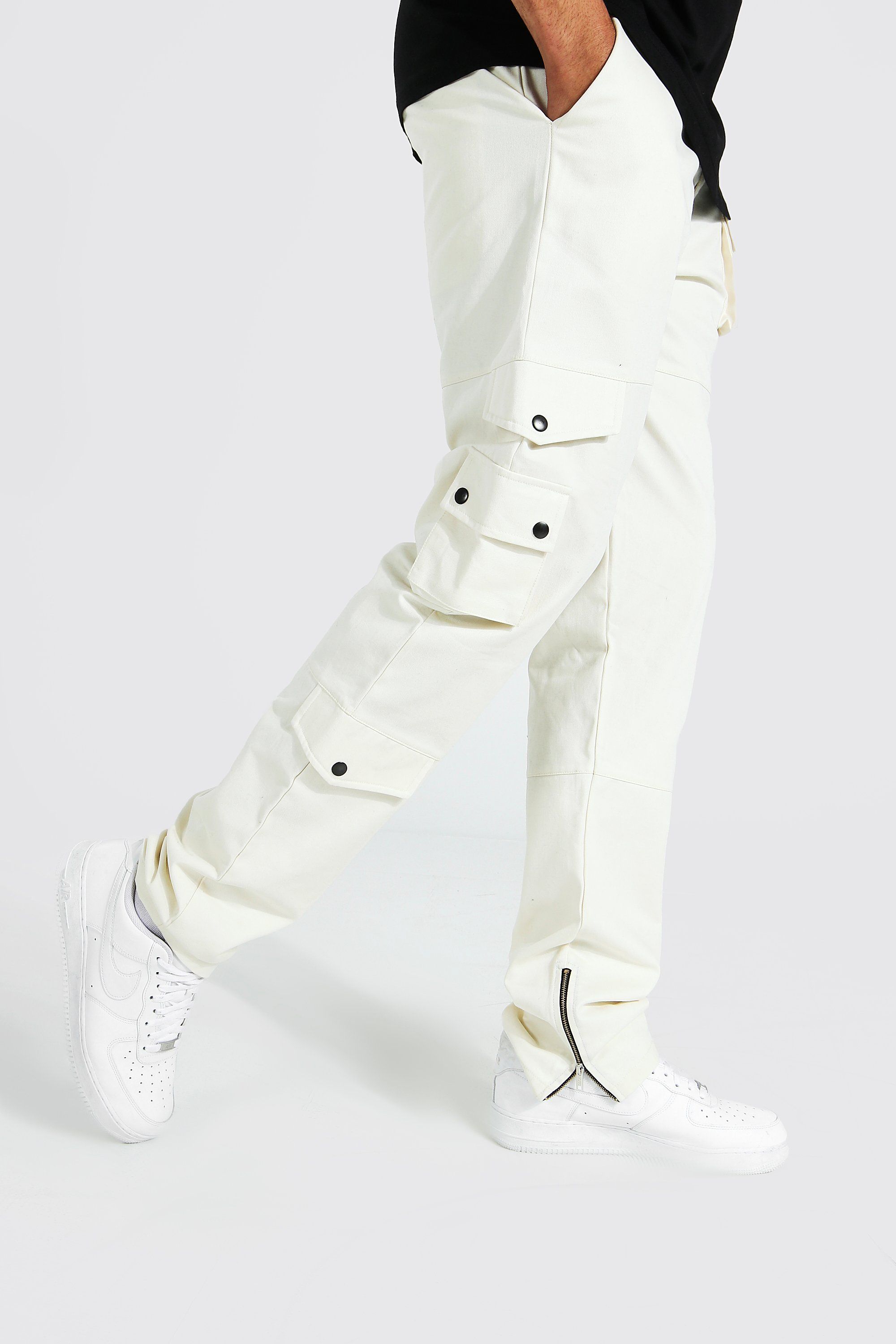 Stay cool, calm, and collected with Boohoo Man's affordable Fit Twill cargo trousers. Who says you can't drip and feel comfy while doing it? These off-white cargo pants prove otherwise.
As a tall guy, getting custom cargo pant that is fashionable and dependable can be stressful. Search no more; the Fit Twill cargo trousers are perfect for you.
Boohoo Man is a young company compared to the above-reviewed cargo pant brands. Founded in 2006, the fashion brand focuses on streetwear for the zoomers and young millennials.
The Boohoo Man site is your best go-to if you are interested in modern well-crafted pairs of cargo trousers with perfectly cuffed hems.
To make a statement, Boohoo Man crafted the black twill cargo pant, a pant they claimed goes with any formal attire.
Pros
Made with 100% cotton.

Very affordable.

Very compatible with casual shoes and tees.
Cons
Not for people who are not 6ft4 tall.

Not work pants.
Best Tapered Cargo Pants
Wrangler Men's Flex Tapered Cargo Pants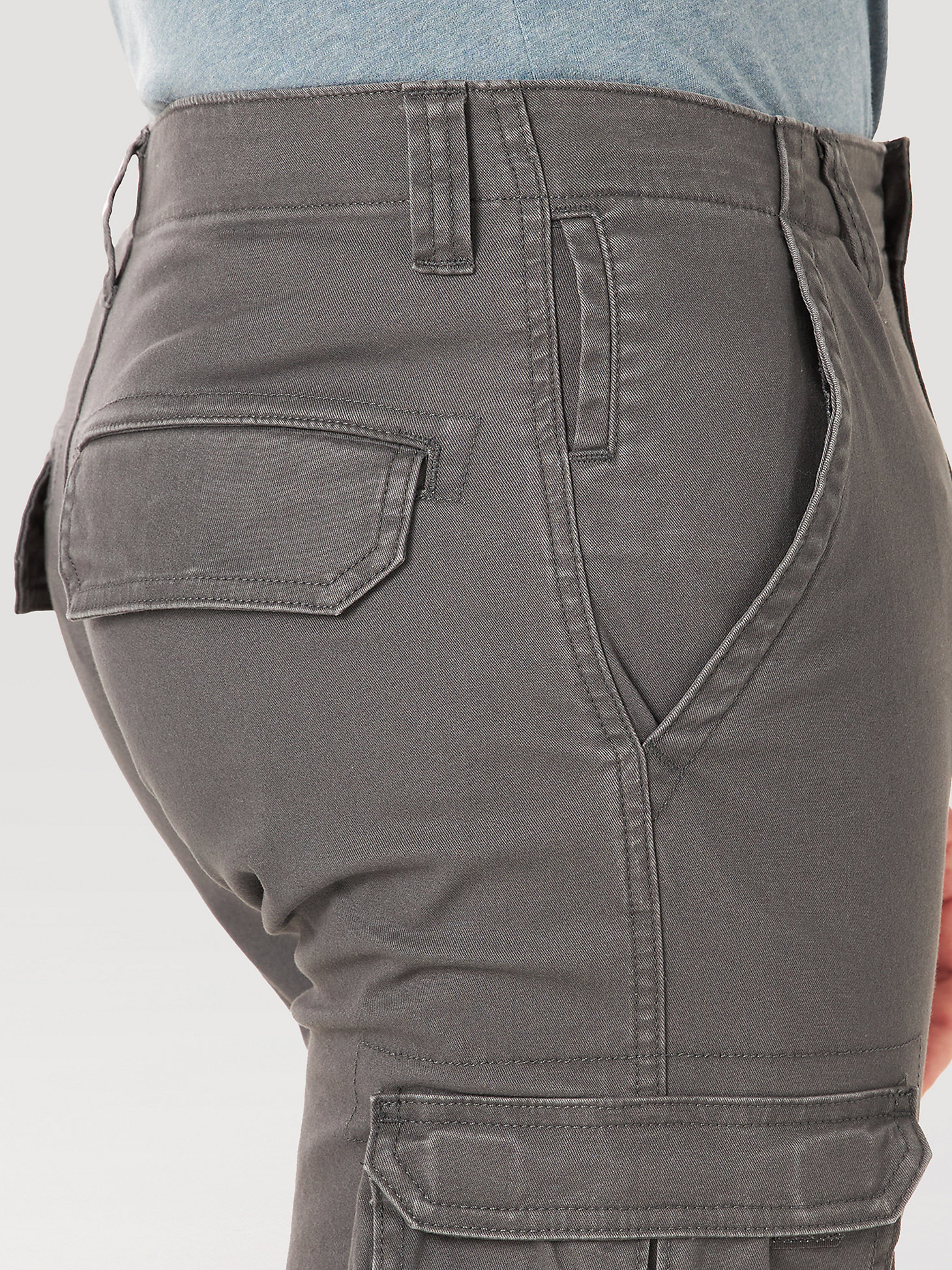 If you would love to keep your wardrobe diverse while sticking to your taste, then the Wrangler Flex Tapered Pant is a must-have. While Wrangler's cargo pants are not meant to be used for heavy-duty work, it's a nice item to add to your cargo pant collection. It is perfect for hanging out with the boys or picking up groceries from the mall downstreet.
The original color of the cargo pants is asphalt, but you can also get yours in Harvest, spruce, anthracite camo, brown jungle cam, and pure black.
Many people know Wrangler to be one of the best five-pocket denim manufacturers, but not-so-many people are familiar with their cargo pants fashion line. They concentrate on making relaxed-fit cargo pants with plenty of big pockets and adjustable waist. Their cargo pants are also soft and cozy.
Pros
Fashionable.

98% cotton.

Has front and back pockets with zip fly and velcro closure.

Comes in six different colors.

Very affordable.
Cons
Not suitable for heavy-duty work
Most Versatile Snow Pants
North Face Slash Back Cargo Pants
Go hard or go home. There is no middle ground. These pants are for the guys who prefer trucks to sports cars. While we thought there was no way in the world that North Face could step up, they came back with the slash-back cargo pants. This model is as cold as cold can be.
The features of North Face cargos include breathability, durability, military-inspired designs, and adjustable leg openings. Their clothes have cool designs and a relaxed fit. Plus, they go with any a la mode bag or gear.
Pros
Perfect for the winter.

Fashionable.

Waterproof.

Comes with secure-zip hand pockets.

Has a chimney venting system to fight cold.

Possesses articulated knees.

Breathable.
Cons
Final Thoughts
Shop for the best combat pants using the criteria we established earlier in this guide. Also, examine the price of the product and shipping cost. Try not to sacrifice quality on the altar of affordability. Five original cargos are better than ten fake ones.
Read more:
Best Hats for Men for Every Occasion