Cannabinoids May Reduce Colon Cancer Growth, New Research Reveals
Colorectal cancer is among the leading causes of cancer deaths in the United States, and it is currently responsible for over 100,000 deaths yearly. While many risk factors are associated with this disease, researchers have been working toward a solution that can eliminate the growth of these cells without harmful side effects.
In recent studies, researchers found that cannabinoids such as cannabidiol (CBD), cannabigerol (CBG), cannabichromene (CBC), cannabicyclol(CBL), and cannabinol (CBN) may have anti-tumor effects on colorectal cancer cells in clinical models.
DNA mutations cause cancer leading to cell division being out of control. This can happen when cells grow too quickly or abnormally, which leads to tumors forming. Changes in genes cause Colorectal cancer. It affects how cells grow and divide—variations in these genes. Which makes some people more susceptible to developing this type of cancer than others.
The researchers found that cannabinoids could reduce cell growth and inhibit the formation of tumors in human model colorectal cancers. They also discovered that cannabinoids might help prevent certain kinds of cancers from forming in the first place by blocking specific pathways involved in cell growth.
While THC isn't studied because of regulatory concerns, these studies show that cannabidiol (CBD) and other minor cannabinoids may have significant anti-cancer effects on various cancer cells, including those found in the colon and rectum region. This research shows promise for future clinical trials and treatment options for colorectal cancer patients who are looking for alternatives to traditional methods such as surgery or radiation therapy.
If you are wondering where to buy these minor cannabinoids, look to the industry leaders like GVB Biopharma. GVB Biopharma manufactures a wide range of premium and contaminant-free cannabinoids such as CBD, CBG, or CBL Isolate.
Cannabotech's study revealed that pre-treating colon cancer cells with its patented technology eliminated 90 percent of cancer cells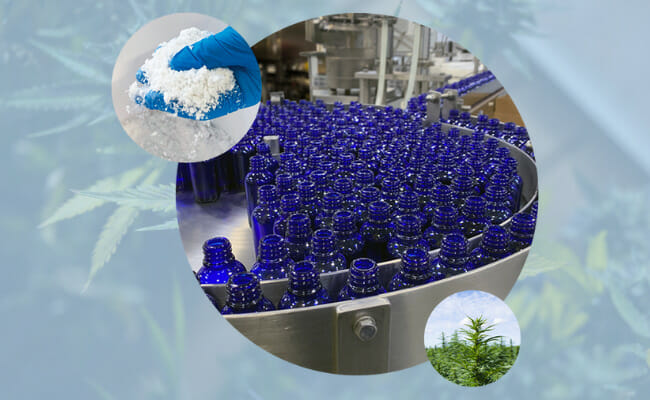 The discovery that cannabinoids can reduce colon cancer growth has been a hot topic. It was circulating in the medical community for quite some time now. This new research has revealed that pre-treating colon cancer cells with its patented technology eliminated 90 percent of cancer cells. The company is already working on a product called Cannabotech Integrative-Colon, which uses non-psychoactive mushrooms and minor cannabinoids to treat colon cancers. People in the UK, US, and Israel markets are currently using its product.
Hemp and other plants produce Cannabinoids, a class of chemicals. But they don't get you high like THC (tetrahydrocannabinol), the primary psychoactive component in these plants. Instead, these chemicals act on receptors throughout your body to reduce inflammation, promote pain relief, and improve mood. Cannabinoids have been used for years to aid with pain, inflammation, and other health issues. In recent years, research focused on its potential to reduce cancer growth by affecting cell cycle regulation and apoptosis (programmed cell death).
The second research study concludes that Cannabinoids may effectively fight colon cancer
A second research study has recently concluded that cannabinoids may effectively fight colon cancer. University of Maryland's Department of Nutrition and Food Science conducted a study on cannabidiol's ability to reduce colorectal cancer growth.
Researchers at the University of Maryland have discovered that cannabidiol (CBD) exerts "anti-proliferative activity" in colorectal cancer cells. The findings are threefold: CBD reduces viability, induces cell cycle arrest, and increases apoptosis.
This study used human colon cancer cell lines and animal models of colon cancer. The study found that CBD significantly reduced cell viability, induced G0/G1 cell cycle arrest, and increased apoptosis. These effects were mediated by the activation of CB2 receptors by CBD.
The researchers concluded that their findings show the potential of cannabinoids to treat colon cancer, particularly regarding the anti-proliferative effects. They say that these results are promising. They also warrant further investigation into the use of cannabinoids as a potential treatment for colon cancer.
Disclaimer: Is CBD Legal?
Hemp-derived CBD products (with less than 0.3 percent THC) are legal on the federal level. The Food and Drug Administration has not evaluated these statements.
This product is not intended to diagnose, treat, cure, or prevent any disease, and products have not been FDA approved. You must be at least 21 years old to purchase these products. Talk to your physician or medical doctor for additional information.