Asking our elderly parents to immigrate – for love, or free domestic work?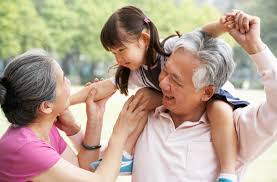 The grass is not always greener in the land of milk and honey. This is what many seniors sooner or later realize after their children working in the United States have persuaded them to immigrate and live with them.
"I wanted to go home, but I pity my grandchild," said one grandma who has been doing the household chores for her daughter for the past seven years gratis et amore.
The sad plight of parents of Filipinos in the United States resonates with other seniors who had the opportunity to work and have retired with pension funds and social security benefits, unlike their "enslaved" counterparts.
A retired professor recounted how one poor senior offered to cook for a fee so that she could have some spending money.
Immigrants who toil a for a basic wage, perhaps married to a partner with an unstable job, may find themselves unable to foot all the household bills and without the means to care for their own children. The easiest solution is to get their parents to the U.S. for a promised good life, to see the beautiful America. That is hardly the case.
As many aging parents soon after realize, they are confined to a small house, unable to go anywhere because they are not licensed to drive, have no money to spend for eating out or for recreation, except perhaps going to the nearest senior center, if it is within walking distance and if their time permits.
Lucky for those who qualify for government benefits like Medicaid, SNAP (food stamps) and SSI; but part of that is often spent for the entire family.
Grandparents usually take care of their grandchildren, do all the cleaning, laundry, cooking and may be tasked to pick up their grandchildren from school a few blocks away.
In wintertime, the task becomes even more challenging as the weather falls to a chilling, if not freezing, temperature. Some are luckier than others, because they get paid by their children. The hardest part is when a senior doesn't only toil for free but is also not treated with respect.
Filipino communities are common in big states like California and New York. California offers a fair weather unlike frigid New York winter; but California has very few mass transit systems unlike New York that affords seniors the freedom to move around without cars. For those with successful sons and daughters may be able to provide their parents with a private place, means of transportation and can leave them alone to enjoy their SSI benefits.
There is indeed a fine line between voluntary servitude borne out of love of a grandchild and being compelled to do household chores because nobody else can.
It is a point when one may ask: Is this elder abuse? Is the elder person subjected to economic distress or fear of some form? Our cultural element of shame is so pervasive it prevents us from knowing the truth. It is therefore your own lookout to spot the telling signs.