Celebrating Fil-Am history in NY with art, film, fashion
NEW YORK — In appreciation of more than 80,000 Fil-Am New Yorkers, many of whom serve as coronavirus front-line doctors, nurses, health care workers, New York based Eagle Eye Charities Inc. online gallery will feature masters of art, film and fashion in a live broadcast on Oct. 16, Friday 8:30 p.m. Eastern (Oct. 17, Sat 8:30-10;30 a.m. Manila time) on its Facebook page: https://fb.me/e/4qSH29BNa
Featured masters of visual arts will talk about their timeless works, including those of multi-awarded Renato R. Habulan, landmark historical sculptures of Nemi Miranda, contemporary murals by Manny Garibay and iconic portraitures by Florentino "Jun" Impas. A discussion of art history promises to turn back the hands of time and enable artists today to see through past inspirations as the masters critique their own works.
Portraits of prominent heroes will also be shown from the recently concluded Bayaning Sugboanon Portrait Painting Contest, a project of the City of Cebu through the Cultural Historical Affairs Commission and the Cultural and Historical Affairs Office in celebration of the Museums and Galleries Month 2020.
Portrait of Sergio Osmena by Ariel Caratao won First Place, portrait of Maria Kabigon by Artemio "Jun" Anga came in Second Place, while portrait of Don Vicente Sotto by Randy Plarisan came in Third Place. See more of the portrait artists' works at EagleCharities.org online gallery.
During the scheduled zoom broadcast on October 17, 8:30-10:00 a.m. Manila time (or Oct. 16, 8:30 p.m. EST New York time), film clips of forgotten World War II heroes, "Manila 1945," will be showcased by Spyron AV Manila producer Miguel "Lucky" Guillermo. Multi-awarded film "Lingua Franca," about a Filipino migrant worker ,will be curated by filmmaker and critic Jhett Tolentino.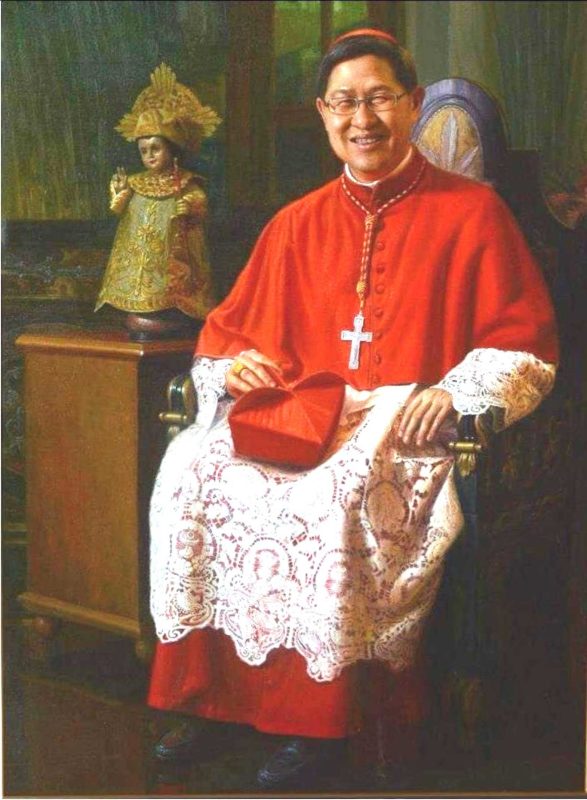 Earlier portrait of Cardinal Tagle rendered by Florentino "Jun" Impas (left), and 2020 portrait of Sergio Osmena rendered by Ariel Caratao, Grand Prize winner in the recent Bayaning Sugbuanon Painting Competition. CONTRIBUTED
Portrait of Maria Kabigon rendered by Jun Anga (left), and of Don Vicente Sotto by Randy Plarisan came in Second and Third Place, respectively, at the recently concluded Bayaning Sugbuanon Painting Competition. CONTRIBUTED
Lastly, fashion icon Ditta Sandico Ong will present her collection handwoven by Mangyan tribes and Catanduanes weavers. Ulysses King will show Lumban embroidery, noted for its "callado" designs. These two designers have brought fame and fortune to native tribal weavers through their representation of the Philippines' fashion abroad.
The program will be hosted by nonprofit Eagle Eye Broadcasting's Carol Tanjutco and Dr. Romulo Aromin Jr, with guests from the Philippine Permanent Mission to the United Nations, Deputy Permanent Representative Kira Danganan Azucena. Sponsor Brave of Heart Fund by New York Life and CIGNA is offering a grant of $15,000 to families of US-based front- liners who died of Covid-19.