Fil-Am entrepreneurs find ways to ride out Covid downturn
NEW YORK — While the rest of the world is crying out for help, lamenting the loss of jobs and suffering from financial distress, some enterprising Filipinos have found ways to ride the economic slide, mainly with catering and food delivery.
The springtime NYC Filipino Restaurant Week was abruptly canceled like all other events due to the Covid-19 pandemic. One of the Filipino Restaurant Week participants, Kabisera Café owner Augelyn Francisco, reinvented herself by launching break-time "coffee runs" for front-liners, one hospital a day.
Online fundraisers, sponsors like Eagle Eye Charities and private individuals send donations directly to caterers like Francisco to pay for food and coffee, and they deliver the food to front-liners, usually giving more servings.
Francisco, better known as DJ, explained: "Our first Coffee Run was April 3rd, 2020. So far we have 69 Rounds, different hospitals and different units, some units within the same hospitals, a NYPD precinct and lately, street protesters. We still have a couple more deliveries to fulfill this week."
Sweet Habana Catering also joined the coffee run project, creating ube pandesal, which turned out to be a popular treat. Chef Tata Kay Habana started making deliveries early in the morning, with her husband driving and their young kids in protective gear in the back seat. Havana had just given birth to her baby Celeste last October 2019, but it didn't stop her from getting into the action.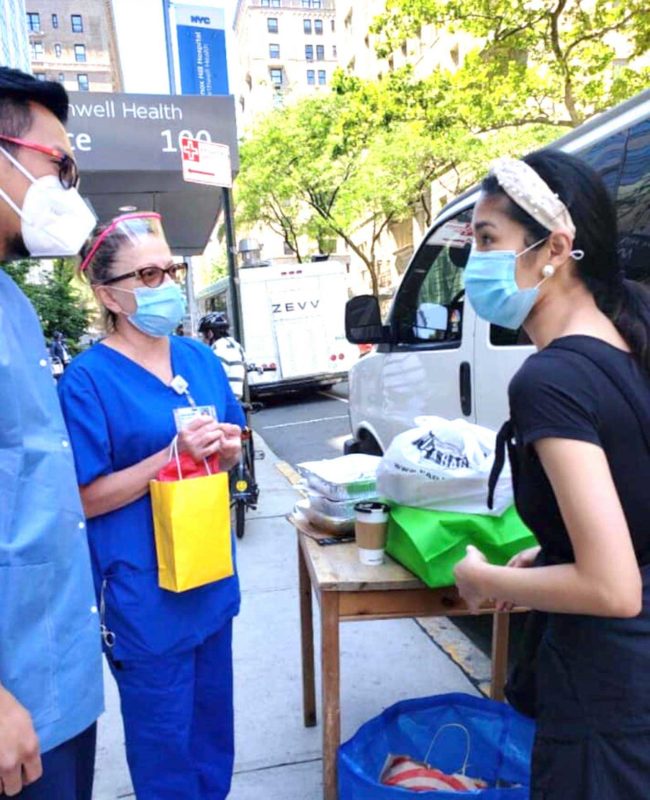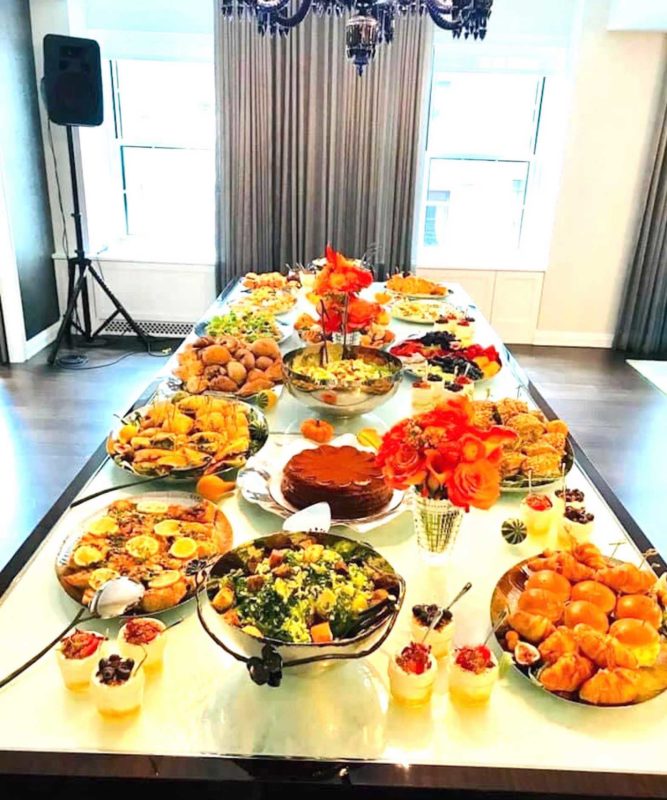 Tata Kay Habana's recent catering at a Hamptons home (below) and during a "food run" delivery at New York hospital (above). CONTRIBUTED
"Last year, Sweet Habana was occupied with many wedding, corporate and private catering events. I was up, cooking and running two days before I gave birth. And I was doing exactly the same thing three days after I gave birth. My friends were actually telling me to just rest and leave everything to my staff. But, that's not me. I have to be part of every detail — the design, the tablescape, the flowers, the menu, and most of all, the cooking. So, I literally haven't stopped working."
She believes she has "programmed" herself to respond to chaos constructively. "I don't panic. I resolve to not stress on a problem, dilemma, or challenge. Instead, I find ways to service a situation where my capacity and resources would enable me. Therefore, I committed to a 'Food Run.' It's a personal initiative by which I could help the front-liners. I started giving meals to three hospitals the first week, until it became three hospitals twice a week, and then it became an everyday run. It's just my way of paying forward for all the blessings I received and continue to receive."
Unexpectedly, clients started asking for her, she said. "Mostly Filipinos. And I'm grateful for the patronage. Over the recent years, I very rarely did catering for Filipino clients because I got busy with my corporate events and private clients in Manhattan. But there's something heartwarming in getting support from your fellow countrymen, it's humbling and spiritually reinvigorating. It makes what I do more meaningful."
From fashion to food
Fashion designer Velzon Hizon Velez also joined the food and catering bandwagon When his autumn fashion collection show, set for September 19, appeared impossible to launch, Velez found an alternative to keep him busy every single day while sheltering in place.
VHV, whose mom is from Pampanga, went back to home-cooking. He started posting his preparations on Facebook, and soon, he received inquiries from buyers for such specialties as "dinuguan, binagoongang baboy, homemade longganisa and tocino" prepared from his kitchen.
"I really love to cook and bake maybe because my mother is Kapampangan and my father is from Visaya–Cebu. Every time I post my cooking, I make sure it will be a nice set up on the table with wine, nice fold of napkin, nice plate and utensils, like in the restaurant, then some of my friends requested if they can buy for lunch or dinner. Most of them are from the medical field with no time to spend on cooking. So, every time they pick up food, I add one menu item for them to try. Next order, they include the new item I gave away, so it's really worth it," said Velez.
Asked about the volume of his newfound business, he said, "Right now, I get orders every day. Two to four persons come to pick up their food. I have a few friends from Texas and Florida who asked me to ship pandesal in assorted flavors– ube, cheese, leche flan and macapuno, in one box. I also tried pad thai noodles, and most Filipino food I can cook because all the ingredients are available at Asian supermarkets."
Meanwhile, the VHV fashion show is now slated for February 2021. Until then, his VHV Modeling camp will kick off in October this year where he will resume training and grooming young talents to strut the catwalk. VHV branded the Manhattan Fashion Week to include designers from the Philippines to give them exposure in New York. It has been running for four years now.