5 top int'l tourist attractions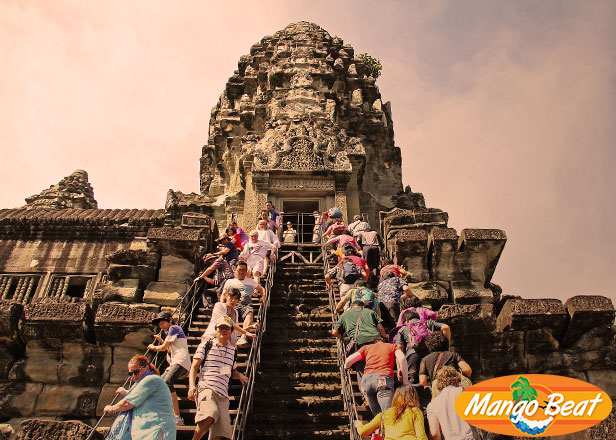 The world is a very vast and mysterious place with so many things to witness and explore. Tourists and travelers are often seized by a deep wanderlust that can be sated only by the prospect of journeys and adventures. But what amazing attractions and sights are for the adventurer worth his salt? We give you five of the world's sought-after monuments and cultural hotspots and the little facts that make them so amazing and special:
Angkor Wat, Siem Reap, Cambodia
A temple that is very important to both Cambodian culture and tourism. It has been voted the top must-see destination for travelers. It is greatly revered as home to many of the old gods of Cambodia and is also its pride. It is properly maintained even today to keep visitors and enthusiasts happy. It is better kept than most of the other region's Wats and believed to be the world's largest religious building.
Great Wall at Mutianyu, China
This section is one of the best-preserved portions of the snaking monument that is synonymous with a famous Eastern country: The Great Wall of China. For those who do not know, the Great Wall of China is a long defensive structure that spans rough terrain and steep mountainsides. From the wall's height, the can make some memorable photographs. The wall is said to have protected China from invaders and also kept the important Silk Road trade route secure.
Wat Pho, Bangkok, Thailand
Bangkok tourists haven't experienced a full travel experience without visiting the Wat Pho where the gigantic, golden "Reclining Buddha" lounges. Wat Pho is actually its older name, as it can also be called Wat Phra Chetuphon. The temple itself is as old as the city it resides in, being a testament to the long history of Thailand's culture. Rama III, the descendant of Rama I who founded Bangkok, enlarged the temple around 1832 and made it into a center of learning, technically making it Thailand's first university.
St. Peter's Basilica, Vatican City
A major pilgrimage site, the seat of the Pope (head of the Catholic faith,), St. Peter's Basilica, is one of the most sacred of churches in the world. It is built on the site where St. Peter, the first pope of the Catholic religion, was crucified and buried. So both the basilica and its location are of truly important. Its majestic beauty and cultural value to the world are enough reasons to visit it. It's an added bonus that it's situated in Italy, one of the favorite countries of tourists from all over the world.
La Sagrada Familia, Barcelona, Spain
This famous Basilica was designed by renowned Spanish architect Antonio Gaudi, known for his unique style and vision. Due to the unique shapes of the stones used, architects have a hard time trying to interpret the design and techniques behind the construction. Gaudi played a very active role during the building's erection until his unfortunate death in 1926. He often asked for revisions and major changes to the structure. Even today, it is still under construction; but people can enter the building and see the displays in the indoor museum.
Feel the wanderlust bubbling inside you yet? These are just a few of the amazing things you can see out in the world once you decide to do a little traveling. Make a list of all of your favorite attractions and share them with your family and friends.
****
Mango Tours is a provider of quality, affordable and convenient travel services that include low-priced airline tickets, customized Philippine and International Tour Packages, Cruises, Land Transfers, and more. Visit www.mangotours.com to know more about its latest promos and travel offers.
Subscribe to INQUIRER PLUS to get access to The Philippine Daily Inquirer & other 70+ titles, share up to 5 gadgets, listen to the news, download as early as 4am & share articles on social media. Call 896 6000.